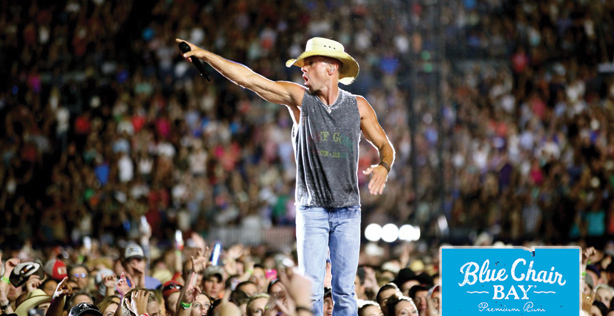 With summer approaching, Blue Chair Bay Rum dives deep into direct-to-consumer engagement
By Sara Kay
Summer is a time for soaking up the sun. Not surprisingly, it's also Blue Chair Bay Rum's time to truly shine. Launched in 2013 by multiplatinum singer-songwriter Kenny Chesney, Blue Chair Bay has been a favorite of warm weather enthusiasts for its fun, relaxed vibe and tropical flavors. This summer, Blue Chair Bay is focusing on on-premise and off-premise activations and cocktail-driven promotions revolving around Chesney's 2016 "Spread the Love" tour and other summer events.
At the concerts themselves, spanning four months and multiple cities, specialty cocktails will be available at venue concession stands, with each summery drink showcasing a different Blue Chair Bay rum. Island Girl features the Coconut rum; High Tide features Banana; Blue Jean Baby features the White Rum and Long Legged Model features the Coconut Spiced Rum.
Blue Chair Bay is also working on expanding their already-successful brand ambassador program made up of more than 300 ambassadors, getting consumers excited about the brand. In addition to Chesney's summer tour, Blue Chair Bay will be engaging directly with consumers at a variety of festivals in Nashville, Houston, San Diego, North Florida and Tampa all summer long. All told, Blue Chair Bay activations will be engaging consumers at 100+ events nationwide.
"Blue Chair Bay has always taken a grassroots approach to marketing," says David Farmer, President and CEO of Fishbowl Spirits. "Once consumers taste the product and hear the story firsthand, they really develop a strong tie to the brand that is more difficult to achieve through other mediums. We feel the best way to connect with the consumer is to have them taste the product."
The choice to engage directly with the consumer at music events and festivals has done great things for Blue Chair Bay, notes Farmer. Since the brand launched in 2013, Blue Chair Bay has seen some impressive growth through their direct style of marketing. In 2015, the brand saw a growth of 17,988 cases, a 31.4-percent increase from 2014. "The response at these events is great," he says. "When you catch people in the middle of summer out to have a good time, they almost unanimously respond positively. Rum and summer go hand in hand."
Spreading Into Social
In the spirit of spending as much time outdoors as possible, Blue Chair Bay has also partnered with local radio stations to promote a Spread the Love tailgate contest in each of the stadium tour cities, encouraging fans to throw the best tailgate to win a backstage experience. Social media activations in stadium cities with the brand ambassadors will also take place during Chesney's tour, with fans able to take GIFs and photos with the ambassadors to post on social media using Blue Chair Bay's hashtag #RumOn.
The summer brings Blue Chair Bay on-premise as well, bringing island-themed activations to accounts. "We have a couple of tricks up our sleeve," says Farmer. "Our marketing team has created a conch shell-shaped vessel called the shell shot that consumers will be able to take a shot of Blue Chair Bay Rum out of. It's one of a kind, and we believe it will elevate our promos to the next level."
Featured Blue Chair Bay Rum Cocktail: "Island Girl" ingredients include:
1 1/2 oz Blue Chair Bay Coconut Rum
1 oz Orange Juice
1 oz Pineapple Juice
2 oz Lemon-lime soda
Recipe:
Build ingredients directly into tall glass with ice and stir. Optional garnish: orange slice and cherry.