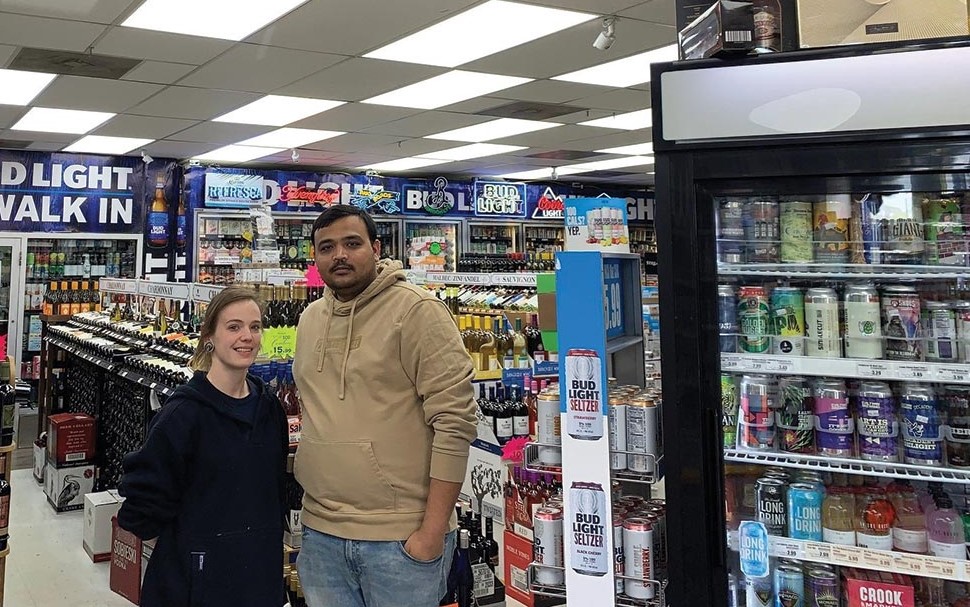 Branford Wine & Spirits
384 E Main Street #2938
Branford, CT
Square footage: 1,600 approx.
Years in operation: 3
By Sara Capozzi
With a background in retail, Ankur Patel's first endeavor into the world of beer, wine and spirits began when he purchased Branford Wine & Spirits in 2017. Patel had co-owned a gas station with a partner since 2013 and he was looking for a new business venture.
Situated conveniently on Route One in Branford, Patel said he liked the store's location and could see its potential. The shop was already a popular destination for fans of craft beer and Patel has kept the following alive by constantly adding new inventory to the craft beer selection. It is still known for having one of the most extensive craft beer selections in the area, according to Patel, but now some former beer customers are seeking the latest trend: hard seltzers.
"Everyone was really into IPAs and double IPAs and craft beers when I bought the store back in 2017," Patel said. "Now that trend is slowing down and nowadays everyone is going toward the seltzers. It's kind of half of the beer sales right now, so like four out of 10 people are buying seltzers."
Patel is hoping to be able to expand the store's square footage, enabling him to grow his wine and liquor selections. "The future plan is to try to look for an expansion, so we'll see how it goes," he said. "I'm working with my landlord right now."
In response to the COVID-19 pandemic, Patel put a variety of sanitation measures in place at the store, including offering contactless payment and ramped-up cleaning protocols. Employees regularly wipe down high-traffic areas at one- or two-hour intervals and clean multiuse surfaces frequently at shift changes.
Even during the coronavirus pandemic, business has been good, with his same customer base making regular trips to the store. "Business is getting better and better," Patel said, noting sales had increased since this past March over sales the previous spring. Customers are buying what they bought before the pandemic, he said, they are just buying more of what they usually buy in order to limit store trips. "Customers who usually buy a 750 ml, they're buying a mag, instead of buying a 12-pack they're buying a 30-pack," he said.
Branford Wine & Spirits has started offering delivery within a three-mile radius and curbside pickup amid the pandemic. Customers looking to do curbside pickup can place phone orders. Online ordering is available through Drizly. With increased customer requests for delivery services, Patel decided to hire a person specifically to handle customer deliveries. If his in-store driver is not available, customers can receive their deliveries through DoorDash.
Like many package stores in Connecticut during the pandemic, Patel began to close the shop one hour earlier, but he doesn't plan to further cut down hours so that he and his three employees have the hours they want and need.
"All of my employees want to work, so the thing is I don't want to cut their hours so we just have all of the PPE that is needed for all our employees. We just follow all of the guidelines, whatever the state requires. My employees want to work, including me, so there's no reason to cut down the hours."
As a smaller shop, at Branford Wine & Spirits Patel works hard to place a strong focus on customer service in order to stay competitive with the larger stores in the area, offering fast service on special orders along with price matching.
"I've got bigger box stores in the area but I'm just trying to do as much as I can for the business," Patel said. "Anything I'm not carrying if you want me to get it, you got it next day."