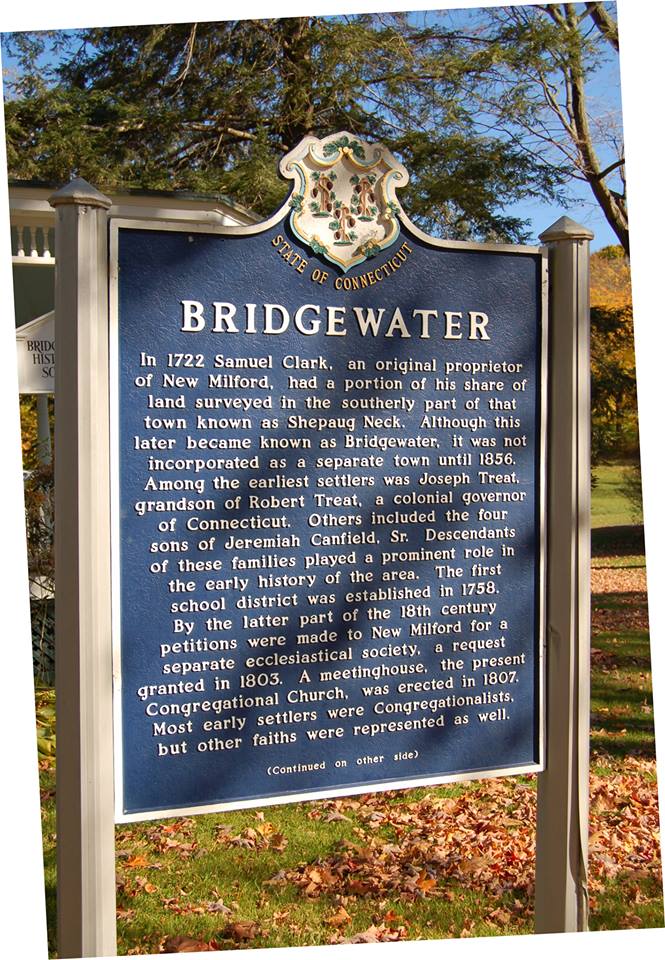 The Last Man Standing
By  Lauren Daley
Bridgewater is the last dry town in Connecticut—but it may not be for long.
Due to the efforts of two aspiring restaurateurs who have challenged the town's dry status, the town may soon become "partially dry"—allowing alcohol sales in restaurants. A referendum vote on Feb. 25 will determine whether the town will continue to ban all alcohol sales or allow them in restaurants—a move that would officially end prohibition, 81 years after the repeal of the 18th Amendment. A simple majority vote is needed to change the town's status.
There are no restaurants in the tiny town of 1,730 people—a population smaller than many city high schools. Bridgewater is not allowed to have a package store per state regulations because there are fewer than 2,500 residents, said First Selectman Curtis Read. As far as Read knows, the issue of going "partially dry" has never come up in town since Prohibition was repealed in 1933.
"From my point of view, I think it would help to revive Bridgewater to have restaurants where people could see each other socially," Read said. "It would make the town a more attractive place to move to if people knew they could go down the street and have a glass of beer with a neighbor…The town needs to revive and this could be a positive step."
He said the town is voting in April on whether to get rid of their only school. "Who's going to move here without a school or restaurant? You want to be an attractive town, not a dying town… We have an older population, and right now maybe 8 percent of the homes on are on the market. That's a lot… Revitalization is part of my job as selectmen."
Town residents currently have to drive to New Milford or Danbury to dine out—but some like it that way, Read said. "The most prevalent attitude of those opposed is bragging rights— 'Gee, we liked the idea of being the only dry town in Connecticut.' And my attitude is, 'Well, you can still brag that you were the last dry town in Connecticut.'"
Peter Mays, who owns the Bridgewater Village Store and a vineyard in town, has proposed turning the abandoned bank attached to his store into a café that would serve beer and wine. Town resident Bill Holland has proposed to build a high-end restaurant in another building left vacant by the bank. He was not available when reached.
"The bank left because it needed to be in a populated area. So we sent a letter out in October asking people, 'Would you support a restaurant with beer and wine?' and the overwhelming answer was 'Yes,'" said ," said Mays, who owns the store with his wife Lian.
He said if the referendum doesn't pass, he "doubts" he'll go through with his plans for a restaurant because "I'm not saying everyone wants beer or wine with dinner, but for lots of people it's like going to dinner without the fork. A drink is part of the package."
Both Read and Mays acknowledged that the referendum passing doesn't mean instant restaurants. It could be a lengthy process to create zoning laws for restaurants because none currently exist, they said.
"This isn't a slam dunk," said Read. "If the referendum passes, they still need to apply for zoning… We'd have to make changes to the Town Green zone and the commercial zone… That will involve rewriting regulations, getting a lawyer, and then they'll need to get plans approved, get the permits for water, parking, septic. Those things are pretty restrictive."
Mays said he's "holding out" on design and development until after the vote. "It's hard to predict the outcome," he said. "Those opposed are passionately opposed, and they're more likely to vote than the people who are indifferent."
Lauren Daley is a freelance writer. Contact her at ldaley33@gmail.com