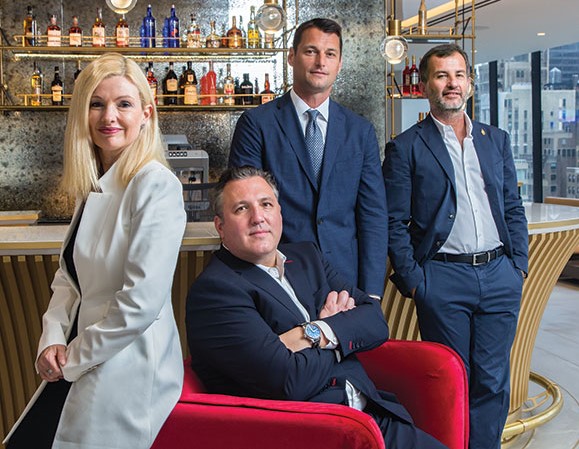 Newly Based In NYC, Campari America Sees Unprecedented Growth In The U.S. Market
By Kristen Bieler
---
In business, there are certain momentums that analytics alone can't explain. In the case of Campari America—currently posting double-digit growth across its top spirits brands—Managing Director Ugo Fiorenzo cites a number of contributing factors: the classic cocktail renaissance, the recent HQ relocation to New York City, a national distribution alignment with Southern Glazer's Wine & Spirits, and brand acquisitions in some of the industry's hottest categories.
Yet perhaps one of the most significant drivers is something the company had nothing to do with. "The American consumer palate is changing; it's much more sophisticated and bitter-friendly today," Fiorenzo observes. He points to the growing popularity of dark coffee, bitter chocolate, even arugula.
No beverage alcohol supplier was better poised to benefit from this palate evolution than the Milan-based Campari Group. The world's sixth-largest spirits company, Campari is the global market leader in aperitivos, bitter liqueurs and amaros, which have been popular in Europe for centuries, but struggled to gain ground in the U.S.—until now. In other words, Campari America's time has come.
Bright Orange Tidal Wave 
Consider the Aperol Spritz phenomenon. The bittersweet orange Italian liqueur turns 100 years old this year, but wasn't part of the greater American consciousness until recently when Campari's highly successful and Instagrammable campaign (#spritzlife) resulted in a nationwide embrace of the Italian aperitivo ritual. The electric tangerine-hued cocktail—a mix of Aperol, Prosecco and soda water—became an omnipresent summer staple during both day and nighttime drinking occasions.
The brand is up 60% this year, a trajectory that even a New York Times slam piece failed to slow. Of course, Campari competes in a wide range of categories, and similar stories are playing out across the portfolio: Aperol paved the way for its slightly more bitter cousin, Campari, which had been flat for three decades and is now posting strong (Negroni-fueled) growth.
Espolòn, one of the fastest growing tequilas in the U.S., is set to hit 500,000 cases this year. Wild Turkey and Grand Marnier, iconic-yet-dusty brands when Campari acquired them, are also both rapidly gaining share.
Skyy Vodka is faring better than most of its competitors in the battlefield known as the vodka category. In the first quarter of 2019, the Campari Group was up 9.6% globally, and 11.2% in the U.S. market, which now accounts for 31.2% of the company's sales.
Campari has never before seen this sort of growth or volume on U.S. shores, but Fiorenzo laughs at the notion this is some kind of overnight success story.
"Campari was founded in 1860 and our advantage has always been patience," he says. "We are a public company in Italy, but the majority stakeholder is our chairman and he gives us time to build brands. We used to say we were the biggest small company, but today we describe ourselves as the smallest big company. And we are really just getting started."
New (York) Center of Gravity 
After 14 years in San Francisco, Campari America relocated their North American headquarters to New York last November. The move puts the company closer to Milan, the Caribbean markets and the Wild Turkey distillery in Kentucky, but it was culturally strategic as well.
"New York is the epicenter of the spirits world," says Fiorenzo. "Our competitors are here, the talent pool is here; we are now in the middle of the action." The impact was felt immediately: "I saw more traction in the first six months in New York than I'd seen in the last four years in San Francisco."
Overlooking Bryant Park in the landmark W. R. Grace Building in the heart of midtown Manhattan, the 65,000-square-foot space (double the size of the former HQ) is a work of art. "We wanted to build a space that showcases who we are—the brand of Campari America—and connect us to our Italian heritage," describes Fiorenzo.
The two floors are joined by a low-lit red laquered stairway reminiscent of walking through a bottle of Campari. There are four bars throughout; the concierge bar is located where a reception desk would normally be.
A two-story atrium features a wood mural inspired by Fortunato Depero, the Italian futurist painter who designed the Campari soda bottle in 1932. With an open floor plan to foster a collaborative work environment, there are no assigned seats and Campari's 132 employees move fluidly throughout.
Significant real estate was also devoted to the Campari Academy, a modern laboratory for cocktail education and drink development. Outfitted with nine training stations, world class bar equipment and video cameras for live-streaming, the Academy has seriously elevated employee and sales force training.
Whether it's Appleton Estate's master blender Joy Spence leading a rum blending course for bartenders or London bartender/vermouth specialist Eric Lorincz helping launch a new Cinzano vermouth, the space has become a vibrant hub of innovation—for outside trade as well.
Staying Bartender Relevant 
Campari's acquisition of Grand Marnier in 2016 was a tipping point. Sure, the brand was stagnant and flat, but it was an icon in the mixology world. "Grand Marnier was the catalyst for us to become an on-premise-focused company," says Dan Butkus, VP Sales.
"Traditionally in Europe, 80% of Campari's business is on-premise—it's not a drink-at-home culture—but the U.S. is the opposite. Grand Marnier had a fantastic footprint on-premise in the U.S. which we were able to leverage to create opportunity for all our brands in high-end bars and restaurants."
To penetrate the bartender community, Campari created a 40-person, on-premise-dedicated sales team. "This was the kind of specialization we had been lacking," says Steven Chasen, VP Trade Marketing. "
We found we had a disconnect between our marketing, brand and sales strategies. Our on-premise trade team was established as a bridge. It's allowed us to develop the right cocktail strategies and made us much better at trend-spotting."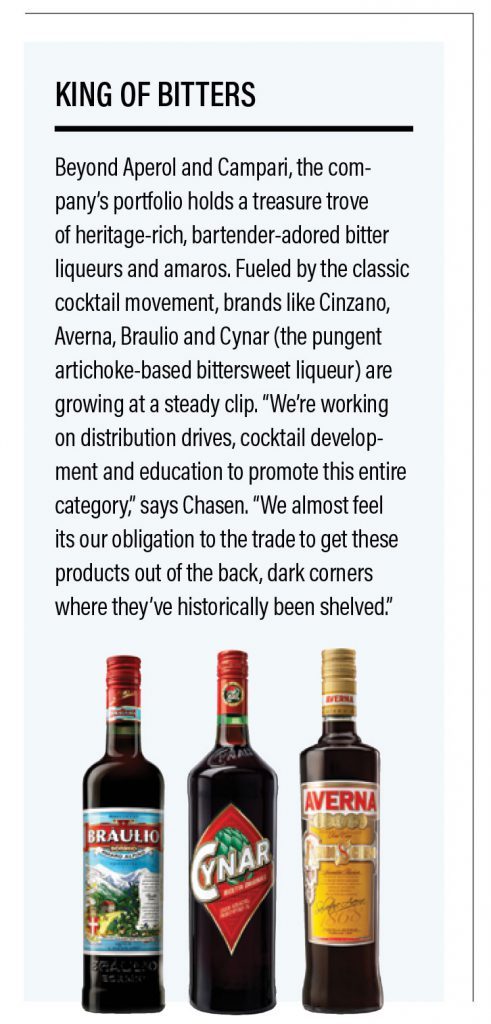 Seeing the world through an on-premise lens has also turned Campari into a savvy incubator for bringing tired brands back to life.
Their acquisition and subsequent turn-arounds of Wild Turkey, Grand Marnier and Espolòn are powerful examples. "Campari looks at acquisition in terms of identifying brands that have really solid foundations, great quality, rich history and real people at the helm," says Melanie Batchelor, VP Marketing. With these ingredients in place, Campari rethinks packaging and messaging.
Batchelor believes a "challenger mindset" keeps the company nimble and entreprenuerial: "All of our brands have a relatively small share of the category, so we have to do things differently; we have to work harder and do more with less."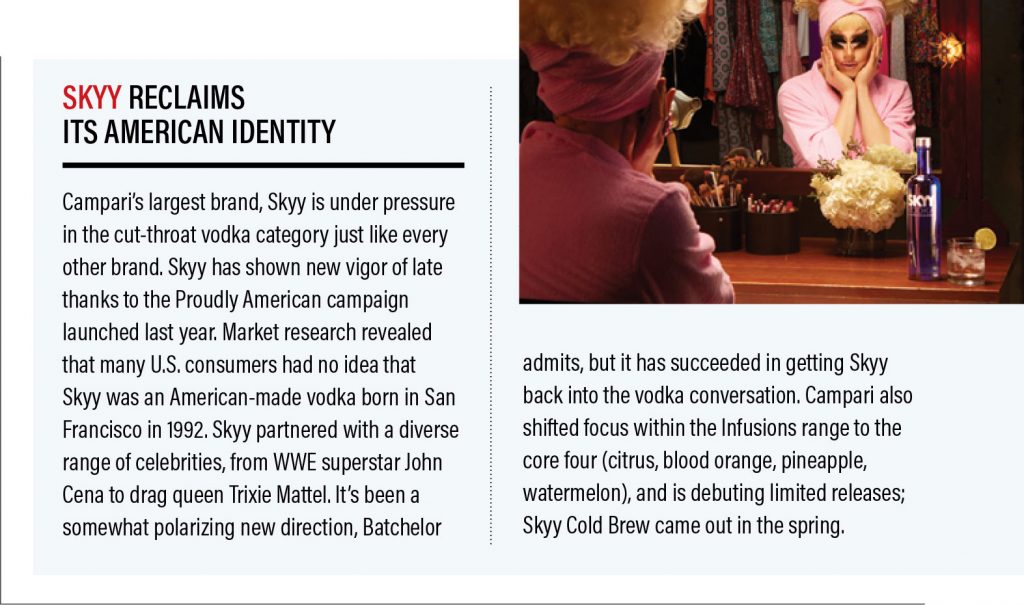 In fact, being "humble and hungry" is a source of pride for the Campari team, says Lana Kouznetsov, Brand Director, European Icons, and the first employee to make the move from San Francisco to New York (her second cross-country move for Campari). Doing more with less isn't just about saving money, she says: "It's also about not over-complicating things because when you add too many layers, you can lose the power of an idea."
Perfecting Route-to-Market  

Two years ago when Southern Wine & Spirits merged with Glazer's, Campari saw an opportunity to align with the distributor nationally. "As a mid-size supplier, we felt we could benefit from partnering with SGWS and leveraging their national footprint," says Butkus.
Exploring synergies in logistics, procurement and IT, Butkus reports the companies have "transcended the traditional supplier-wholesaler relationship," jointly realizing millions of dollars in savings.
The reimagined route-to-market has the company poised for more organic growth—and new acquisitions. In early 2020 Campari is entering the Cognac category with Bisquit, a brand practically unknown in the U.S. "Bisquit is a fantastic Cognac with a great heritage and brings us into the premium Cognac category—VSOP and above—which complements our portfolio really well," says Fiorenzo.
Needless to say, Campari will be "completely revolutionizing" the brand, he adds, maintaining Bisquit's quality while making it relevant to the modern day mixology world. The exact sort of brand evolution that Campari America is becoming known for.