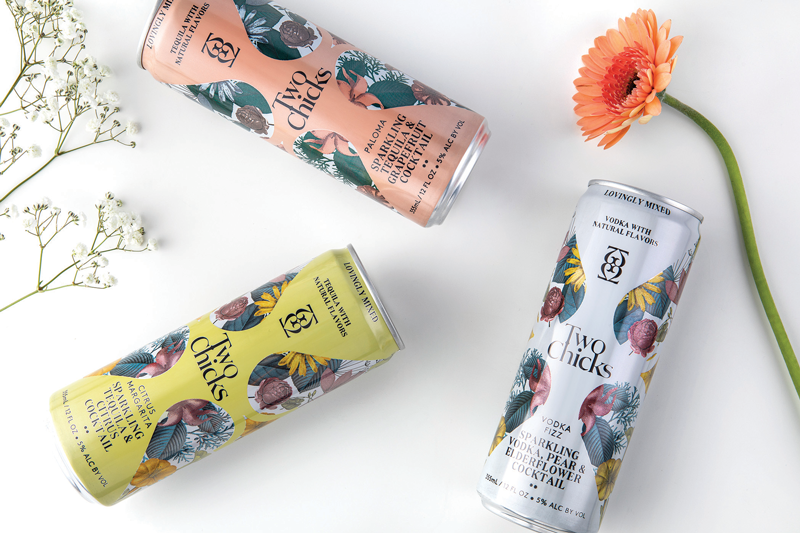 With Hard Seltzer Crashing the Party and Cans Red-Hot, RTDs are Poised to Soar
By Courtney Schiessl
---
Ready-to-Drink, aka RTD, is hardly a new concept. "When was there not an RTD cocktail?" asks Sly Cosmopoulos, Corporate Mixologist for Republic National Distributing Company (RNDC) in Grand Prairie, Texas.
Heublein "Club Cocktails" in cans were going strong in the 1950s and '60s. Wine coolers appeared in the '70s and ruled the 1980s. As varietal wine swung back in favor, flavored malt-based RTDs—like Smirnoff Ice and Mike's Hard Lemonade, both launched in 1999—followed. Not long after that, Skinnygirl made bottled margaritas the new ready-to-party star.
But while tastes and trends have long sent varied RTD ripples across the beverage alcohol market, the current surge has grabbed the attention of even seasoned watchers like Cosmopolous: "2019 is the launch of the RTD revolution," she asserts.
The category has seen a tectonic shift both in product mix, with the sudden ascent of spritzes and hard seltzers, as well as a boost in visibility and convenience from cans.
Blurred Lines
On one level, it is useful to look at RTDs in terms of their alcohol base—wine, spirits or malt; after all, that is how beverage alcohol gets classified for taxation and distribution regulations. However, part of the reason the category has become so dynamic is the blurring of lines among types and flavors.
RTDs stretch from coolers to cocktails (both classic and creative, full-strength and mild), coffee drinks to aperitifs, sangria to bubbles (whether dubbed spiked seltzer, hard seltzer, spritz or the like), and more. Meanwhile, most consumers are not even aware of the distinctions among base alcohols.
According to Nielsen, RTD spirits-based cocktail sales as of April 2019 were up 40.7% from one year prior, to nearly $62 million; and RTD wine-based cocktail sales were up 41.9% from 2018 to over $83 million. Popularity of the category is apparently quite broad, notes Caitlyn Battaglia, a client manager in Nielsen's beverage alcohol practice: "Ready-to-drink products have done a good job of engaging consumers across beer, wine and spirits."
Fresh Start
In her 12 years at RNDC—and even longer in the spirits industry—Cosmopoulos has noticed that at-home cocktail habits tend to follow bar trends. "With trends, we convert our on-premise success into retail opportunities," she says. "It's an opportunity to convert the success we've seen with classic cocktails, fresh flavors and creative flavors."
Specifically, the RTD cocktails fueling the category's explosive sales are drier and often made from fresh ingredients. Austin Cocktails is one brand emphasizing all-natural ingredients and craft-cocktail character. "The RTD category historically has been dominated by mass-market, value-oriented products that have a sweeter taste profile and skew female," say co-founder Kelly Gasink. "As consumers began to trade up for premium, quality brands, it became clear that demand for cocktails across demographics would change." Austin Cocktails consumers are evenly split between men and women, aged 26 to 58.
While there has been a return to classic cocktails in RTD offerings, creative flavors are also important; 66% of respondents to a recent RNDC survey said that outside-the-box flavors were a reason for choosing RTD cocktails. (Guava is a flavor to watch for 2019, according to Cosmopoulos.) And suppliers are not shy about highlighting their complex combinations, such as in Austin Cocktails Peppered Maple Blood Orange Bourbon Cocktail.
Convenience has always been a strength of the RTD cocktail category, but today's RTDs are also driven by premiumization. Both components are essential in modern culture. "You have busy households working 80-plus hours a week," says Cosmopoulos, "and they want the premium component, but they want the convenience." According to RNDC, 46% of survey respondents choose RTD because there is a wider premium choice available.
Can-Venience & More
While the Austin Cocktails line is sold in 750ml bottles—for easy entertaining at home—many start-ups in the field are rolling with cans. Andrew Rodbell, co-founder of Post Meridiem, a line of canned cocktails which launched in Georgia in May of this year, explains: "First craft beer, then wine, and now spiked seltzers. It seems like a natural extension of that trend for consumers to embrace full-strength, authentic ingredient cocktails in cans too."
Flexibility is the prime reason why cans are resonating with consumers. "We're an on-the-go culture, a grab-and-go society," says Cosmopoulos. Canned versions are now becoming popular at venues like pools, festivals and concerts, where glass is prohibited—one reason why sales spike in Q2 and Q3, during the summer months. And RTD convenience is not only about cans: RumChata's iced-coffee spin-off, FrappaChata was first released in 1.75L jugs; sales foundered until they switched to 200ml bottles.
From Vino to Bubbles
Sangria, popular for decades, fits into the RTD picture because it is increasingly coming in varied formats, as opposed to mixed up at home Nielsen tracked RTD sangria sales up +8.4 % from one year prior, to over $220.5 million. Prominent brands with multi-state distribution include Eppa, Opici, Lolea, De La Costa, Reál, Riunite, Señor Sangria and Yellow Tail.
However, the biggest wine-based cocktail innovations are happening in the emergence of a new category: the wine spritz. "The RTD market has exploded!" says Jordan Salcito, veteran sommelier/beverage-director and creator of Ramona, a wine spritz made from organic Italian grapes in 200ml cans (now in lemon as well as original grapefruit). Compared with full-strength wine in cans, spritzes offer a sessionable, low-alcohol option—7% in Ramona's case.
Archer Roose—which already offered four wines in a can—also launched two wine spritzes in 2019. "With Spritz, we are targeting sparkling wine drinkers who would typically reach for an alcoholic seltzer for a 'lighter' option," says Marian Leitner-Waldman, co-founder and CEO of Archer Roose. "Wine drinkers are sometimes forced to settle for a just a beer because they want to drink something with lower alcohol, but they really don't drink beer."
Here Comes Bubble
As innovative as canned wine spritzes are, the most action of all in RTDs is in the suddenly significant "spiked seltzer" category. Nielsen tracked sales of hard seltzer at $633 million as of April 2019, up 193% from one year prior. Perhaps more importantly, the can format itself is giving RTDs of all types/flavors/bases a fresh, attractive platform for attention and sales. Today's "hard" seltzers fit right in.
Moreover, these canned RTDs as a group—alcohol-based spritzes, seltzers, coolers and cocktails and such—are primed for the challenge. Their packages are fresh and fruity, colorful and eye-catching. Plus they promise—often quite visibly—lower alcohol (typically 4.5%-6%), lower calories (90-120) and lower carbs, along with natural ingredients.
Make no doubt that being perceived as "healthy" is at the heart of many modern RTDs' pitch. "The beverage landscape is evolving quickly and MillerCoors is committed to offering people what they want," noted Sofia Colucci, VP of Innovation at MillerCoors, when launching their Cape Line Sparkling Cocktails in April. "Cape Line hits on a variety of consumer demands—bold taste that does not compromise on being a healthier option."
Other questions present themselves in the wake of today's ready-to-boom RTD scene:
If RTDs are within arm's reach at convenience stores and supermarkets, are they going to lead people to skip a trip to the wine store?
RTDs (especially the seltzers) come in many variations of pink; when 12-packs of spiked seltzers can cost less than a 750ml of Provence rosé, will party-friendly RTDs carve a chunk out of peak pink season?
Could hard versions of agua fresca (puréed fruit, water and sugar over ice, popularized in Latin America) make a move on sangria and margaritas? (The Hard Frescos brand—made in Mexico City—just launched nationwide).
What if hard seltzers as a base for full-blown cocktails becomes a thing?
Or if frozen RTDs spin-off into a brand new sub-category? (There is already one brand, Chanmé, in multiple states).
Could we be facing a flood of too many RTDs? RNDC's Cosmopoulos believes that the market will accept even more options as a new generation of consumers enter the beverage alcohol space. "The iGen will be more impactful than the Millennials," she says, "as they are catching on to the convenience and quality with premiumization."
Taste, value, convenience, portability—all will factor in. No doubt time will tell how consumer expectations and rewards from the varied RTD sub-categories shake out in terms of sales. This summer will be closely watched as more than a handful of big producers are now invested.
Gallo has two launches going: the revival of Bartles & Jaymes wine coolers and High Noon spiked seltzers, both in cans, both proudly declaring natural flavors. Polar Seltzer has entered the arena with Arctic Summer. Anheuser Busch acquired Bon & Viv in 2016; Boston Beer has Truly Spiked & Sparkling; Mark Anthony Group (Mike's Hard) has White Claw; and Constellation spun off Svedka Spiked Premium Seltzer and invested in Austin Cocktails. MillerCoors just added Cape Line on top of Henry's Hard Soda. BeatBox Beverages, already active in non-bubbly RTDs, is rolling out Brizzy Hard Seltzer Cocktails.
That should be enough bubbles to keep drinkers lubricated this summer. But will they be drinking less rosé and Prosecco as a result? Stay tuned.