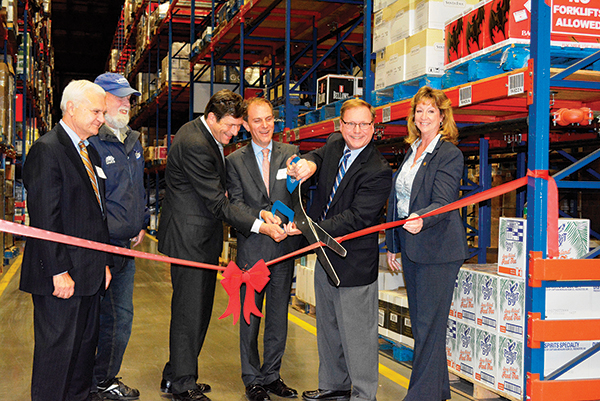 A year after groundbreaking, team gathering spotlights past and future
On October 19, 2015, Connecticut Distributors, Inc. (CDI) celebrated the expansion of their operations building and warehouse space in a ribbon cutting ceremony. The official ground breaking was almost a year ago to the date, on September 25, 2014. After 95 truckloads of cement, the new building extension can hold an additional 80,000 cases of product in 40,000 additional square feet, with extra height for incremental storage space.
Charmer Sunbelt Group's Chairman and Chief Executive Officer, Charles Merinoff, was present at the event and shared with employees "what an amazing day, with such deeply caring people" the milestone represented. Everyone was then invited to walk the red carpet to the ribbon cutting ceremony held in the warehouse to celebrate with CDI President Brian Albenze.
Prior to the ribbon cutting, the team gathering began with the Tim Considine Leadership Award given to Kevin Mahon, Sales Manager. The award, given for "empathy and fairness, honesty/integrity, professionalism, confidence, respect and humor," was named in memory of Considine, a long-time CDI employee who passed away in 2012. Tim's wife and son were on hand to present the award. CDI donated $2,222 to ALS in honor of Tim's sales number. The company also honored Tom Pollock, a 35-year employee of CDI, who passed away suddenly in 2015. A walkway around the building was named in memory of him. There were team-building awards given to many more employees, and the group enjoyed a time-lapse video of the construction leading up to the event.
The expansion included creating a larger Sales Room, which now accommodates CDI's entire team of professionals. A new standing desk table was made using materials from the construction, alongside repurposed wine barrels. Color and accent features are found throughout the new spaces, as is new, energy efficient lighting. The building was decorated and furnished to "reflect the true essence of what we do, and who we are, with the intent to remain clean, classic and timeless," said Maura Tancredi, Human Resources Director, CDI.