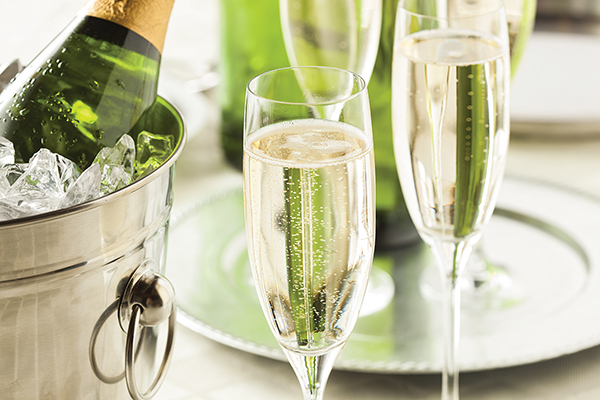 By Lars Guy, CSW, CSS
As we enter the all-important holiday season, savvy licensees will remember that customers are predisposed to incorporate sparkling wines in their gift giving or entertainment plans, and it is up to all to maximize that interest. A disproportionate amount of your fine wine and Champagne sales will likely occur in the coming weeks.
For restauranteurs, that would include a by-the-glass or half-bottle promotion supplemented by a prominent display of dummy bottles and a live display of bottles chilled and ready to pour. On a recent trip to New Orleans, we had lunch in a lively bistro where they were having real success promoting champagne. It was a half-bottle of Taittinger and an order of hand-cut French fries for $45: a great pairing and a great idea.
For store owners, make sure you are giving your customers a well thought out range of offerings from Cava and Prosecco up through premium sparkling wines through to Champagne. Most importantly, invest the time in researching the upper end of that spectrum, as knowledge is clearly power in this regard.
At the end of the day, I am a customer myself and while I am comfortable making my own choices, I am more than happy to be engaged by an enthusiastic, informed individual working the floor, who is willing to offer some insight on a category. While shelf talkers are always useful, there is no substitute for a brief, professional hand sell on why a particular brand has real value. Remember, way more Americans are uninformed than informed about champagne, so you are perfectly set up to become the expert.
Come to know the house style of the grand marques you are promoting so that you can speak with confidence. Google the name of any brand and you will find a wealth of information at your fingertips. Use your trade tools, like The Beverage Journal, whose online resources also include ratings, producer information and more.
Up to 90% of all annual Champagne production is non-vintage brut, so you would be well advised to be comfortable with those house styles. Keep in mind, there is virtually no such thing as bad Champagne, but this lifelong Champagne enthusiast likes the following:
Elegant, refined style
My preference is more at this end of the scale. These wines tend to have a little more Chardonnay in the blend with the result being a livelier, brighter style. Best as aperitifs and with lighter cuisine. Producers often use the word "tension" when describing these wines.
Taittinger Brut La Francaise
Perrier-Jouet Grand Brut
Pommery Brut Royal
Moet Brut Imperial
Medium bodied, richer style
There is less of a difference between this category and the former than the third category with the first two. These wines will exhibit a little more depth of color in the glass, and a more noticeable presence of that yeasty, buttered toast component expected in this broader, richer style. Roundness is more apparent.
Roederer Brut Premier
Charles Heidseick Brut Reserve
Billecart-Salmon Brut Reserve
Mumm Cordon Rouge
Full bodied, toasty style
These wines are unapologetically singular expressions of Champagne. All predominantly black grape (Pinot Noir and Pinot Meunier) they will typically spend some time in wood. The use of wood as a vessel, the large percentage of black grape and the vineyard sources combine to yield a more deeply flavored, masculine expression. Wonderful if that happens to be your style preference.
Bollinger Grand Annee
Krug Grand Cuvee
Pol Roger Brut
Gosset Brut Excellence
Lastly, it is important to add that a customer looking to buy Champagne is often a wine enthusiast otherwise. If their interest in fine wine is to incorporate it actively into their lives, you as the retailer are being presented with an outstanding opportunity to grow your bottom line. Those with an interest, and the discretionary resources to indulge that interest, can play a large role in defining your store as a fine wine destination.
Remember, the enjoyment of fine wine is still a relatively new phenomenon in America, and your ability to present yourself as an authority will be a key to your success. Don't forget the 80/20 rule, 20 percent of your customers may account for 80 percent of your sales. Take care to ensure you are prepared to optimize opportunities during the critical holiday selling season. Own the category.
Lars Guy is a lifelong wine enthusiast, collector and industry veteran who carries both Certified Specialist of Wine and Certified Spirits Specialist designations. He has recently begun serving as a cellar consultant to enthusiasts looking to formulate prudent purchasing strategies. Follow him on Twitter @LarsthewineGuy.