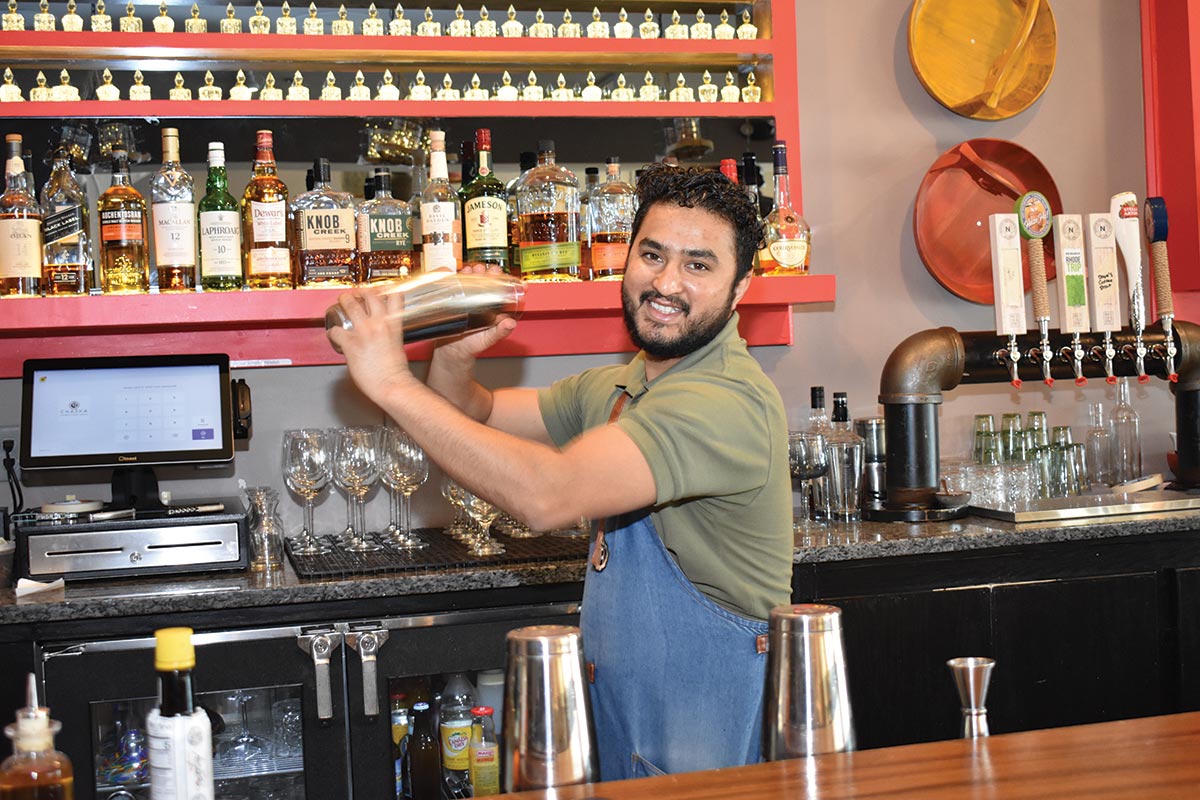 Chaska
16 Midway Road
Cranston, RI
Tucked inside the plaza of Cranston's Garden City Center, Chaska offers guests modern Indian cuisine and craft cocktails in a friendly and fun atmosphere. Opened in December of 2019, the venue is owned and operated by Sanjiv Dhar, who is also the proprietor of Pawtucket's Rasoi and East Greenwich's Rasa. Guests will find a variety of healthy, vegan and gluten-free options among the salads, flatbreads and small plates that Chaska has to offer. Chaska, which means "obsession" in Hindi, also celebrates the flavors of Indian cuisine in its cocktails using fine spices, freshly made juice and house-made syrups. "When we create any cocktail on our menu, we think of the umami factor. It should be pleasing to the palate and at the same time appetizing to the palate," Dhar said. "Our whole cocktail menu is designed to bring Indian spices and flavors into the cocktail program." Chaska offers an Indian twist on classic cocktails. Its Spiced Chocolate Martini uses garam masala spice, the Pomegranate Ginger Mojito features fresh ginger and its Turm-inator cocktail blends house-made cordial with fresh turmeric with blanco tequila, cucumber, cilantro and fresh ginger topped with club soda.
Bartender: Shamser "Sam" Godar
Cocktail: Tamarind Margarita
Ingredients:
» 2 oz. Cazadores Tequila Blanco
» 1 oz. triple sec
» 1 oz. simple syrup
» 1 oz. house-made tamarind chutney
» 1 oz. fresh lime juice
» Garnish: lime slice and tamarind chutney
Method: Add all ingredients to a shaker with ice. Pour the mixture into a chilled margarita glass and add a lime slice with chutney on top as garnish.
Of the Tamarind Margarita, Dhar said, "It has its sweetness and tartness. Knowing that margaritas are popular, we wanted to give it an Indian feel, so we brought in tamarind and savory spices with jack root, brown sugar and roasted cumin seeds." Bartender Shamser "Sam" Godar said it's the venue's most popular cocktail.
Dhar and his team continue to reinvent their beverage program so guests always have something new to try. "Cocktail programs are like nightclubs," Dhar said. "You've got to change the music … people get tired of dancing to the same tune. You have to keep bringing in new ingredients and new ideas, as long as you stay true to your beliefs. And our belief is that spices and flavors, when added to cocktails, bring out the best in them."