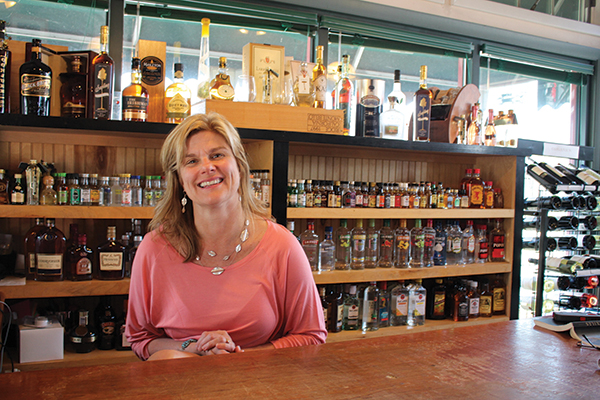 Chatham Wine Thieve
42 East High Street
East Hampton, Ct
Square footage: 1,000
Years in operation: 16
By Savannah Mul
No, it's not a typo. Customers who come to shop the eclectic collection at Chatham Wine Thieve often ask co-owner Melissa Pionzio on the spelling of her business' name. She explains that a wine thief is a glass apparatus used in the process of winemaking to extract a small amount of wine out from the barrel to taste. The verb is to thieve. "My husband said it's a conversation piece," Pionzio laughed.
Her husband, John, was working down the street at the second liquor store they own in East Hampton, Center Package Store. Pionzio said it's rare to see small business owners operate two liquor licenses in the same town. "It's good for business with five other liquor stores in town," she said. "When this came up [for sale], we saw it as a good business opportunity." Pionzio handles the operations at Chatham Wine Thieve; while John manages the 2,700 square-foot, Center Package Store, which the Pionzios have owned since 1991.
"They are two very different stores," Pionzio said. "I try to have a good mix. I like to showcase the funky new stuff, like craft spirits that people may not find elsewhere." When the Pionzios purchased the store, it was already an operating liquor store and they didn't change the layout around much. But, many customers comment on the "unique and interesting" octagon shape of the building, she said.
At Chatham Wine Thieve, the majority of the store's sales come from wine and spirits, followed by craft beers and other beers. "I like to stock a lot of boutique wines; there is so much great wine out there and to find something that is a bit different helps us stand out," Pionzio said.
When she introduces new products to the store, she places small descriptive tags on the shelf to showcase the product and tasting notes. "I make it my own. When new products come in the tags help, people like to see a description of things." On the weekends, Pionzio conducts in-store tastings, which help with sales.
"The industry has exploded with new varietals," she said. "I really rely on my customers and sales people to keep me updated." Chatham Wine Thieve store employee, Marshall Stockburger, helps Pionzio at the store. "He is a great wine salesman, he knows a lot about wine and at this point we have a good handle on what our customers like," she said.
Both John and Melissa Pionzio help out with many community affairs through their businesses, including local charity golf tournaments and Friends of the Lake in East Hampton. Each also conducts charitable tastings at local campgrounds. Pionzio also has a book swap box at Chatham Wine Thieve, based on the success of the one located at Center Package Store. She sees it as another way to connect to the local community.