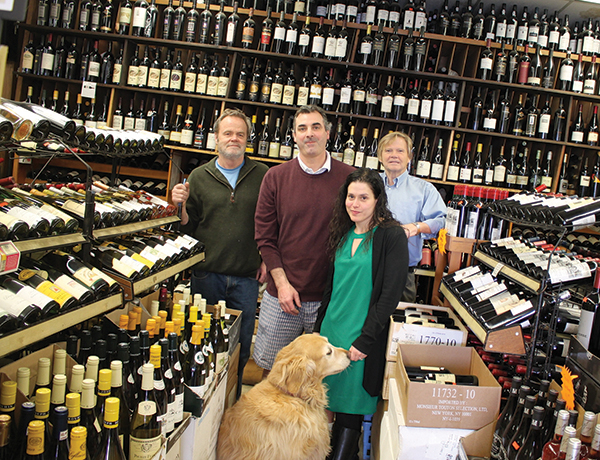 Vickers' Liquors
274 Bellevue Avenue
Newport, RI
Square footage: 5,000
Years in operation: 41
By Savannah Mul
For more than four decades, Vickers' Liquors has served, and continues to serve, residents, tourists, boaters and many others in the historic city of Newport. Brothers Mike and Rob Vickers began in the business when their father started the beer, wine and spirit shop 41 years ago. Today, the store has evolved with the times to offer variety in their selection, and a new face behind counter, who comes to the store carrying "a wealth of knowledge," Mike said.
Mike and Rob Vickers hired Elizabeth Moniz about a year ago. Moniz is a Certified Wine Educator, Certified Specialist of Wine, Sommelier and a Masters of Wine candidate. "She's a fresh face and has a lot of experience in the field," Mike said. "She has helped bring a fresh eye to us, and to our customers."
Mike said a majority of the store's sales are from wine, and Moniz provides an added asset when they do in-store tastings or when customers want to know more about certain varietals. Moniz said when it comes to wine recommendations, she starts by getting to know her customers' palettes by asking what kinds of food and drinks they like. From there, she helps identify styles of wine that might be a good flavor fit. "It's like, 'well you like that, so try this,'" she said. "I always tell them to give it a try and if [they] don't like it, bring it back."
Mike said there were many ideas that he, his brother, Rob, and Store Manager Mike Paradis had, but never had the time to do. Basic operations of running a business, ordering products and stocking shelves always came first. "She's already brought in interesting ideas … some we never had the time to do and now we have a lot of new things," Mike Vickers said. "It's nice to have someone with all her wine knowledge."
"I want to keep it fresh," said Moniz, who is developing Facebook and Twitter accounts for the business to advertise tastings, new products and industry news. Moniz said Vickers' Liquors is located in a plaza where cafés and restaurants offer the option of BYOB. She's been working closely with those establishments — specifically Cru Café, across the street from their store — to create flyers to advertise to customers they can purchase a bottle of wine or beer at Vickers' Liquors to enjoy with a meal at Cru Café.
Mike Vickers reflects on how the area has changed since they first opened four decades ago and said, "the business keeps changing. There are always new trends, and we try to see them as early as we can. In the last 10 years, there has been an explosion in SKUs … from craft beers and spirits."
Currently Vickers' Liquors staffs about eight employees; but because Newport is a popular tourist destination in the summer, they staff about 15 employees to help during the season. The package store also works with the Newport Chamber of Commerce to organize charitable tastings and other community events.