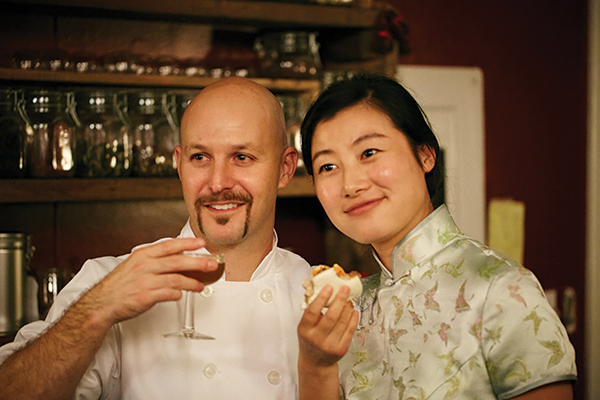 By Lauren Daley 
More than a decade ago, Missouri native and seafood importer Tyler Davenport went on a business trip to China that changed his life: he met Hebei native Manda Chen. Now married, the couple lives in Warwick, RI and co-owns Cheongsam, a new line of tea-infused liqueurs.
Using specialty tea that Davenport and Chen select, the liqueur is made in China, and then shipped to Rhode Island. One year after Cheongsam released its first two liqueurs, the bottles are starting to hit bars and shelves around the state and beyond.
Inspired by the history and culture of Shanghai, a city they both love, they named their product after the silk cheongsam. The fitted dress is "steeped in history" and was popularized in 1920s in Shanghai, when the city was known as "The Paris of the East," explains the Cheongsam Tea Liqueur website. During the period of Prohibition in the U.S., travelers from the states, and the world over, came to Shanghai for jazz and drinks, creating a cosmopolitan cultural hub.
Now at the beginning of a flavor trend in cocktails, the timely duo is taking their tea liqueur to multiple markets. Davenport, a 1998 Johnson & Wales University graduate, discusses how this unique product was born.
THE BEVERAGE JOURNAL: How did you get the idea for a line of tea-infused liqueurs?
Davenport: When we moved to Rhode Island, we tried to find a business that could combine East and West. We started with a small boutique tea shop, which allowed us to get very good tea suppliers, which is a big part of our product because we use real tea, not flavors. Manda spent several years developing those relationships with suppliers, and it ended up taking three years for us to get the process down. Once we settled on the liquor and tea, it all fell together.
TBJ: And why tea-infused liqueur, specifically?
Davenport: Several reasons: One, I like to drink [laughs], and with my work, I traveled to a lot of places [including] Brooklyn. And while I was there, the cocktail boom was happening … all these speakeasy joints were popping up, and they were looking at using unique ingredients; and this [was] when St. Germain started coming on the scene. Before that, liqueurs were artificially sweetened … At the same time, my wife had a tea shop. And I thought: "Tea! Who's doing tea?"
TBJ: How did you two meet?
Davenport: I was in [the] seafood business; I imported fish from China. Going over there, I fell in love with Chinese culture. Around 2007, I was staying in a hotel in Qingdao, north of Shanghai, and Manda was working there. Manda's passion is English. She was working at the hotel to practice her conversational English, and I happened to have a meeting in the lobby, and I heard someone casually bantering and making jokes, and it was her. And I was blown away. I came back to the States, and I was talking about her forever. And my boss said, "Why don't you go back and see if she's still there." And I went back, and she showed me around the city, and we started dating, and we decided to marry.
TBJ: Wow. And then you opened a business together?
Davenport: We married in 2010 but lived apart for a year; she was in China waiting for a visa … In 2011, we moved to Warwick and she opened a tea shop, Cha-Bei, in Cranston in 2012. Almost immediately afterwards I started tinkering with the idea of doing alcohol in tea. It took us about three years to develop the process to where we felt it would work to make [large] batches. We officially made our first batch in October 2015. We make it in China and import it to Rhode Island. Our first product arrived here in February of 2016.
TBJ: Where do you make the product?
Davenport: We make it in Qingdao, the city where we met, but our passion is for Shanghai. We love Shanghai. The image of our product, the cheongsam, is based on 1920s Shanghai. But the weather is more temperate in Qingdao, and we need that climate for our production. We usually go to Shanghai first. Manda buys all the tea, and we ship it to Qingdao.
TBJ: What's the process of making the product?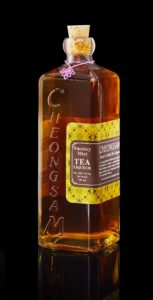 Davenport: We wash and steam the tea leaves. We do a cold brew. Then add the alcohol and let the oils come out, add a little sugar syrup to it and that's it. What really makes the product is two things: the quality of the tea — we're buying very high-quality, whole-leaf tea — and then temperature and time. It took me three years to figure out the formula and recipe, using various temperatures and times. If you vary either, the product is totally different.
TBJ: How does it taste?
Davenport: We have two kinds now. The first is Jade Oolong, made with green Ti-Kuan Yin Oolong tea. It has green tea notes, a floral nose, a hint of orchids, with honey and roasted notes at the end. It's very complex; there's a lot going on. The other, Smokey Mist Tea Liqueur, is totally the opposite. It's a black tea blend, with an essence of smoked pine needles, with a smoky mescal at beginning, then sweet black tea, then a flower called osmanthus cuts the smokiness and makes it lighter.
Our next product, out later this year, will be called Wild Goji, a dark oolong, which has chocolatey, mineral notes and goji, which is not as sweet as a raisin. It's excellent. Then we'll have Citron Silk, which uses a unique green tea from northern China, with an essence of lemon grass and chrysanthemum.
TBJ: How do you serve it?
Davenport: You can drink it straight over ice — it's 18 percent, so [it drinks] like a port. At the same time, [it delivers] enough flavor to put in a cocktail. That's one thing bartenders have been figuring out: If you brew tea and add it, you're basically adding water to your cocktail. What we're doing is delivering a lot more flavor that doesn't dilute the cocktail.
TBJ: How do you come up with the flavor ideas?
Davenport: It all starts with the tea. That's where Manda comes in. She's the tea expert. I'll make liqueurs with a green tea, and she'll say, "OK, that's good, but what if we try this tea …" Then we'll discuss it, "Well, that kind of oolong goes good with this flavor …" That's where collaboration comes in. We go beyond green tea and black tea; we go into the nuances of tea varieties.
TBJ: Where are your products now?
Davenport: We're in six states: Rhode Island, Massachusetts, New York, New Jersey, Florida, and my home state of Missouri … Our goal is to be a nationwide brand.
TBJ: What's been your feedback from bartenders?
Davenport: Excellent. My background from Johnson & Wales is in culinary, and the first thing a chef or bartender does when they're shown something new is think: "I can make that." And I can't blame them; that's the creativity. But when they see the quality of our tea, that's when they say, "I can't waste my time brewing tea," and then they come back because the product delivers.
TBJ: Why did you chose the cheongsam as your name and branding?
Davenport: I'm a big history person, and I love that time period in Shanghai. There was a lot of bad stuff going on at that time, but lots of amazing things happening [too]. You had a city carved up by foreign powers; everyone was trying to make their claim on China, so it has [many cultural] influences.
Interview has been condensed and edited. Photos by Paul Warner.