By Lauren Daley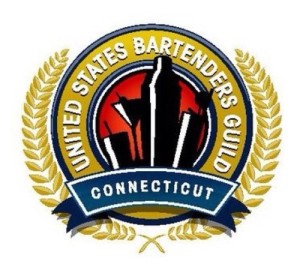 Adam Patrick and Craig Ventrice want industry members to know: the United States Bartenders' Guild Connecticut (USBG CT) chapter offers a lot more than cocktail competitions.
The USBG CT "affords you many more opportunities other than just how to make a Manhattan," said Patrick, 2017-2018 Chapter President. Membership offers camaraderie among industry peers, educational seminars, sponsored international and national travel to learn first-hand about, for example, the Guinness factory in Ireland, Kentucky's distilleries, or wine making in Italy or France. The guild also recently offered an expenses-paid trip to Puerto Rico to "learn the ins and outs of rum production and craft distilling."
For the uninitiated, the USBG is a professional, non-profit trade organization, and traces its roots back to California in 1948.  Today, the USBG is active in more than 50 cities with a mission of "uniting the hospitality community to advance professional bartending … through peer-to-peer learning, expert instruction, service projects and competition," according to its website. The USBG states its core values as: "Service, integrity, sharing knowledge, tradition and camaraderie."
An interview with Patrick and Ventrice, Chapter Treasurer — who, along with Vice President Dimitrios Zahariadis and Secretary Daniel Rek make up the chapter's new leadership team — outlines the benefits of membership.
THE BEVERAGE JOURNAL: First off, tell us a little about yourselves and how you got involved with the USBG CT?
Patrick: I grew up in Milford, Connecticut and bounced around the country for a few years — Oklahoma City, California, Florida. I was [managing restaurants] but that was wearing on me, so I quit to go back to bartending, which is what I love doing … I joined the USBG in 2013.
Ventrice: I grew up in Norwalk, Connecticut. My father was a cook in a restaurant for years, and I was a restaurant kid … I started bartending around 2003; at that time, [I] just liked the quick cash, lack of responsibility [laughs]. I got out of it around 2006, took a sales job at an IT company, and hated every second.
When I came back to [the industry], around 2010, it was around the time that bartending as a career started to become an option. Prior to that, bar management, beverage directorships were few and far between … And the USBG is one reason why there is upward movement in the industry.
TBJ: How so?
Ventrice: There used to be no such thing as a community of bartenders. There weren't professional advocates until the USBG. It's brought people closer, made networking and accessing information easier. For me, since joining, I've met more reps from distributors, brand reps, learned things about the trade. As far as my career, I got the position I'm currently in now [as bar and beverage manager at Kawa Ni and The Whelk in Westport] through people I met through the USBG. Networking is key.
Patrick: You get out what you put into it. We support people who want to make bartending a legit [career] they do for rest of their lives. We're not looking at the beverage industry as a stepping stone to being a banker, for example. We want people to stay in this field and not leave … Joining is like giving yourself a steroid shot to your career. It legitimizes you to your community, and shows you believe in something bigger than yourself.
TBJ: Can you give an example of how it's helped you, specifically?
Patrick: The first year I joined, I went to Portland, Oregon for their Cocktail Week — seminars, after-party events, networking. I did that for free. When I moved to Seattle, I didn't have to pay for a hotel the whole drive there. I crashed on couches of people I met from different [chapters] in different states, and they even gave me guided tours of their cities.
Ventrice: For me, it was an immediate benefit. Last year, I won the regional Woodford Reserve Cocktail Competition, which allowed me to go on a free educational experience at a distillery in Kentucky — flights paid for, hotel, drinks, whole thing … We had access to the distillery, met the master taster, the distiller, went to the cooperage. I spent three days with 39 other bartenders from around the country talking trends in their area[s].
TBJ: Can you tell us more about the education portion? What are some of your seminar topics and curriculum?
Ventrice: Our chapter hosts monthly events — either educational seminars or we'll have brand ambassadors come in. We've had training on specific spirits.
Patrick: We focus a lot on product knowledge … In the past we've done business seminars; we've done how to inventory items, how to price a menu, manager styles, how to interact with employees, how to hire and fire. There's an endless amount of information …
Through the national organization, we're mandated to do certain educational seminars every year … At a national conference, where we come from all over the country, we really learn more in-depth about the [whole industry]. The national USBG has partners — like Diageo, Maker's Mark, Bombay Sapphire — but there are also local distilleries and breweries that I would like to send our people to. I'd like to expand our venues … There are so many new distilleries and breweries
in Connecticut.
TBJ: For employers, what are the benefits to getting their staff involved?
Ventrice: The more product knowledge a bartender has, the more sales he can do behind the bar. [Tasks] that are done by managers or owners, bartenders can learn some of these skills [and also be on] the pulse of what's happening … My hope, over the next year, is to show that there are local bartenders who have more skills than just making a cocktail and putting it on Instagram.
TBJ: Are you planning any major educational trips?
Patrick: We do one international trip a year. As far as national partners, doing something as simple as winning a state competition can send you to L.A. or Seattle for free. Members can see as much of the world as they want, learn as much as they want. Two years ago, we went on a distillery tour of the whole country of Ireland, starting in Dublin, and worked our way clockwise around the whole island.
TBJ: What are your long-term goals?
Ventrice: We'd love to see increased membership, increased activity within our current membership, sending members on trips. We want to communicate our values not only to bar owners, but to restaurant owners, on the advantages of having an educated and knowledgeable staff.
Patrick: We want people who are starting to see the legitimacy in this industry to be the top-line managers three, four, five years from now … I would urge people to go to our website to learn more or join. We have 62 members now, but I'd like to see 150 at the end of year. It's an ambitious goal, but I only like ambitious goals [laughs]. And this is something I truly believe in.
To learn more, visit www.usbgct.org.
Interview has been condensed and edited.