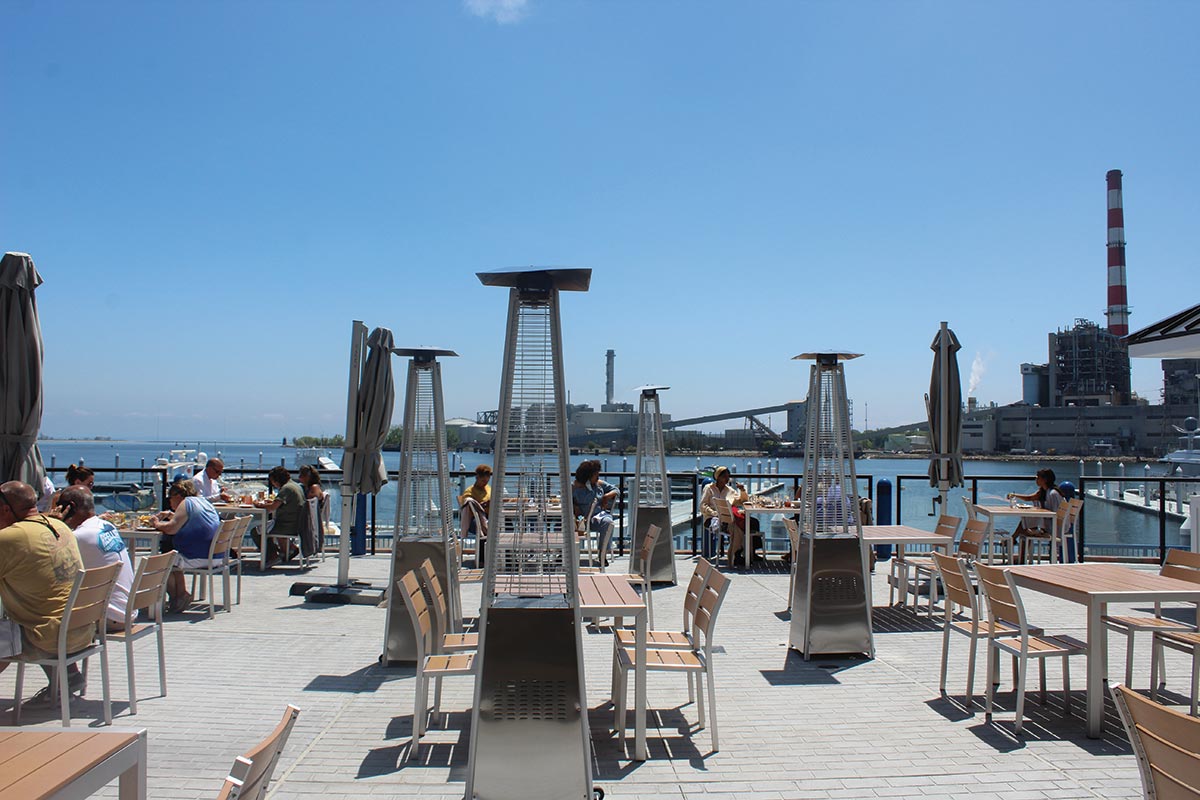 Green lights with guidelines for phased reopening
By Sara Capozzi
As Gov. Ned Lamont issued executive orders for phases one and two of Connecticut's reopening plan, the state saw the return of outdoor and indoor dining with COVID-19 restrictions in place during the months of May and June.
After more than two months of state-mandated business closures, some venues reopened with outdoor-only dining at limited capacity. Then, the state's restaurants and bars with food operations were permitted to open for indoor dining at 50% capacity beginning on June 17, three days ahead of an original June 20 date. Guidelines for bar seating were also announced including use of plexiglass barriers between bartenders and guests. As of press time, no date for opening nightclubs was set.
Some venues who possessed the outdoor real estate opened for patio service on May 20, with tables spaced six feet or more apart and servers required to wear face masks, among other sanitation measures.
Other restaurants opted to remain temporarily closed or open for takeout only, while some announced their permanent closure. Cities and towns stepped in, creating dining zones by blocking streets and using parking lots to try to help venues begin service, safely, once more.
Both Foxwoods Resort and Mohegan Sun casinos opened for invite-only and limited service with new health protocols in place on June 1, the majority of their venues open for takeout only. Beverage service took place on the casinos' gaming floors.
"There is casino beverage service on our gaming floors during our phase one and Todd English's Tuscany is currently the only restaurant available for sit-down dining out on their terrace only, with physical-distancing protocols in place," said Jeff Hamilton, President and General Manager, Mohegan Sun. "Restaurants such as MJ23 Sports Bar & Grill, Sky Rise Food Court, Bobby's Burger Palace and a few more offerings are open for takeout only. Overall, food and beverage service for our Mohegan Sun guests has been steady and safe. Guests can enjoy their food or drink outside as well, with one popular location being the outdoor terrace of the Bean and Vine Café & Wine Bar."
During the shutdown, Plainville's J. Timothy's Taverne opted to first close its takeout operations due to concerns about staff and customer safety, reopening for takeout in May and offering a reduced menu of its most well-known specialties, wings and chicken fingers, along with dinner specials. In June, the restaurant added more of its regular menu items back to the takeout operation, including summer salads and shepherd's and chicken pot pies. "We'll be slowly filtering some of our old menu favorites back into the mix," said Co-owner Tim Adams.
J. Timothy's drink offerings give its takeout game an advantage because the restaurant offers a selection of craft beers that customers may not be able to find elsewhere, with a pricing approach that is similar to the one it's known for, calling it "a good value for what we offer," Adams said. "We sort of roll with that; it's not gangbusters but it's a good service to our customers that they can get the specialty beers that they like along with their takeout order, and we're also selling great wines at great prices, so we're doing okay with that as well. We're probably selling more bottles of wine now than we did at the restaurant. It's a convenience thing for our customers more than anything."
The restaurant has no plans to try outdoor dining and has not yet announced reopening for indoor guests. "We're in no rush until things really make sense to do so," Adams said. "I think a lot of people thought that once we could do [indoor dining] it's a fix, but it's not really a fix for anybody because very, very few restaurants have the ability to do it under these guidelines and do it profitably. We're choosing not to bleed slowly. We're going to wait till we can actually get back and treat our customers the way they'd like to be treated with no gloves or no masks."
Brian Mitchell, Beverage Director for Max Restaurant Group, said that while some of the restaurant group's 11 properties have opened for patio service, operating under the current COVID-19 restrictions is not sustainable for any restaurant.
"The reality is we're at 25% capacity on the patios and it's not sustainable in any realistic way," he said. "It's barely a stopgap at this point … We're working toward getting at some point the restaurants to be able to come inside, but even that if it's at 50% capacity, there's nothing long-term sustainable about any of this. I've got to imagine you're going to have many, many restaurants not surviving this."
Some of the Max restaurants are doing meal and beverage promotions, which have been popular with guests, such as a Taco Tuesday-themed promo at Trumbull Kitchen in Hartford with margarita cocktail kits, pre-batched cocktails at West Hartford's Savoy Pizzeria & Craft Bar and wine bottle promotions at various locations.
"From a beverage point of view, we're doing what we can," Mitchell said. "We have the opportunity to sell bottles of wine and spirits in cocktails at this point. It's okay, but we're not keeping everybody employed based on beverage sales … People are still drinking; in fact, they're drinking more, they're just buying it in the retail sector."
Mitchell said Max restaurants with some outdoor dining space were "doing okay," such as its West Hartford-based restaurants, but with patio dining only and reduced capacity allowed, the restaurants are unable to make anything near the sales they would usually make. The restaurant group's flagship establishment, Max Downtown in downtown Hartford, remains temporarily closed as it doesn't have an outdoor dining area.
"We're inching our way by," Mitchell said. "The quicker we can get things open, the better … You get another two to three weeks into this, it's getting harder and harder to survive and the whole belief that something is better than nothing, it's a false sense of reality, meaning the partial patio dining, it's actually stalled the takeout, and you're spending a lot of money on labor and you're not making anything. At least with takeout, you're not spending as much money on labor."
Chef Tyler Anderson, who owns and operates five venues across the state, reopened Millwright's Restaurant and Tavern in Simsbury for outdoor dining on May 20 and continues the restaurant's takeout operation as well. Diners will find socially distanced outdoor dining at Outside at Millwright's, along with its scenic woodsy, waterfall overlook.
"We're very fortunate to have the space," Anderson said. "We've wanted to do it for a long time. The key was we wanted to have a mobile kitchen out there to service it because it's such a far walk from our normal kitchen. We've been very fortunate to have a space that lends itself to, number one, a great view; and number two, I think people feel safe when they're dining here and that's our priority."
Anderson and his kitchen team curate a special four-course prix fixe menu with ever-changing options and a multitude of beverage choices that are made for guests at the venue's new outdoor bar. A full beverage program is being run from the bar outside and guests are still able to order bottles from the wine list.
"We wanted to put the bar outside so that any guest could see exactly who is making their beverage, exactly how it is handled," Anderson said. "Transparency is key right now. I just think it adds a comfort level, so I think having that bar out there is helping us a lot. And it's awesome to have beverage sales as part of the equation again."
During the restaurant shutdowns brought on by the COVID-19 health crisis, Anderson began not only serving free family meals to go for furloughed or unemployed bar and restaurant workers, he also founded the Support Your Local Restaurants T-shirt initiative that helped fund the meals through donations and sales of the shirts. With many starting to return to work, the full program has begun to wind down, but Anderson continues to provide some assistance to those still in need through meals as of press time.
People continue to buy the Support Your Local Restaurants T-shirts in support, Anderson said. "It's our message. It's a very simple one. Restaurants across the country are still having a very hard time … As restaurants move into these different new worlds of how to serve and how to prepare food, we're not going to be that amazing at it, so we need support, people coming out and people being supportive and if there are issues at a table, we want to know about it, we want to fix them because we know we're not perfect. We're all sort of scrambling to put this all together. We're doing the best we can and we just want to keep the awareness that restaurants won't be in a good place for a long time."
Situated on Bridgeport's Steelpointe Harbor, Boca Oyster Bar has outdoor space for 40 tables, including 1,000 square feet on its patio, and has seen an influx of guests since opening for patio service on May 20, according to Boca Restaurant Group Partner Yanni Taxiltaridis.
"I'm actually blown away by the response," he said. "You hope that people will come and feel comfortable coming, but the reaction has been superb. We have the space so people feel safer here."
Before reopening, the restaurant prepared with table-spacing measures, custom gloves and masks for staff, and hand sanitizer stations, Taxiltaridis said. Employees get checked in when they arrive at work, temperatures taken and a log sheet is kept. Any employees with symptoms will be sent home.
Boca has brought back 84 workers from its previous staff of 120, including bar staff. "We schedule three [bartenders] a night, one to do service bar and two bartenders have tables so they're essentially servers, but I give them all the tables around the bar section each night so they get eight tables. The bartenders are very happy because they're making some money and it's nice to be able to have them get back to work."
Boca also offers Dock and Dine services for boaters who enjoy their takeout while docking their boats in the marina. On Memorial Day, Taxiltaridis said 40 boats visited the restaurant for takeout, with boaters hailing from Milford, Fairfield, Southport and even Port Jefferson, New York. Open for just over a year, Boca had regularly hosted large-scale events such as weddings and trade shows. Being forced to cancel the events booked for the spring and summer months of this year has hurt the restaurant's bottom line.
Taxiltaridis also co-owns the new restaurant Metro Kitchen in downtown Fairfield, which had been open just eight days before the state-mandated COVID-19 shutdown. "That restaurant is struggling … we're having trouble getting people in the door there," he said. "It's downtown, there's not a lot of room outside there … It's time to get a little bit back to normal. There's no reason not to open the inside because it's the same difference so all those restaurants who don't have outdoor … It's the same protocols, it's the same precautions, it's the same everything," he said.
Elsewhere in Fairfield County, restaurants have been working with municipalities to expand outdoor dining space onto streets, sidewalks and parking lots. The Stamford Downtown Special Services District, whose goal is to manage and improve the downtown experience of Stamford, unveiled its StrEATeries in Stamford Downtown initiative on May 30 to encourage customers to visit the city's downtown shops and restaurants with COVID-19-era guidelines in mind.
Taking place over the summer months, the initiative will be rolled out in phases, with phase one consisting of closing downtown streets to enable more pedestrian foot traffic and space for outdoor dining. In phase two, set to begin in early June, sidewalk areas were extended through the closures of Main, Summer and Bedford streets. Plans call for the initiative to remain in place through September.
Turning the taps back on for guests
Breweries with outdoor areas began to open on May 20, including Thomas Hooker Brewery's Bloomfield location, Stony Creek Brewery in Branford and Kinsmen Brewing Company in Milldale among them. Danbury's Charter Oak Brewing Co. was able to open an outdoor seating area in the parking lot at the front of its building in cooperation with the City of Danbury and has kept many health protocols in place for the safety of workers and patrons.
"Folks have been slow to become comfortable entertaining themselves outside the home; however, Charter Oak has structured our outdoor area with allowing no more than five per table. Each table has six feet of separation and all staff have masks and gloves," said P. Scott Vallely, Owner, Charter Oak Brewing Co. "We have hand sanitizer at each table and our menus are destroyed after each use. We are many feet away from guests as they confirm their beer order."
Guests find social-distancing measures in place when grabbing a bite at visiting food trucks. "Our food trucks need to be ultraconservative and knowledgeable about the regulations," Vallely said. "We have six-foot lines throughout and a measuring stick reminding folks of the separation. Only one [person is] allowed into our facility to use the restrooms and they must have a mask. We fill each beer with a new glass and discard the previous glass from our 10 rotating draft lines."
Visiting vineyards and distilleries begins anew
Some of the state's vineyards began to offer socially distanced outdoor seating for guests, while indoor tours and tastings remained off-limits at least until June 17, as of press time.
Watertown's Hawk Ridge Winery opened several outdoor areas for patrons, including a deck area and tented space on May 20. Seating is spaced six feet apart and sanitation stations are available at every entry and exit around the winery's grounds. Guests can enjoy the wines while listening to a live band every Saturday and Sunday afternoon. Once the state enters phase three of reopening, the winery plans to again offer tastings, which is a draw for participants in the Connecticut Wine Passport program, according to Autumn Capurso, General Manager, Hawk Ridge Winery.
"Obviously with the guidelines we have to follow … there are no tastings at all at this time, so hopefully once that is lifted, we would be able to then offer the tastings again. That's what the majority of our people would come for … we don't know how that's going to affect us in the months to come," she said.
Elsewhere in the state, Hopkins Vineyard in Warren opened its picnic area for guests over Memorial Day weekend. Guests can purchase wine and cheese from the vineyard to enjoy on the socially distanced patio area. Pomfret's Sharpe Hill Vineyard opened for outdoor guests with strict sanitation and social-distancing guidelines in place. Wine tastings and purchases were permitted for small groups of four people or less, served on a first-come, first-served basis.
While remaining closed for tours and tastings, Litchfield Distillery was open for curbside pickup and shopping at its facility. The distiller also continued to make hand sanitizer at press time, donating more than 50,000 bottles to high-risk individuals and frontline essential workers as of June 2. The distillery also collected over $30,000 of cash donations for the FISH Food Pantry and Emergency Shelter in Torrington.
After joining many local distilleries in manufacturing hand sanitizer, Westford Hill Distillers in Ashford opened for tours and tastings for groups of up to four people on Fridays, Saturdays and Sundays by appointment only beginning on May 22. The distillery has put health measures in place, such as setting up a hand-sanitizing station outside its visitor center before people enter and limiting its indoor retail occupancy.
"The traffic flow has been steady and the guests have been very respectful of all the COVID protocols," said Westford Hill Distillers Co-owner Lou Chatey. "The visitor center has two outdoor porches with seating for guests to relax as well as expansive lawns conducive to social distancing, which guests have been taking advantage of. As of July 1, Connecticut law will allow for our serving of cocktails, which is something we will also expand into."
Large events scheduled to take place at the distillery, such as weddings and benefits for local nonprofits, have been canceled or rescheduled. An acoustic music series planned for the summer and fall months has been postponed with hopes it may be able to begin in the mid- to late summer months, Chatey said.
"Overall, early signs have us optimistic but it's really going to be a wait-and-see this year due to the unpredictability of the pandemic," Chatey said. "On the philosophical side, we at Westford Hill age our brandies for 14 years before release, so our customers have an appreciation for patience and doing things right."
Sales still surge at retail
Retail sales of beer, wine and spirits have remained elevated as people continue to drink more at home. Benjamin Kirschner, Senior Vice President of Sales for Wilson Daniels Wholesale, offered his take from the wholesale perspective into how the latest guidelines could affect wine sales.
"I think, generally speaking, the consumption has increased because of [customers] being at home and, in some cases, they may lean toward an everyday drinking wine rather than cellaring so much," Kirschner said. "We're seeing a lot of interest in wine across the board, and within fine wine itself, so it still remains viable and we're happy to see that."
Restaurants offering bottle wine sales with takeout gave customers the chance to purchase some "niche items" while giving them the chance to support their local restaurants. With more outdoor dining this spring and summer, restaurants could also see more rosé sales, Kirschner predicted. "Whether you're the entry consumer to the collector, there's nobody who doesn't enjoy a bottle or glass of rosé when sitting on the patio," Kirschner said. "I think that'll be a nice entryway into continuing the rise and appreciation of rosé.
"We're hopeful and excited that they'll be able to operate at full capacity at some point," he said. "I think there's certainly an energy and desire to go out, support the restaurants, the industry that works hard, that produces some amazing food … the amount of passion and commitment that goes into a lot of the cuisine and kitchens in Connecticut is amazing."