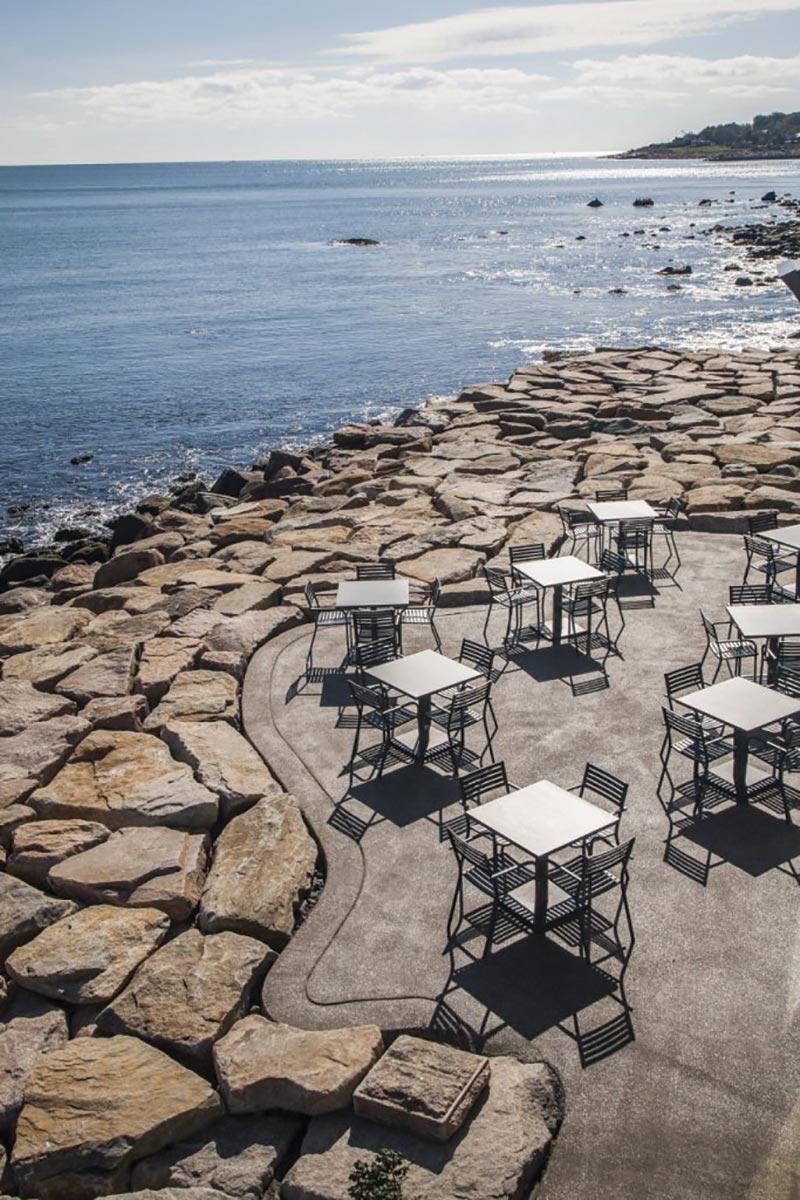 Readiness and uncertainty fit the bill
By Sara Capozzi
Hospitality businesses in Rhode Island began to open their doors in May and June under the first two phases of Gov. Gina Raimondo's reopening plan. Limited outdoor dining was allowed in the state under phase one, beginning on May 18 with multiple restrictions in place.
Phase two of the reopening followed on June 1, allowing restaurants to open for indoor dining at 50% capacity. Restaurants must place tables at least eight feet or more apart with parties not exceeding five guests, and customers and restaurant staff are required to wear face masks, among other guidelines. Restaurants are also required to collect guest information for contact tracing.
Bars had not been allowed to open yet as of press time but were expected to reopen with limited capacity as part of the governor's phase three plan, though the timing for the rollout was not formally announced, with a tentatively early July float date. Restaurants remained allowed to sell bottled or sealed alcoholic beverages and cocktails to go.
Varied responses from guess to stress
Due to financial strain from the complete shutdown of business, some restaurants announced their permanent closure. Another group of restaurants opted not to open yet for outdoor or indoor dining service, citing safety concerns around the virus. A group of restaurants, which includes the venues Fortnight, big king, north, Oberlin, birch and Courtland Club, addressed this in an open letter recently posted on Uprise RI.
"Rather than call on workers and customers to risk their lives for a livelihood and social experience that we all have been deprived of, we instead suggest that this energy and effort be directed at our government and its officials to do their job and protect this extremely important and equally vulnerable industry during this crisis," the group stated.
Plant City in Providence opened for outdoor service in May, adding indoor dining on June 3 at 45% capacity. With the new regulations, 89 guests can be seated indoors and 56 can be seated outdoors, for a total capacity of 140 guests, according to Plant City Owner Kim Anderson.
Plant City offers its full food and beverage menu for both on-site guests and takeout and has added growlers to the mix. "Sales have been very strong for the combined bar, with cocktails leading the way," Anderson said. The demand for cocktails "was definitely much higher than what I expected," she said. "We sent out more than 500 cocktails the first weekend alone."
Rhode Island restaurants had just begun to reopen for indoor service in the beginning of June as an additional stressor boiled over into Providence businesses already under strain. As people across the world marched in solidarity seeking action and reform after the death of Minneapolis' George Floyd while in police custody, on June 1, what began as a peaceful protest in Providence during the day gave way to destruction of property overnight. Many businesses, including restaurants and bars in downtown Providence, sustained damage.
Dale Venturini, President and CEO of the Rhode Island Hospitality Association, addressed the trade membership base by saying, "Several of our members experienced needless destruction of property during the recent violence and vandalism in the city of Providence. This is especially disheartening as many of these businesses were just about to open their doors after going through so much hardship during the COVID-19 pandemic, all the while continuing to provide support to a community in need. These acts only distract from the important discussion of racial injustice happening around the nation and we hope that future protests remain peaceful and meaningful."
Gambling on a comeback
The Twin River Casino Hotel and the Tiverton Casino Hotel both reopened on June 8, allowing guests on an invite-only basis. Members of the casinos' rewards programs were the first customers to receive invitations and each invited customer was allowed one guest. Capacity of guests was not permitted to exceed 25% occupancy as set forth by the state's fire code. All guests and casino staff were required to wear face masks, along with other social-distancing protocols and health requirements.
With its sweeping waterfront views and two patios, Tiverton's Boat House is an in-demand spot for guests looking for dinner with a view, especially in the warmer months. According to General Manager Lou Capodilupo, during the two weeks of phase one, the restaurant was only allowed to have 20 tables in total in its outdoor areas. For phase two, the venue opened for indoor dining at 50% capacity and was allowed to add more tables to its front and back patios.
During the last few weeks since reopening, the restaurant has seen "a huge demand," Capodilupo said. "So far, three days into business with it, it's been going very well. The demand is there. We're showing up on reservations on weekends about two weeks out." Capodilupo said he has been able to bring back every member of his staff he had prior to closing in March.
Possibly due to the large number of people still working from home or on furlough, Capodilupo has noticed "more of a leisurely dine-in crowd" at the Boat House. Instead of a lunch rush or a dinner rush, "We're seeing more of a steady pace throughout the entire day … It has the feel of almost a Saturday to an extent, even on the weekdays, which is nice," he said.
"One of the biggest things for us is making sure everyone is safe and it's encouraging to see really nice reviews from our guests, letting us know that they felt safe by the measurements our staff has taken in terms of the table distance, staff in proper PPE and guests seeing staff washing their hands frequently," Capodilupo said.
Cranston's Twin Oaks Restaurant continued to offer its full menu for takeout during the shutdown, according to Co-owner Susan DeAngelus Valles. The restaurant also served some of its most popular cocktails batched to go, such as its Golden Margarita and Sangria. Twin Oaks continues to offer its full takeout operation, which is still doing well, DeAngelus Valles said, and has opened its outdoor patio and indoor space, with a "limited crew" working.
"My outside patio is doing very well and we're taking reservations for that," she said. "It hasn't been that busy inside yet … I think people are coming little by little for inside." DeAngelus Valles said she expected the coming weekend to be busier as guests continue to get more comfortable with frequenting restaurants again.
Elsewhere in the state, Newport landmarks such as The Chanler at Cliff Walk hosted Memorial Day weekend picnics on its lawns as an outdoor dining option for guests who ordered curbside pickup. The Chanler announced it would be opening for hotel guests and dining at its in-house restaurant Cara beginning on June 12.
Gurney's Newport Resort & Marina reopened its doors for overnight guests on May 15 and dining at the venue's The Lounge & Firepit opened on May 20. The resort's poolside venue, The Pineapple Club, opened on May 22, while its restaurant, Scarpetta, was opened for dinner reservations on Friday and Saturday evenings.
Charitable works create trust
Members of the hospitality community continued to find ways to help their own. Quincy, Massachusetts, resident Nicky Bandera, a contractor for Tequila Tromba, came to the aid of industry workers who had lost their jobs in her home state and Rhode Island with her initiative called Project Paulie. Named after a character in the movie "Goodfellas," the project started on March 26 with Bandera's idea to bake about 20 lasagnas for industry friends she knew who were in need of a hot meal.
When restaurant and bar closures hit due to state-mandated coronavirus shutdowns, Bandera said, "I just wanted to do something immediately and not ask permission. For me, it was like, let's just start cooking for our bartenders, for our friends. Let's bring a little bit of joy in."
Bandera teamed up with industry friends in Massachusetts and Rhode Island for help with donations and deliveries for those they knew who were in need of a meal, from out-of-work bartenders to kitchen teams, including undocumented workers, all of whom appreciated the community outreach.
Project Paulie partners have included representatives from Narragansett Brewing, The Eddy and Durk's Bar B+Q, Red Bull and Plantation Rum. The project was completely funded by donations by its second week. At press time, Bandera had personally baked 900 lasagnas for the cause and was planning to continue the project in some way in the future.
BJ Mansuetti, Brand Director, Narragansett Brewing and Stephanie Carr, Owner, Durk's Bar B+Q and The Eddy were among those helping with Project Paulie through donated products and deliveries.
"We've been lucky through those donations to not only be taking care of restaurant people, bartenders, owners, front of the house, back of the house, but we've been able to really gain some trust within the undocumented community, which was where we see the most need," she said.
"There's so many people, especially undocumented people, who are the backbone of a restaurant and if anything happens, they can't feed themselves and take care of their families. For a lot of industry people, we're seeing the same thing. We don't have savings accounts or anything like that or if you get hurt, we don't have insurance. It's scary. So, figuring out a way with Project Paulie to take care of people is definitely my priority," Bandera said.
Brewing up new service models
Some Rhode Island-based wineries began to open their grounds for guests to have socially distanced picnics safely. Carolyn's Sakonnet Vineyard in Little Compton reopened Friday, May 22 for outdoor dining for parties of five or less. Customers can also still shop for wines online and curbside pickup is still available. Greenvale Vineyards in Portsmouth continued to offer curbside pickup and discounts on some of its wines. Guests were also welcomed to picnic at socially distanced spots on the grounds while enjoying wine from the vineyard.
Newport Vineyards opened for lunch and dinner reservations, for both outdoor and indoor service at its on-site brewery, Taproot Brewing Company, on June 9, making use of its grounds and spaces per state regulations. While not conducting traditional tastings during phase two, guests are able to make reservations for the vineyard's Tank Room and Patio for wine and beer tasting flights paired with food from Brix Restaurant.
Some local breweries and distilleries continued to operate their curbside pickup operations, but remained closed to visitors for the time being, including Grey Sail Brewing in Westerly and Foolproof Brewing Company in Pawtucket.
"At Foolproof, we've decided to continue focusing on curbside pickup for the time being, though we do foresee reopening for on-premise taproom service sometime in the near future," said Owner Nick Garrison. "We're hopeful and optimistic that the COVID statistical trends will continue to head in the right direction during phase two. Assuming that's the case, we'll feel better about the prospect of reopening in a limited capacity in the months ahead."
Other breweries with the inclination to offer their outdoor real estate welcomed guests back at limited capacity with health protocols in place, including The Guild in Pawtucket. Newport Craft Brewing & Distilling opened its tasting room and pavilion on June 1 at 50% capacity with reservations and face masks required and tables spaced 12 feet apart.
"We have a wide advantage that a lot of breweries in Rhode Island don't have in that we have a lot of land, so it gives us the ability to actually seat tables outside," said James Rodrigues, Chief Operating Officer, Newport Craft Brewing & Distilling.
"We only wanted to open up in phase two when it was safe and we had the proper guidelines to train our staff," said Brendan O'Donnell, CEO, Newport Craft Brewing & Distilling. "With all the hand sanitizer stations, with being able to plan for how many people are coming by doing the reservations over the phone and then managing the amount of people that we see every day, it's more getting back into the grove of slowly reopening. We're not able to have the whole place sold out, it's at a minimum right now, it's more to just get everyone reacclimated in small steps into eventually being able to fully get back into where we were."
The full line of beer and spirits from Newport Craft Brewing & Distilling is available for ordering flights, but, as of press time, food and live music are on hold for now. "We're really reopening slowly," Rodrigues said. "We want to make sure we get it right versus getting into a situation where we attract too many people and it gets crazy."