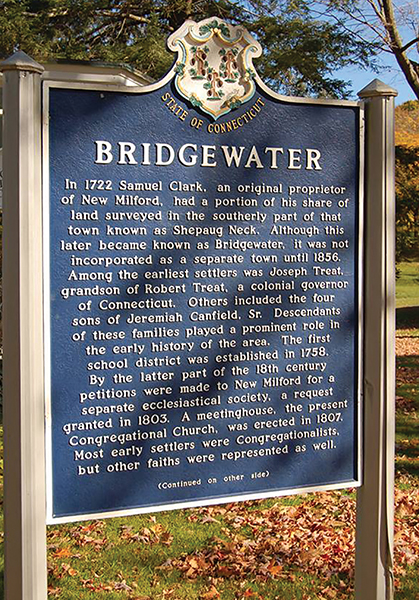 Voters End Prohibition in Bridgewater
By Lauren Daley
Voters in Bridgewater, the last dry town in Connecticut, chose to end prohibition in a historic choice on Nov. 3. Residents voted yes on the ballot question allowing alcohol sales in restaurants by nearly a 3:1 ratio, 660 to 246, according to the election results posted to the town's Web site.
The question read: "Shall the Town of Bridgewater adopt the following ordinance: The town of Bridgewater shall allow the sale of alcoholic liquor in all establishments operating under restaurant or café permits only between the hours of 11:00 a.m. and 11:00 p.m. Monday through Thursday; between the hours of 11:00 a.m. and 12:00 midnight on Friday and Saturday; between the hours of 12:00 noon and 10:00 p.m. on Sunday; and between the hours of 11:00 a.m. and 1:00 a.m. on New Year's Eve?"
The vote officially ends prohibition in town, some 81 years after the repeal of the 18th Amendment. Bridgewater, an affluent town of 1,730 in western Connecticut, is not allowed to have a package store per state regulations because there are fewer than 2,500 residents.
The decision comes 10 months after the planned referendum vote on the topic was postponed in February. First Selectman Curtis Read said at the time the postponement was due to General Statue 30-10, which states that in order to change a town's dry status, you need a petition — signed by at least 10 percent of the town's registered voters who are in favor of making the change — on file with the Town Clerk for at least 60 days prior to a regular town election.
The talk of reversing town policy banning alcohol in restaurants first came up in Bridgewater last year when two aspiring restaurateurs challenged the town's dry status in November by proposing restaurants that would serve alcohol, making the town "partially dry"— allowing alcohol sales in restaurants. Financier Peter May, who owns the Bridgewater Village Store and a vineyard in town, has proposed turning the abandoned bank attached to his store into a café that would serve beer and wine. Resident Bill Holland has proposed to build a high-end restaurant in another building left vacant by the bank.