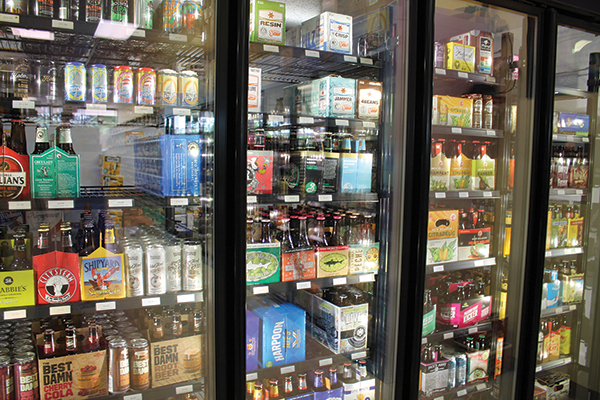 By Jack Kenny
In 2011, Connecticut had 16 breweries, including brewpubs. That was way below the numbers in many other U.S. states. To put it into perspective, at the end of 2012 the nation boasted 2,500 breweries.
By the end of 2016 – the most recent data from the Brewers Association (BA) – Connecticut's breweries numbered 49, an increase greater than 300%. Today the state ranks 32nd among the 50, not bad for one of the smallest. Rhode Island is 45th with 15 breweries, but ranks higher than Connecticut in breweries per capita: 28th versus 32nd.
A major cheerleader for Connecticut's breweries is the state government, and along with those cheers has come fiscal support and legislation that makes it easier for brewers to build and operate. This support acknowledges the significant contribution by the breweries: The BA says brewers contribute $569 million annually to the state's economy, and employ more than 4,600 people.
Connecticut's brownfield program, started in 2006 and enlarged in 2011 after Dannel Malloy became governor, has been of invaluable aid to brewers. Brownfields are blighted, vacant or under-utilitized properties that can be put to good use after cleanup and restoration, and 1,000 such sites dot the state's landscape. Since 2012, the state has invested $191 million toward remediation of more than 160 brownfields: old or vacant mills, factories, warehouses and other contaminated sites and buildings.
Two Roads Brewery, the largest craft brewer in the state, received $500,000 to refurbish the old U.S. Baird factory in Stratford. The brewer's main purpose is contract work – making beer for other brewers throughout the country – but it has had strong regional success with its own line of brews.
Also in 2012, the Connecticut General Assembly passed a law that allows craft breweries to include taprooms without the requirement that they serve food. Prior to the change, brewers were restricted to offering tastings, or else they had to get a liquor license as a brewpub and sell food along with beer. That meant building and staffing a kitchen, along with everything else such an auxiliary operation requires. Brewers have now seized an opportunity by working with independently licensed food trucks that offer a range of foods on the property. It's a benefit for all parties.
Two Roads was behind a major change in state beer laws that was approved five years ago, at the time Sunday alcohol sales were permitted. Before that, breweries were prohibited from selling beer directly to the public, and were restricted to selling tickets for tours and offering small samples to tourists. Only licensed brewpubs could sell by the pint. Two Roads owners worked with the town of Stratford and other brewery people to lobby for a change in the law, and succeeded. Today, visitors can buy pints of beer at the breweries, which has ramped up public interest and further stimulated the economy.
The most recent benefit to the homegrown beer industry came in July of this year, when the legislature created a manufacturer's permit for farm breweries. The new farm brewery license allows permittees to make, store, bottle, distribute and sell up to 75,000 gallons of beer a year, and to advertise their product as Connecticut craft beer.
Permittees are required to grow a certain amount of the hops and barley they use in the beer manufacturing process. The annual fee for a farm brewery manufacturer permit is $300, and increases – from five to seven liters – the amount a farmers' market beer sales permittee may sell to a person per day at a farmers' market.
Also, the new law requires permittees to use a certain amount of hops, barley, or other fermentables grown or malted in the state. In the first year of a permit's issuance, a permittee must use at least 25% of a combination of hops, barley, cereal grains, honey, flowers, or other fermentables grown or malted within the state when brewing his or her beer. The permittee must increase this amount to at least 50% each subsequent year.
"Connecticut's growing craft beer industry continues to create good-paying jobs and bolsters local economies across the state," said Brett Broesder, co-founder and vice president of Campaign for Tomorrow's Jobs. "When a farm and a brewery partner up, it supports local businesses, creates markets for homegrown products, and gives entrepreneurs an opportunity to create jobs."
Jack Kenny has been writing The Beer Column for The Connecticut Beverage Journal since 1995. Write to him: thebeercolumn@gmail.com