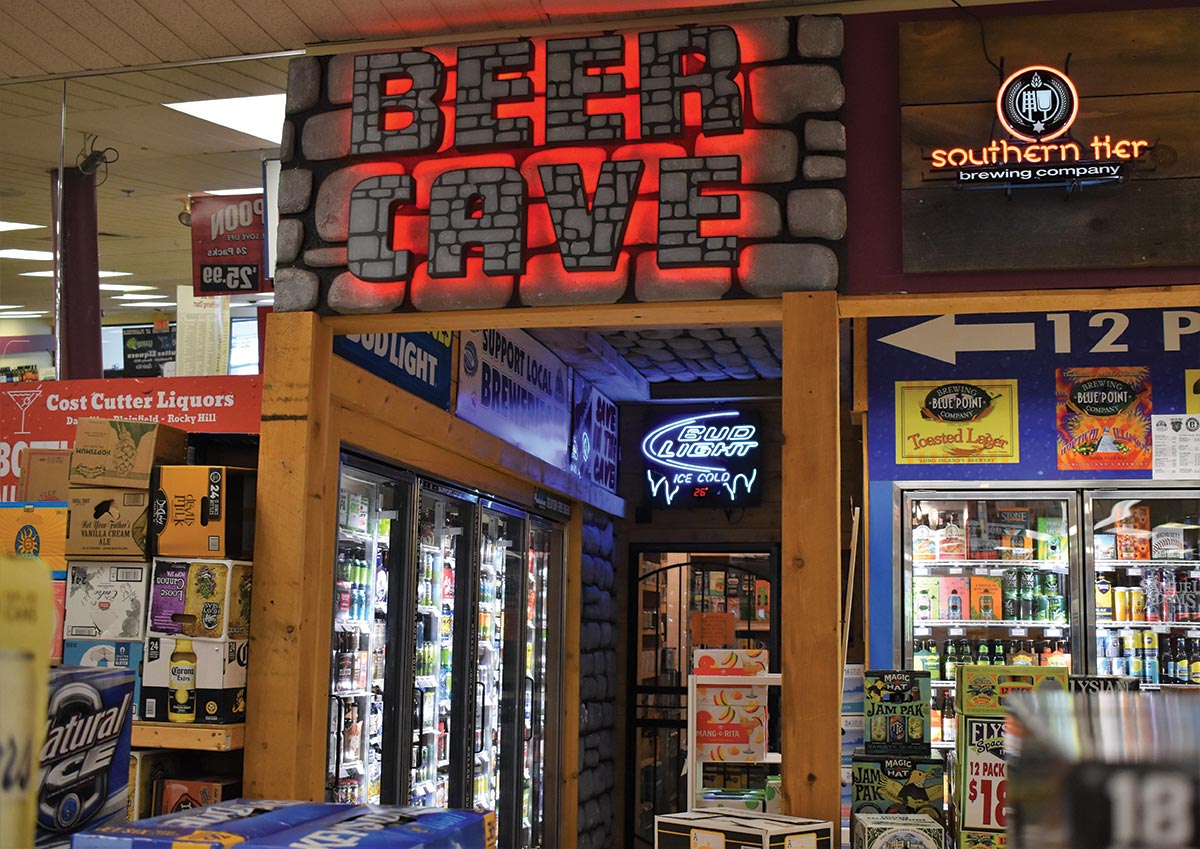 Cost Cutter Liquors of Plainfield
81 Lathrop Rd
Plainfield, CT
Square footage: 10,000
Years in operation: 10 months
By Sara Capozzi
Walking in to Cost Cutter Liquors of Plainfield, customers are greeted with 10,000 square feet of retail space filled with colorful displays, a huge refrigerated beer cave and a vast selection of beer, wine and spirits.
Owner Mike Patel and his management team prioritize the creation of a fun and interactive shopping experience for customers. "Every day we try to do something different, and we still have a lot more set up to do in terms of the landscape of both stores," Patel said. "We have a lot more coming … every month we plan to add more upgrades."
The Owner of Cost Cutter Liquors in Rocky Hill since 2012, Patel purchased Cost Cutter Liquors in Plainfield and another location in Dayville, both in October of 2017. Soon after, he set to work with renovations: replacing displays, shelving and reorganizing product placement in both coolers. He recently placed a wine tasting table in the Plainfield store, and is looking to purchase a new LED system for the 15-door cooler space, as well as replace all metal wine racks with wood. Delivery and a new website for shopping are also planned for the future.
Customers can find a lot of reasons to shop at Cost Cutters, from its frequent beer, wine and spirits tastings to raffles. It's biggest draw, said Patel, is its prices. "We are known as a big store with a big selection and low prices in the area," he said. "We do operate on a very low margin on a state minimum pricing on most of the items throughout the store … Customers love that, to be honest – low prices."
There is no average customer, according to Patel and Plainfield Assistant Store Manager Tony Mecca, from the $5 quick-stop to the hundreds of dollars luxury spirits buyer. Cost Cutters also does a "good business" on items such as kegs and bulk party items. Campers also frequently stop in to buy ice, beer or box wines in bulk.
"Anything and everything we see as a possibility from a growth perspective, our hands are in it," Patel said.
According to Mecca, popular items at the Plainfield location are craft beers, the Apothic wine line, Gnarly Head wines and Walking Dead wines. "Customers come here because they can get it all in one stop," said Mecca. "And if they're looking for something special, we probably have it compared to your smaller package store."
Caterers and party planners are big customers, according to Patel. "Especially now that it's summertime, one of our caterers, they do a thousand dollar order a week," Patel said. "They wouldn't be just coming in if we didn't have the right pricing and the right customer service. We take care of them so we [gain] their trust and vice versa, for them to come in on a week-to-week basis."
The Cost Cutters chain is also involved in its community, charities and causes, including the DARE program, The Elks, Rocky Hill High School, the St. James Church Charity Event and local food banks.