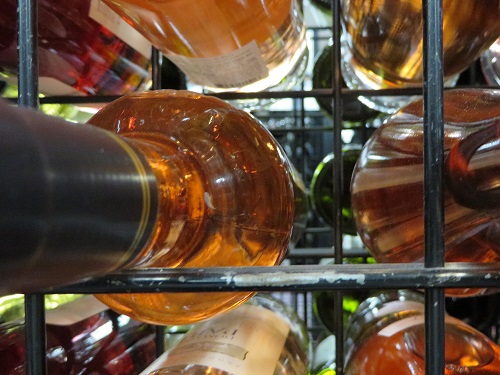 Local Experts Weigh-In on 2017 Trends
Varietal Wines, Emerging Spirits and Low-alcohol Cocktails
By Lauren Daley
It's time to look ahead to what's coming up for the beverage industry in 2017. The past few years have seen waves of growth in craft brews, rosé wines, classic cocktails and the farm-to-bottle movement. We asked a handful of local industry professionals to look into their crystal balls and forecast what trends will emerge, pick up, or slow down in Connecticut. Here are their expectations.
"In 2017, spirits will see an even more intense focus on barrel-aging," predicts Renée B. Allen, Director of the Wine Institute of New England. "Special bottlings of traditionally aged spirits, such as whisky, will be cocooned in every type of cooperage out there, from cognac to cabernet barrels. Using traditional barrels and then a second style of barrel for 'finishing' will become more common," she said.
"Secondly, spirits that are not typically aged — such as vodka and gin —  may find themselves spending time in oak for flavor, color or just the novelty of it," Allen said. She also predicts an increased interest in liqueurs, especially amaro. The "craft liqueur movement will expand to include ever more creative components, including locally foraged botanicals. Infusions will also get more creative — if you can stick it in a jar, you can use it to infuse," she continued. Lastly, she expects a trend of Eastern-themed cocktails made with tea bases and Asian spirits, such as shŌchŪ and baijiu.
As for wines, Allen said, "We'll see more single varietal wines, highlighting grapes we've never heard of, from some of the hundreds of indigenous grapes in Old World countries." She also predicts the trend of "healthy," low-calorie, low-alcohol wine will continue — and possibly that colored wines, like blue, will hit the shelves, "followed by the entire rainbow of possibilities," she said. "Sparkling wines will continue to gain ground … look for England to become a more significant performer when it comes to bubble ballet."
Mark Moeller, Founder of Recipe of Success in Shelton, has similar predictions. "Wines will continue their turn to natural and clean while we should see more wines in kegs, too. Beer will continue to focus on local with more and more unique ingredients being used. Old-school cocktails will be reinvented and become the drinks of choice for many," he said.
Brian Mitchell, Beverage Director, Max Restaurant Group said, "Beaujolais will continue to make a strong comeback on wine lists. The strength of the wines from smaller domaine producers who own and farm older vines and make serious wine will continue to resonate with buyers and consumers alike; plus the food pairing ability of Gamay will reach more people as they experience these fabulous wines. Wine lists will focus on regional styles and be tailored to work with the cuisine of the restaurant rather than trying to be formulaic and have something for everyone."
Mitchell also predicts, "Academic wine writing will continue to displace ratings as the preferred manner to buy and sell wine. What the wine tastes like to you is all that matters and scores are simply a snapshot in time of one person's opinion." He says to look for a slow-down in craft breweries as the market continues to be "flooded;" gin will gain more prominence and preference in cocktails; and the term "craft" will "continue to be overused on more and more bar programs."
Ashley Lurie, Bartender at the Ch'i Public House in South Norwalk, predicts a back-to-basics cocktail movement. "I'd love to see more bartenders keeping it simple — using their creativity to deliver straight-forward cocktails and flavors that can be duplicated and picked apart. I absolutely love the 'Farm-To-Shaker' initiative because of the unadulterated, simplistic nature of the cocktails they produce," said Lurie. She hopes getting back to basics will also "allow for more face time with guests … We've all been through the 'mixology' phase. Now it's time to be a bartender again. Good hospitality and relationship-building are, and always will be, the cornerstone of a good bar."
Dimitrios Zahariadis, newly elected Vice-President of the United States Bartenders Guild Connecticut (USBG CT) chapter, had similar sentiments. Zahariadis said in 2017 he would "like to see bartenders educating themselves more and focusing on hospitality. Making good drinks can only take you so far; you have to be about hospitality, not ego."
He also hopes to see an increased camaraderie among Connecticut industry members. "With more and more breweries opening in Connecticut, I see a lot more people supporting each other on the local beer scene, and the local spirits scene, as well … As we see more of these places open up here in Connecticut, I'd like to see more support for each other," Zahariadis said.
Nick Kabetso, Director of Beverage at Foxwoods Resort Casino, expects an old-school cocktail movement. "You'll see a continued movement towards hand-crafted retakes on classic cocktails, focusing on fresh ingredients and small-batch spirits. As we all try and capture the Millennial demographic, I think Tiki-style cocktails will see resurgence as we move into a fruitier taste profile … Also, we'll see more done with coffee, cold-brew especially."
Kabetso also predicts more interest in foreign-brand whiskeys, such as Kavalan, Nikka and Amrut. As for beer, he said, "I'm going out on a limb for this one, but we will finally see a slowdown in IPAs … The consumer is going to shift from aggressive high ABV and IBU IPAs to sessionable porters and stouts."
Nikki Simches, Bar Manager at Cure Restaurant in Unionville, predicts more growth in the craft beer trend, a return to "classics restored and modernized" for cocktails, and more "of science and chemistry brought behind the bar … You'll see cocktails on tap, locally sourced ingredients in beers and drinks, mixologists working hand-in-hand with chefs for collaborative pairings and exchanges of ingredients. You're going to see more house-made syrups, bitters, shrubs, cordials, infusions … Artificially flavored vodkas and rums are going to begin taking a back seat for more naturally flavored and handcrafted spirits."
Peter Clayton, Owner of the Bartenders Academy, predicts 2017 "will be the year of technology for the hospitality industry, particularly in the social space. We're seeing a greater use of technology among hospitality professionals and their guests, brands and service professionals," he said. "There are more apps geared towards everything from [ordering] and inventory management, provided by The Beverage Journal, to capturing cocktail art with Trophy Cocktail, event management and social media platforms for news, events and jobs, such as Syrver.com. [New apps] are seeking to streamline and make everything easier — to do our jobs as service professionals, to celebrate our craft, and to connect with one another."
Edward M. Korry, Department Chairman of Dining and Beverage Services at the Center for Culinary Excellence at Johnson & Wales University's College of Culinary Arts, predicts more "small-production wine, beer and spirits" and "greater interest in the 'natural wine' movement." The rosé craze will continue, he said, expecting to "see more amaros, bitters and digestivos being served both on their own and [in] cocktails."