By Jerry Farrell (Issue, May 2012)
There's no question that after any New England winter, whether harsh or mild, we all want to "get outside" and leave the enclosed spaces to which we have been confined during the winter months. The food and beverage industry certainly encourages this impulse. Many restaurants promote "alfresco dining" – a romantic dinner with a bottle of wine and a gourmet meal under the stars – while more and more ba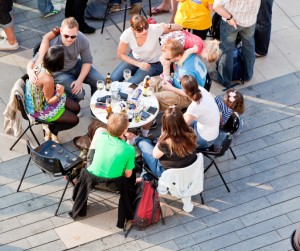 rs have built outside patios, where that extra warmth on a hot afternoon makes a cold beer even more refreshing.
From the perspective of the liquor licensee, whose livelihood depends on strict compliance with the state liquor laws, it is not as simple as "throwing the doors open" and serving food and alcohol wherever it can physically be accommodated. Every liquor licensee needs to be versed in what constitutes their "permit premises." The permit premises are a defined area within which, under that specific license, liquor can be sold and served. Conversely, liquor can't be sold and served outside the permit premises.
It's up to the liquor licensee to know the extent of his or her permit premises, and also instruct the establishment's servers on the issue as well. It's easy to think of the permit premises as being the inside public areas of that establishment – the "four walls" that define the inside space. Many licensed establishments fall into that category – at the time that they sought their liquor license, it was only envisioned that liquor would be served inside the building, and that's all that was applied for when the license was granted. Such an establishment could not, without seeking additional approvals, serve liquor outside.
There are ways in which an existing or newly-established liquor establishment can legally expand their permit premises to include the service of liquor in outdoor space. In most cases, this involves applying for a "patio permit" from the Liquor Control Commission, or seeking other kinds of "extension of the permit premises." What's involved in seeking such a permit? A patio permit or an extension of the permit premises is not just a blanket permission to sell and serve alcohol wherever outside your building that you please. In the same way that four walls may define an inside space, the Liquor Control Commission looks to give similar definition to the outside space in which you seek to serve liquor.
They will want a sketch, with real dimensions, that shows where that outside space begins and where it ends. Maybe that's not too hard – maybe the patio is in a converted alleyway that has very defined limits and a simple sketch can be made with the aid of a tape measure. But often it quickly becomes more complicated. Will the space be covered by a tent? How does the area now to be part of the permit premises get separated from a public sidewalk, a common courtyard, or other shared area? Will a fence be required under local zoning to screen the area from public view? If it's a beach area, can liquor be served to those in the water or on an adjoining boat? These are all questions that may come up as your business seeks approval to expand its permit premises to include outdoor spaces, first by securing whatever local zoning, fire, and health department approvals are needed, and, then, in getting approval from the Liquor Control Commission.
While some businesses take the view that it's easier to "ask forgiveness later than seek permission first," this is not one of them. If you have an existing liquor license, you don't want to run afoul of the Liquor Control Commission, local planning and zoning, or the fire marshal or health inspector. All of these agencies can, directly or indirectly, have a hand in the loss of your liquor license if you fail to comply with their statutes and regulations. As one liquor control agent said to me "it's all about documenting the space – that's why we require a sketch, why it has to have dimensions, why there is such an attempt to nail down the boundaries of where liquor can be sold in outdoor space – so that if there is a question later on of whether those boundaries were physically surpassed, we can look at what was documented in the file."
Before you throw those doors open for the spring and summer season, be proactive and ensure that this outdoor impulse you are looking to satisfy is one allowed under your liquor license.
Jerry Farrell, Jr. served as Chairman of the Connecticut Liquor Control Commission from 2006 to 2011. An attorney for 19 years, he now practices liquor licensing law and can be reached at jerryfarrell@ctliquorlaw.com. The opinions expressed here are general guidance and should not be taken as specific, individual legal advice. Consult an attorney as to your own specific situation.