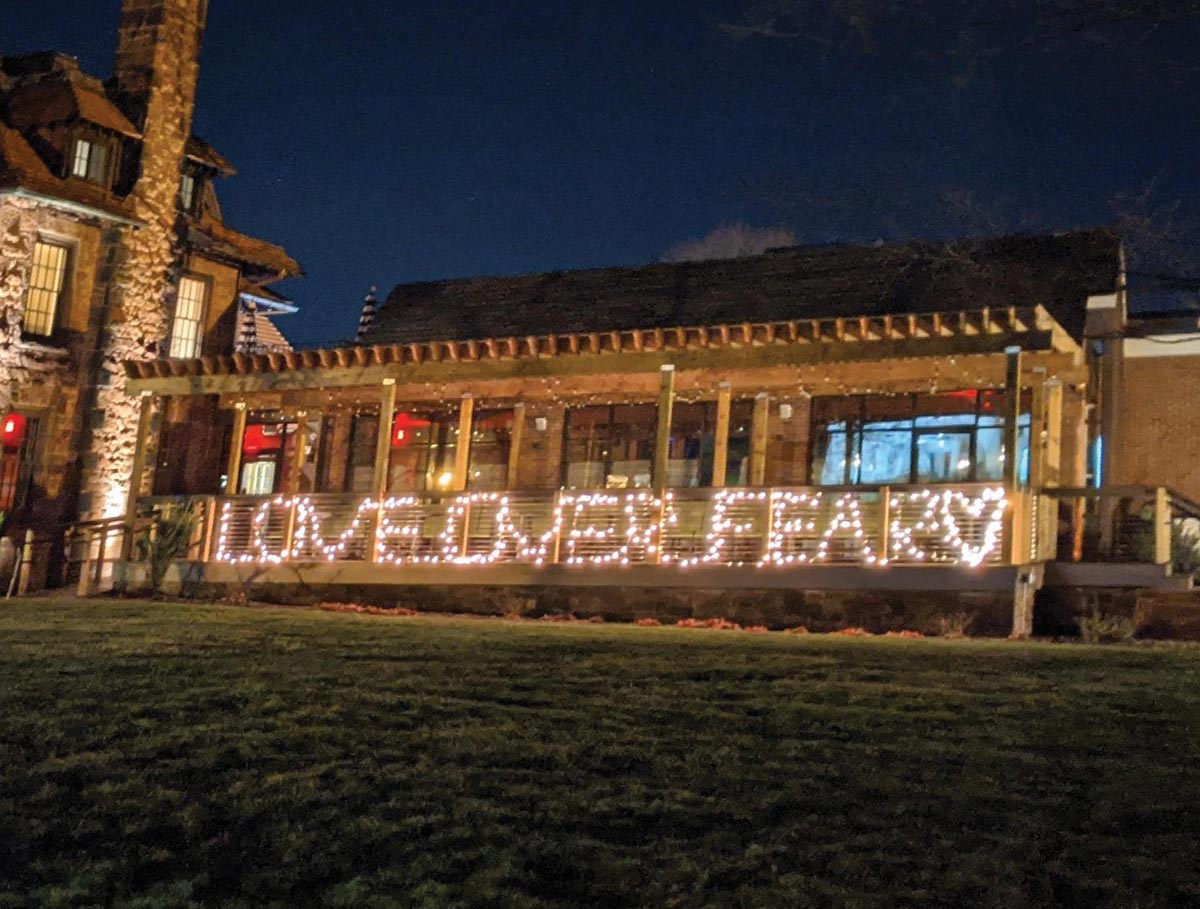 Connections and creativity emerge among hard-hit sector
By Sara Capozzi and Dana Slone
As the world adapts to the new reality brought on by the coronavirus pandemic, professionals in Connecticut's food-service and bar industry have experienced unimaginable hardships in the on-premise sector. The state's efforts to contain the spread of the virus included restaurant and bar closures to prevent public gatherings beginning on March 16, allowing takeout and delivery only.
The Connecticut Restaurant Association (CRA) worked to outline on-premise business-relief measures with state officials, hosting webinars and keeping members looped in on aid programs. Governor Ned Lamont then enabled venues to sell liquor, wine and beer in original sealed containers after the first week of the shutdown, softening the blow of the temporary shutdown, which, as of press time, was projected to run until May 20.
Scott Dolch, Executive Director, CRA, said of the allowance: "[This] week has been very difficult for all of Connecticut, particularly the restaurant and hospitality industry. We appreciate the governor and lawmakers who continue to work with us to try to lessen the burden. This change to allow alcohol sales with takeout food is a signal to our industry that they are being heard. We will continue to advocate for all restaurants in our state, to address the needs of our industry and small business as a whole."
State wholesalers focused on accounts, donating funds and assessing safe operations. Gene Sepe, President and CEO of Brescome Barton, said, "These have been an unprecedented few weeks and Brescome Barton has been working diligently to adapt to our new normal. Our on-premise partners are an integral part of our business, and we remain committed to supporting them in any way possible. Thus far, Brescome has committed $10,000 to the CRA, and we will continue to explore new and effective ways to service our many retail and restaurant customers, including consulting services and takeout support, which benefits restaurant staffs and frontline workers. All activities are undertaken in the interest of ensuring the safety of our folks, enabling them to continue to deliver our highest-quality service safely without interruption. We are all in this together and it's great to see the industry mobilizing to help those in need."
On April 1, Governor Lamont issued an extension of a 30-day period of credit for liquor permittees to 90 days, offering restaurants and bars a financial breather by easing the statute during the coronavirus crisis. Lawrence Cafero Jr., Executive Director of the Wine & Spirits Wholesalers of Connecticut (WSWC), said, "WSWC wholeheartedly supports restaurants being given an extension of credit given the unprecedented and dire circumstances they have found themselves in as a result of the [COVID-19] crisis."
On-premise owners and workers have been doing what they can to stay in business. For many, shutting down operations until they are given the green light to open again was the best decision financially, with many employers laying off staff so that they could file for unemployment benefits as soon as possible.
Wood-n-Tap Bar & Grill temporarily closed all nine of its restaurants. "Our team has become increasingly concerned with the safety of our staff and guests, and that is more important to us than anything else. Any gain we have is not worth the risk to those still working for us or visiting our locations for pick-up," a post on Facebook said.
J. Timothy's Taverne, which recently celebrated 40 years in business, had offered curbside takeout but decided to temporarily close too: "It is with heavy hearts that we have made the difficult decision to temporarily close after business this Sunday due to the current pandemic. Although our initial intention was to provide food to-go as comfort for our guests with some level of normalcy throughout this crisis, the health risks for you and for our wonderful staff ultimately have outweighed the benefits. We can't wait to reopen when it is safe to do so, stronger than ever." Many made that tough choice.
Restaurants that have remained open for takeout, delivery or both offered service adaptations. Mark Moon, Owner of Seoul BBQ in New Britain, changed both his menu and how the food is served. Typically, his restaurant's Korean barbecue is cooked on tabletop grills, but now the food is prepared in the kitchen for takeout only. Business at the restaurant was relatively good the first week of the new state order, but slowed down the second week, he said.
Working at the restaurant with just several of his family members left on staff, Moon was contemplating different ways to find new customers through delivery or catering. "Everyone's in the same boat, it's not just me," Moon said. "I feel like if this isn't managed properly, it's all over by the time you get out. You've got to manage it properly to make sure you stay here in the meantime."
Pam Paydos of Popover Bistro & Bakery in Simsbury said she and her business partner, Sara Allan, have changed the way they do business, which up until now served breakfast and lunch, with takeout orders accounting for about 20% of business. Now, Paydos and Allan have made the transition to all takeout and have adapted their menu and processes. They stay in touch with guests through social media, taking guest feedback and suggestions for theme nights. Paydos said she was forced to lay off her entire staff of 13 employees with the shutdown.
Popover has put together an employee fund with tips collected at the restaurant, distributed among her laid-off workers. She also offers them a free meal at her restaurant every day. "A lot of restaurant people are coming together and I think as a group we all do support each other, but I think more so now," Paydos said.
Paydos began donating baked goods to the free meals that Chef Tyler Anderson provides to unemployed service- industry workers. Anderson, who owns and operates four restaurants in Connecticut, including Millwright's Restaurant and Tavern in Simsbury, rallied early and publicly by providing daily family meals for takeout among his community outreach efforts.
Chris Aparicio, Owner of Waiter Wheels, a restaurant delivery service serving the Greater Hartford area since 2006, now offers a "no contact drop-off" option for increased safety. Operating in the same manner as Uber Eats or Grubhub, Waiter Wheels gives restaurants a broader reach to customers, an even more valuable service now that takeout and delivery are the only options. The company serves more than 60 restaurants. Aparicio is offering a promotion for restaurants who opt to use his service, with a reduced commission through the end of April.
"I just wanted to put something out there that would be helpful for the restaurants during this time," Aparicio said. "My business is only open if restaurants are open. We both need each other because if there's no restaurants then there's no restaurant delivery services."
Many restaurants are adapting by finding ways to stay afloat and to support their teams, communities and each other at the same time. Bars are innovating by creating "cocktail kits" to go with food orders and the allowable sealed spirits or wine bottles.
Cheshire's Viron Rondo Osteria has been serving its full lunch and dinner menus for takeout, with delivery service to locations within a 10-mile radius. Dimitrios Zahariadis, Beverage Director, said the takeout and delivery business is "doing very well." The restaurant has also offered a 50% discount to first responders, which has had a great response, he said. "We are also offering our wine menu at a 50% discount and we've added cocktail kits to our takeout service," he said. The kits include 375-ml-size bottles of spirits paired with different RIPE bar mixers. "[It's] super easy for anyone at home to mix up a cocktail without feeling intimidated. It's been working well," he said.
Oak Haven Table & Bar in New Haven has been offering takeout and delivery since its March 17 shutdown, but it hasn't been a windfall for business, said Owner Al Greenwood. "I'd say that it's keeping the lights on and paying the people working the takeout and that's about it," he said. "The availability to sell alcohol definitely helped, but it's still about a 70% decrease in business from normal weekly sales. We are not attracting new customers unfortunately. I'd say nine out of 10 customers ordering are regulars. We were approved for a disaster relief loan from the SBA [Small Business Administration] last week. Without that, we definitely wouldn't even be open at all. There's just not enough money to be made this way. Full-service restaurants have too much overhead." Greenwood predicted that after the shutdown, the restaurant industry will be different, with potentially "stricter regulations by state and city governments. Restaurants need to find ways to increase net profit margins. The industry is too fragile."
Geronimo Tequila Bar & Southwest Grill, with locations in New Haven and Fairfield, has launched a new takeout menu, offering curbside pickup or delivery through Uber Eats. Menu items such as taco kits and cocktail kits have been popular with customers.
"We've needed to pivot our business model to accommodate accelerated takeout and delivery business, but so far our customers have shown us their loyalty by continuing to support us during these difficult times," said Steve Bayusik, Director of Operations. "The ability to sell alcohol, packages especially, is key to the successful pivot; our goal is to be able to transfer our authentic dining experience to the comforts of home, including our signature cocktails. We've been successful so far with both the margarita kits as well as the single-serve options via 50-ml bottles. I would like to see the ability to continue to sell alcohol to go in a similar fashion under normal circumstances, as these times have changed the game for good."
Emily Mingrone, Chef and Owner of Tavern on State in New Haven, said, "We've been trying different things to figure out what our guests want. We have been doing some of our most popular cocktails as kits that people can make at home. It's been going really well so far, and although takeout is not sustainable for us long term, we're happy we can still serve the community during this weird time."
Bars and bartenders are connecting with furloughed customers, new fans and each other through social media for everything from cocktail demos and virtual happy hours on Facebook Live to virtual tip jar fundraisers. Supplier brand-driven recipe submission cocktail contests, aimed at keeping a high profile while helping those out of work, innovate ways for product placement via social media. An outpouring of donations and support infused from hundreds of local to global brands have set the stage for a trend that keeps building as of press time.
Eat In Connecticut, a social network run by the West Hartford-based INGroup Creative, launched its State of the FoodIN podcast on Instagram @eatinconnecticut. The weekly live casts showcase guests from within the state's food, restaurant and bar communities, including Chef Anderson among them, who share current perspectives and conversation allowing trade, talent and fans to reconnect on a new level.
Casinos and hotels have had to adapt, too; limiting meal service to room service or, in the case of casinos, suspending such operations of magnitude.
Faced with a surplus of food the first week of the shutdown, Mohegan Sun Casino, which closed its doors to the public on March 17, donated two truckloads of food to the southeast Connecticut-based Gemma E. Moran United Way/Labor Food Bank, among its efforts. "This donation is the equivalent of 15,000 meals and will help families across the region during a tough time for many in our community," Mohegan Sun said in a statement.
Chris Prosperi, Chef/Owner of Metro Bis in Simsbury, along with his wife and restaurant partner Courtney Febbroriello, started preparing and packaging popular menu items for purchase in the takeout fridge at a nearby IGA grocery store, Fitzgerald's, while also preparing and delivering meals to first responders, hospitals and shelters in the area.
With public dining closed, every day they have chosen a different group to help and to prepare lunch for with funds donated by different corporate sponsors. They have brought food to the EMT Ambulance Corps in Simsbury, the Simsbury Police Department, Hartford Hospital and St. Francis Hospital, among others. "I think the most important thing is we want these people to know we appreciate them because they're still on the front lines," Prosperi said. "Thank you for being there for us."
Prosperi and Febbroriello recently took out their Christmas lights at Metro Bis and hung them at the front of the restaurant to spell out the words "Love Over Fear."
"That's for our community," Prosperi said. "That's for the people walking and driving by at night. We only had so much room on the front of the porch, but Love Over Fear is a good statement for right now. Because it is a scary time, this is when we should love each other and not fear each other even though we have to have our distances. We're going to get through this. It's going to take time and we're hoping everyone gets through it OK."