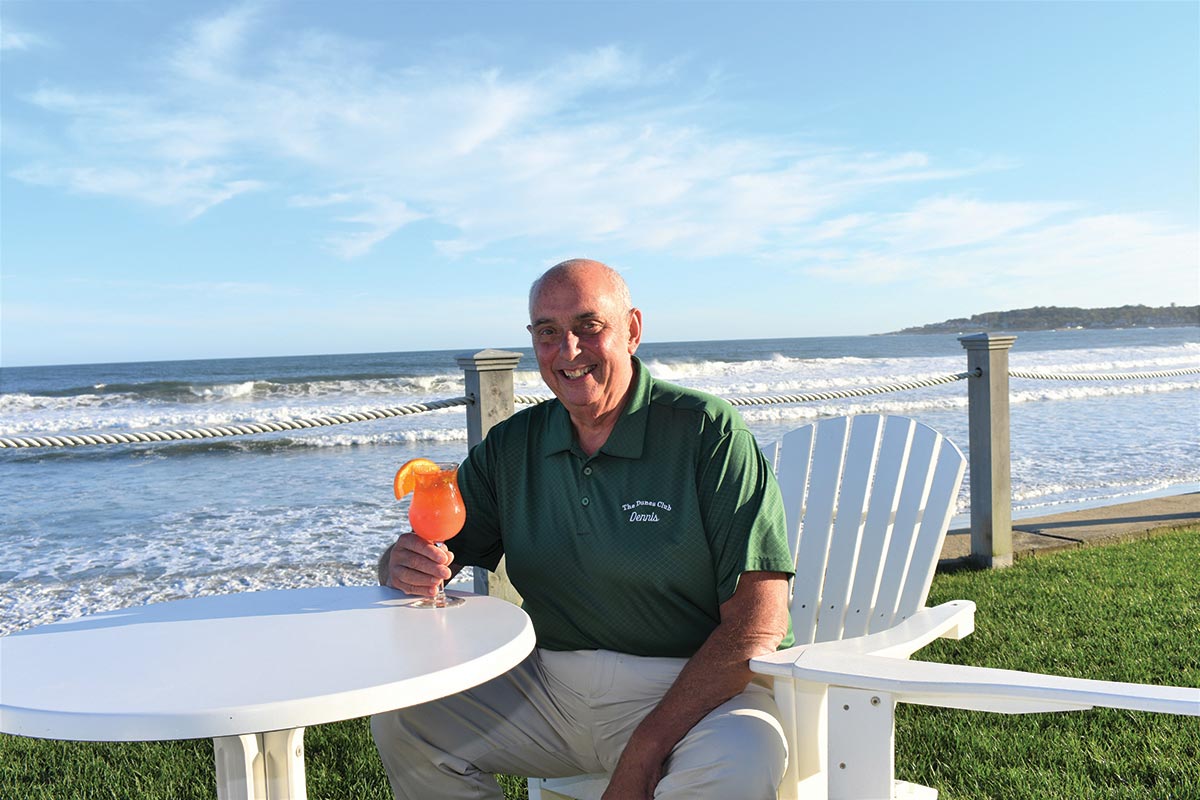 After 43 years of working at a Narragansett cultural landmark, The Dunes Club, Dennis Latimore is bidding adieu to the business of bartending. We caught up with Latimore on one of his last days working at the club, as he shared some of his memories and favorite moments from his career.
The Rhode Island Beverage Journal: Tell us a little about yourself and how you got started behind the bar.
Dennis Latimore: I come from Oxbridge, Massachusetts. I started in this little hometown restaurant and bar, washing dishes in the kitchen when I was a freshman in high school. As I got a little older, they let me make some drinks and talk to the people, and then when I turned 18, that was the age back then, they put me into the bar. Then I went to a place that did a lot of weddings and functions. That's where I developed a lot more of my speed; it was more than beers, it was all kinds of cocktails and drinks, your typical wedding place back then.
RIBJ: How did you end up working at The Dunes Club?
DL: I just happened to hear about this place, I was working at a small motel [in Oxbridge] and I got out of work and I ran into this guy [I knew] and he said "Hey, are you interested in getting a job down at the beach?" The next morning, I took a ride down [to The Dunes]. This was the beginning of July, so the season had already started and a bartender had just happened to leave. I walked up to the head bartender and I said, "I heard you're looking for someone to help you get through the season." And he said, "Yeah, you start tomorrow." That quick. I had to go back home, quit the two jobs I was working at, tell my parents I was leaving.
Later, they offered me the head bartender job, then a year later they offered me a year-round job, which consisted of six months running the bar and six months running maintenance. I never meant to do this [be a bartender]. I was going to school back home for law enforcement at the time, I was thinking of becoming a "Statie" and then life sort of happened. I actually ended up meeting my wife here, who was working in the office. We've been married for 36 years. So, the next thing you know I'm 65 years old and saying, "I'm tired. I'm ready to call it quits."
RIBJ: What are some changes in bartending and the industry since you started out?
DL: The liquor industry itself has changed so drastically. Back when I started here, you had three types of wine: Chablis, Burgundy and Rosé. We used to use carafes. Back then, brown spirits were the most popular, like Dewar's Scotch … things like your flavored brandies, your Midori. They were all hot for a period and then they all died. Now I'm finding white wine, Chardonnays, Sauvignon Blancs, Pinot Grigios, things like that are very popular [again]. And look at how the vodkas started – it was Smirnoff, then it went to Absolut then it went to Stoli, Grey Goose, Ketel, now it's Tito's – Tito's I can't keep in the place, it's crazy. Trends like that. I see a lot more martinis and anything "up" coming back, a lot of Cosmopolitans, those are still quite popular.
The biggest thing [that's changed], of course, the elegance of it all … the jackets and ties and tuxedos and gowns. Used to have big bands who would play, we would serve 200 to 300 people in the dining room, they would dance late into the night. Now, we only use the indoor rooms for functions mostly. Back then, it was very elegant. Everything was black-tie: You had to have jackets and ties if you were here after 6 o'clock.
RIBJ: What's your favorite drink to make for guests?
DL: Our Planter's Punch. It's only me and Terence, who's going to be taking over, who know the recipe for it … being a member club, over the years we've developed drinks for [individual members], their particular drink. We have several drinks that are hopefully unique to this place. We'll name it after them, keep it a little fun. They get a kick out of it and, of course, we get a kick out of it. It's their place, so we try to make it very comfortable for them.
RIBJ: What tips or advice would you give to bartenders who are just starting out?
DL: Enjoy it. Enjoy the people. As long as you've got a good personality, you're going to do very well in this business. The reason I'm here is definitely for the members. I enjoy them, I enjoy talking with them. This year, I had more of a chance to talk to people. I know a lot of their parents and grandparents, so it's nice to reminisce with them.
RIBJ: What's your favorite thing about bartending?
DL: It's the [people]. I enjoy the new wine flights, letting them try and see, and I'm the first guy [who'll say] if you don't like it, you tell me and I'll give you something else. You're not going to hurt my feelings. It's definitely the people here that I enjoy the most.
RIBJ: How do you feel about retiring after all this time? Excited or will you miss bartending?
DL: It hasn't really hit home yet. I'm a little nervous, I've worked all my life. But, all of my friends and relatives retired right around this age. Hopefully I'll see a lot more people and spend a lot more time doing more family events. And it'll be nice to be off on a Friday night in July! I don't know what that will be like, it'll be very strange. I'm anxiously looking forward to the future, the new chapter. Don't get me wrong, I am going to miss it, I really am. This was my life for 43 years, it was my second life being here with these people and talking to them and I'll miss them, but hopefully I'll still see a lot of them since I am local. I've been a little part of their life, hopefully a pleasant part.
RIBJ: Do you have any funny or interesting stories that you'd like to share from your years of bartending?
DL: Just the things I've seen, the people I've seen. You've got your captains of industry here, we used to have Royal Little, and FDR's son came in with once with one of the members … Interesting people, definitely. I should have taken a lot more notes through the years. A couple weeks ago we had the "Ringing of the Bell," which signifies the closing of the outside [for the season] and they had me do it because of my retirement and I did give a little speech and one of the things I said to them is, "You can all relax because I've never kept a journal and I've forgotten a lot as the years have gone by."
The Dunes Club
137 Boston Neck Road
Narragansett, RI
A cultural landmark since the 1920s, Narragansett's The Dunes Club is an elite private beach club with panoramic ocean views of Narragansett Bay. Guests at the members-only establishment enjoy use of its 67 cabanas, eight tennis courts and two pools, along with access to the club's private beach. Waterfront al fresco dining is available on the venue's deck. Beverage selections include a range of beer and fine wine, along with specialty craft cocktails. Guests will find new cocktails and drink-of-the-week specials on the venue's ever-changing cocktail menu, which is created collaboratively by The Dunes Club bar team.
Bartender: Terence Turnquist
Cocktail: The Mollie
Ingredients:
» 2 oz. Grey Goose Vodka
» .5 oz. St-Germain Elderflower Liqueur
» 3 oz. Pineapple juice
» Splash of soda water
» Maraschino cherry for garnish
» Splash of grenadine
» Orange slice for garnish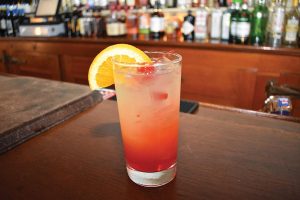 Method: Combine vodka, St-Germain and pineapple juice in a shaker over ice. Shake and pour into a Collins glass. Add a splash of soda and a splash of grenadine. Garnish with an orange slice and a cherry.
Some cocktail recipes are unique to the club and are created in part through member requests, such as The Mollie, a cocktail that the club's bar team came up with in collaboration with a specific guest who had a certain sort of cocktail in mind. "This is something that a member came up with. It's actually sold pretty well [in previous years]," said Head Bartender Terence Turnquist.
Showcase your venue and cocktail recipe. Contact sara@thebeveragejournal.com with your twist on a classic or signature offering.