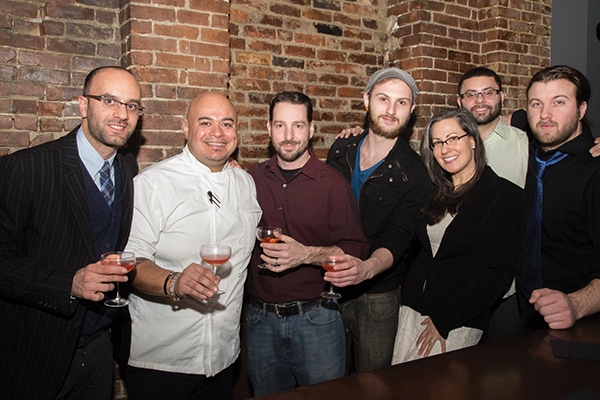 On March 4, 2015 The Eddy in Providence and Horizon Beverage's Origin Division hosted an industry tasting of Meletti 1870. Inspired by a family legacy of producing artisanal Italian cordials, Matteo Meletti developed a traditional bitter aperitivo called 1870. Named after the year in which the distillery was founded in Ascoli Piceno, 1870 pays homage to the distillery's storied past. The resurgence of traditional spirits in craft cocktails has led to an increase in demand and fifth generation, Matteo, turned to the family's archives and reinvented "an old recipe for modern day."
Matteo Meletti, Proprietor/Owner, Meletti 1870; Alberto E Lopez Lara, Executive Chef, The Dorrance; Vito Lantz, Beverage Program Manager, The Dorrance; Greg Mayer, Bartender, The Dorrance; Sophie Daniels, New England Regional Manager, Opici Wines; Gabriel Rodriguez, Origin Beverage; Tyler Schweppe, Bartender, The Dorrance.
The Saint Sonia Cocktail, a low proof cocktail, also called a "shim:" 1.5 oz., Meletti 1870, .5 oz. ginger syrup, .5 oz. cinnamon syrup, 1 oz. lemon juice, egg white.
Photos by Chris Almeida.