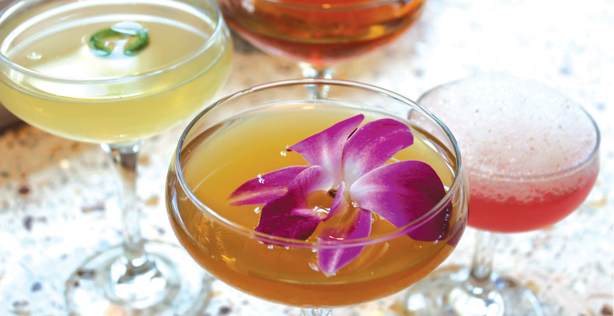 By elevating mixed drinks, operators bolster their image and bottom line
By Jack Robertiello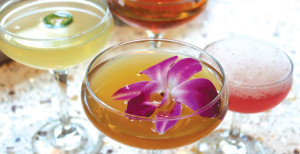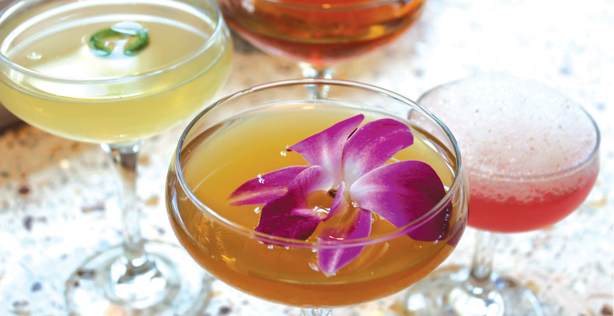 Today, nearly every new restaurant opens with a statement cocktail menu—one that either includes current trends, or works to fit in with the cuisine, or otherwise presents drinks as being more than just a profitable addendum. As with inspired food menus, frequent changes or specials are almost certain, as is the inclusion of culinary ingredients, either in tandem with the kitchen or through the work of an inspired bar chef.
In short, restaurant beverage programs are aspiring to contribute more substantively in the fine dining scene. And in turn to share in some of their glory.
Some fine dining restaurants find success in matching a spirit's qualities to the cuisine. Whiskey and tequila are often selected for barbecue or Mexican restaurants, but in Philadelphia, the Oyster House matches its bright and bracing raw seafood concept with, what else, gin—about 50 varieties, making up roughly half the total spirit selection. Naturally the cocktail menu features many gins as well as their house-made vermouth.
Then there's Cassia, the Santa Monica restaurant celebrating the flavors of Southeast Asia with a California sensibility. Bar manager Kenny Arbuckle crafted a short list using three rubrics: Lighter and Apéritif; Citrus and Fruit; and Stirred and Spirit-Forward. The first is a growing trend at fine dining restaurants, concerned that powerful cocktails can dull palates. Instead, he aims to sharpen the appetitie via drinks like the Tropical Rose (sparkling rosé, vodka, violette liqueur, citra hop-infused Cocchi, pineapple, lemon) and the Rome with a Bloody View (Leopold Aperitivo, lemongrass-pineapple-infused dry vermouth, blood orange syrup, lime).
He serves stronger drinks, too, though they wouldn't match up with high-proof powerhouses served in many bars, and instead adhere to the concept that drinks serve the food. House-made ingredients are a hallmark; lapsang souchong infused vermouth; sambal bitters; kaffir lime leaf tincture; and cassia-infused Cardamaro. The most culinarily inspired drink is the Hop Sea Negroni: tequila, Punt e Mes vermouth, hop-infused Cocchi and oyster-shell-infused mezcal.
"The bar operates as a restaurant bar, meaning a lot of people are using it for an aperitif before dinner," says Arbuckle. "Negronis and Martinis can be considered aperitif cocktails but the others—with lower alcohol content and some bitter or dry component—leave you wanting more and ready to eat and drink something interesting."
Complexity in the Glass
French brasserie-style restaurants are rarely known for their cocktails, and without a full liquor license it was hard to forge a menu at San Francisco's Nico. Beverage Director Maz Naba created a program by crafting his own "spirits" from a vermouth base—bourbon, gin, tequila, mezcal, rum, creme de violette, curaçao and others.
To make bourbon, he dredges oak chips in sugar, lights them, adds vanilla bean and steeps all in vermouth. Gin starts with juniper berries, locally foraged Monterey cypress, wild fennel and bay leaf. With it, he makes Aviations, adding a house-made maraschino using hay and his crème de violette. Naba serves four different cocktails at a time, all batched, bottled and ready for service. "They add a new element to the dining experience for a place with a beer and wine-only menu," says Naba.
Among fine dining cocktail whizzes, few are as adventurous as Alan Walter, bartender at Loa in New Orleans. Last spring his menu included a Wild Birdseed Old-Fashioned. To make the birdseed syrup, he heated sunflower seeds, flax, quinoa, millet, pine nuts and sesame and then crushed them in a food processor for the syrup. "It ends up with more of the notes from the seeds compared to an orgeat. It was obvious that this would only work with bourbon or rye," he says. "I use a tiny amount but the nutty flavor comes through."
Walter also serves drinks using his shiitake mushroom liqueur, and has been working with Spanish moss, sassafras, pine, bamboo and clover. "The whole thing has been for me about releasing what's really worthwhile about an ingredient," he notes.
Asian restaurants are often a cocktail challenge, but at San Francisco's Dosa, bartender Chris Lukens has developed drinks that work with complex, strong flavored dishes. Hence, the Steph Curry, made with bourbon, house-made curry nectar (with cumin, coriander, peppercorns and more than 10 other ingredients), spiced agave, lime juice and Tempranillo. Other drinks—the Peony, made with gin, hibiscus-masala nectar, coconut agave nectar, lime and bird's eye chile; and the Bali Hai, made with pisco, house-made pineapple shrub, elderflower, lemon, bird's eye chile, hoppy wheat beer and jalapeño disc—combine heat and sweet, a perfect match for Dosa's spicy dishes.
Most of the industry's cocktail attention is paid to the speakeasies and watering holes where small plates may be available but drinks are center stage. But as these and other operations show, getting a great cocktail before embarking on a top class meal is only getting easier.