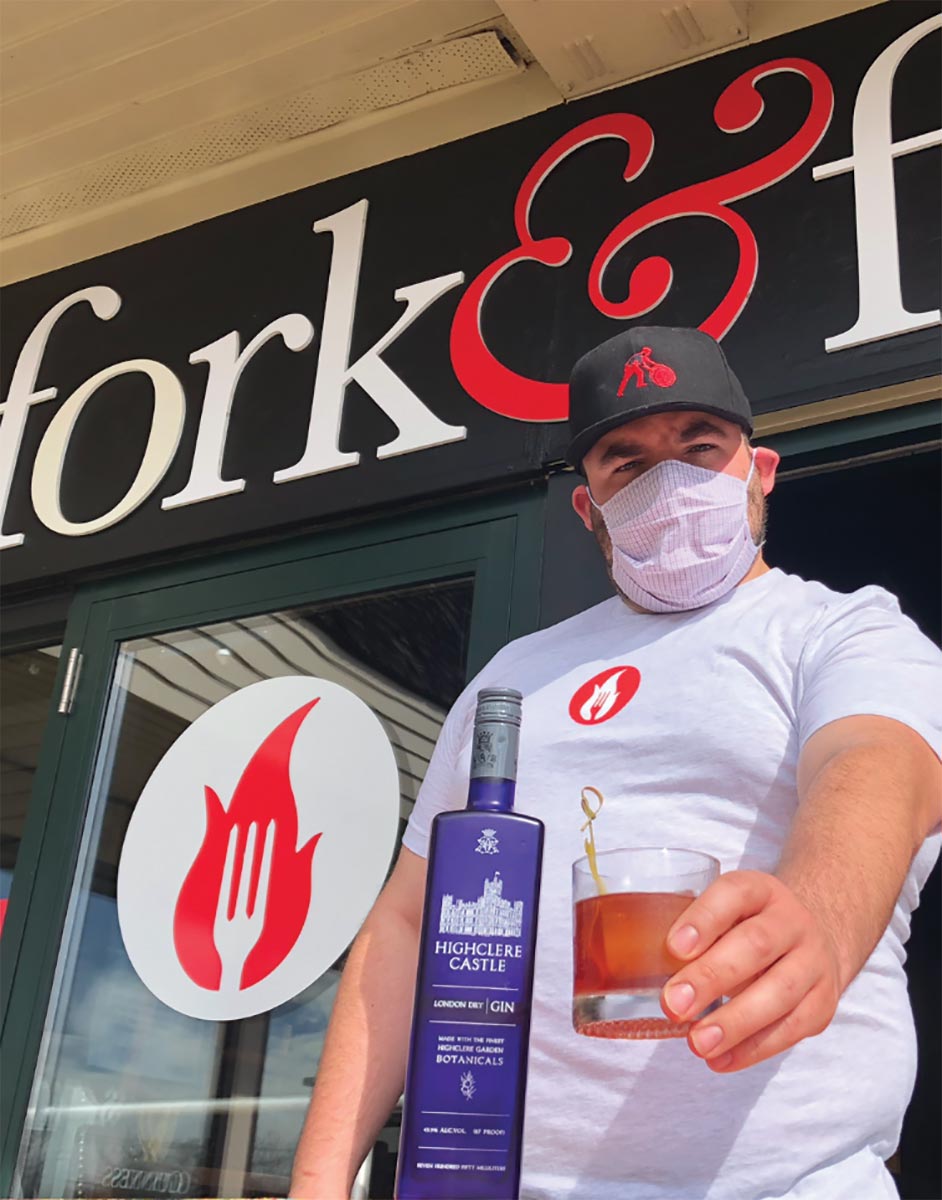 Fork & Fire
838 Farmington Avenue
Farmington, CT
Known for elevated farm-to-table comfort food using fresh ingredients from local farms and creative cocktails, Farmington's Fork & Fire has taken a hiatus from in-person dining for safety during the state-mandated shutdowns. Offering its many menu selections for curbside pickup and delivery, Fork & Fire's cocktail menu features both signature favorites and seasonal selections. Guests seeking the Fork & Fire cocktail experience at home can order cocktails and cocktail kits along with their takeout meals.
General Manager & Bartender: Ruvin Bogati
Cocktail: Highclere Hanky
Ingredients:
» 1.5 oz. Highclere Castle Gin
» 1.5 oz. Cocchi Dopo Teatro
» .25 oz. Amaro Sfumato
» 1 dash Bar Keep Lavender Bitters
» A bar spoon or two of fresh grapefruit juice
Method: Combine all ingredients in a cocktail tin and shake with ice. Strain into a rocks glass with a large cube and garnish with a lemon twist.
The recipe features Highclere Castle Gin, produced by a Connecticut-based team in conjunction with Lord and Lady Carnarvon, the real-life owners of the famed "Downton Abbey" filming location.
General Manager and Bartender Ruvin Bogati created the Highclere Hanky as a variation on the classic gin-based Prohibition-era drink, The Hanky Panky, a fitting tribute to the brand and its history. "This cocktail is what we call a sipper," Bogati said. "Super smooth, with a pronounced bitter finish that makes you long for more."
Showcase your Connecticut venue and cocktail recipe. Contact sara@thebeveragejournal.com with your twist on a classic or signature offering.