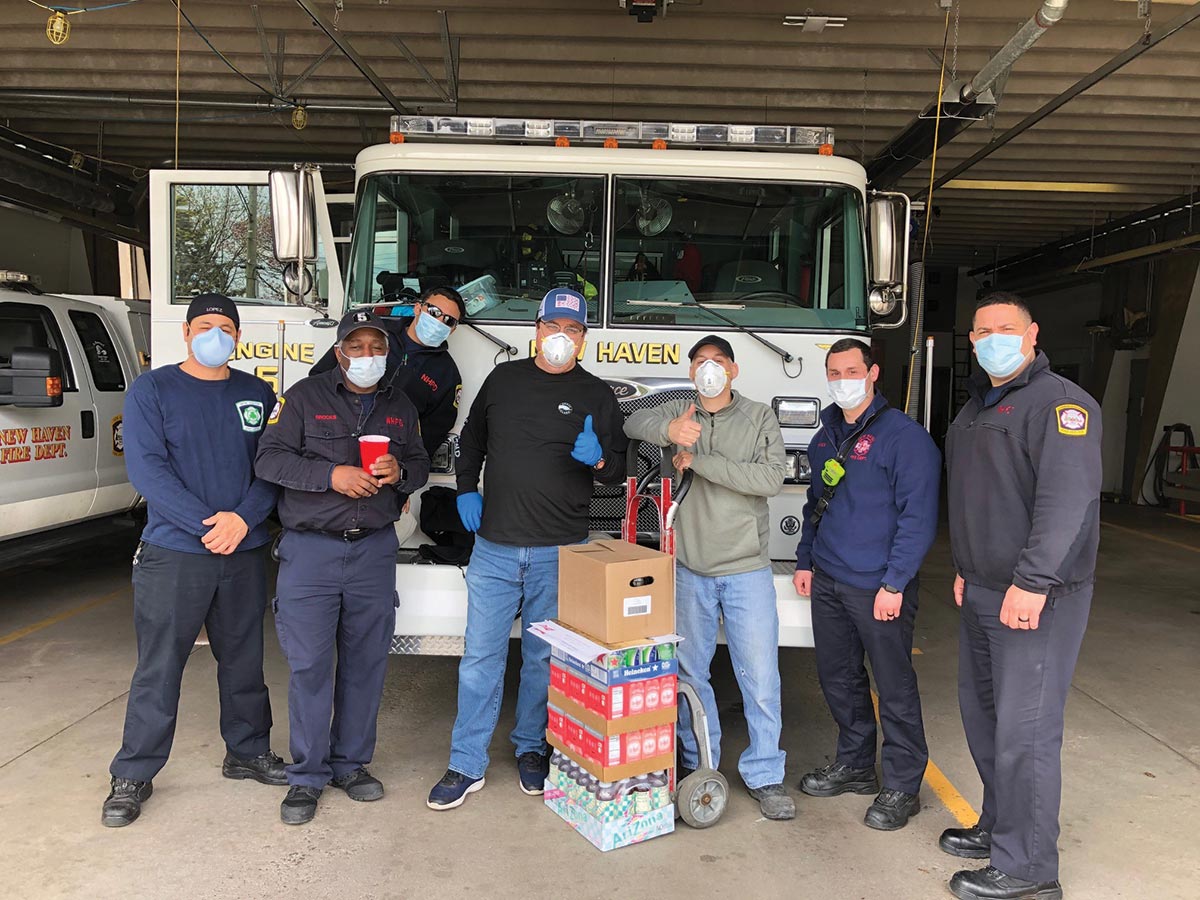 Venues prepare for eventual reopening
By Sara Capozzi and Dana Slone
Connecticut's hospitality industry continued to cope with mandated closures and restrictions placed on businesses during the month of April due to the coronavirus crisis, while also preparing for what a reopening of services might look like at the end of May.
Bars, restaurants, breweries, distilleries, vineyards and hotels all feel the hard hit to the bottom line as the upended system of service requires a rethink, with flexibility at the forefront.
Constraints among COVID-19
Closures for in-person dining began on March 17. As restaurants continued to adjust their menus for takeout and delivery options, adding prepared cocktail kits – which grew from the state allowing venues to sell alcohol in original, sealed containers – provided a valuable, much-needed revenue stream.
Olives and Oil in Seymour took this idea further with the launch of its new Market curbside pickup and delivery service in late April, selling prepared meals, produce, beer, wine, liquor and cocktails along with "household essentials." Many restaurants began innovating on supply chain issues by selling to the public directly that which was not being used or served in volume on-premise, while helping customers avoid a grocery visit or extra trips out of the home.
On April 30, Gov. Ned Lamont said that restaurants will be able to open for outdoor dining on May 20, offering guests a safer, staged re-entry into dining and drinking out. Breweries with a permit to serve alcohol outside can continue that practice with proper social distancing, with drinks being delivered to the customer at the table. The Department of Consumer Protection Liquor Control Division issued guidelines on how to apply for a patio seating permit, at no additional cost.
Many unanswered questions about distancing measures were on the table: will the outdoor dining option be too little too late to save faltering venues? When indoor is allowed, if it is at 50% capacity or less, would that even be viable for already tight operating margins? The Connecticut Restaurant Association (CRA) posted a guidance manual designed to provide a summary of recommended practices that can be used to help mitigate exposure to the COVID-19 virus, including food safety, cleaning and sanitizing, employee health monitoring and personal hygiene, and social distancing.
As the CRA continued its work in support of the state's thousands of restaurants, the agency expressed concern over outdoor dining-only service. "The plans announced [today] would be a step toward reopening, but we fear it would not be nearly a big enough step to save thousands of restaurants on the brink of going out of business," Scott Dolch, Executive Director, CRA, wrote in a statement. "We can open dining rooms in a way that is safe and would not restrict restaurants to only outdoor service for such an extended period, as was recommended today."
The CRA also unveiled a new initiative, the Connecticut Restaurant Promise, a program where restaurants pledge their commitment to the health and safety of staff and guests as the reopening of restaurants begins. Restaurants would be required to practice social distancing, keeping guests seated at least six feet apart, among other guidelines.
Opening in a changed landscape
Opening a new restaurant might seem like a daunting task in a pandemic, but bringing a vision to life and filling job roles is not on hold for industry veteran Bryce Hardy. In May, he began hiring bartenders, servers and support staff for his new venture, The Charles, a 130-seat restaurant set in a newly renovated 1790s historic home in Old Wethersfield, which will serve "elevated American comfort food" in a casual environment decorated to evoke a post-Prohibition era feel.
While Hardy had originally planned to open the venue at the end of April, a date for the grand opening hasn't yet been set and he remains optimistic. "There's a lot of people unemployed right now, so it's going to be really exciting to bring in 20 or 30 new employees," Hardy said. "It's kind of like the light at the end of the tunnel. I hope to offer that after people have been stuck at home."
Hardy said the restaurant's beverage program will include classic and creative cocktails, along with an extensive wine list and 10 lines of craft beer. He is not daunted by adapting new models of operating and floor plans that accommodate social-distancing measures and safer guest interactions. "We're grateful our team's going to be learning the post-COVID way," he said.
"Everything's coming out minute by minute on how restaurants are going to be. And we can learn from all of these other restaurants as they push forward, what's working, what's not working. I can train staff that way. It'll just be the way it is at The Charles. We're going to follow all of the mandates from the state, everything they suggest and require, but it'll be new for us [all]. Hopefully we'll be able to capture the public's trust because we are a new restaurant; everything we're doing is COVID-19 responsible," said Hardy.
Peer support, fundraising and community backing
Waterbury's Continuum Distilling launched a new effort in support of the state's craft breweries, called the Connecticut Brewery Relief Fund. The distillery created a new limited-edition spirit, Continuum Relief Drops, in collaboration with Thimble Island Brewing Company of Branford, among local breweries, which donates proceeds from sales of the spirit. It has a similar flavor profile to gin, and the proceeds will be used to help support financially strapped breweries in the state.
Continuum Distilling is also continuing to work with area breweries, including Black Hog Brewing and Charter Oak Brewing Co., to recycle the byproducts of the beer-brewing process and also recycling expiring kegs from local restaurants and bars.
Craft Beer Guild Distributing of Connecticut partnered with New York-based Sloop Brewing Co. to benefit the Golden Rule Charity, a nonprofit organization working to help hospitality-industry workers facing crises. For every half keg of Sloop Brewing Co.'s Juice Bomb sold, the craft beer guild donated to the Golden Rule Charity's COVID-19 fund.
Industry professionals have continued to find ways to help their communities. Dimitrios Zahariadis, Beverage Director of Cheshire's Viron Rondo Osteria, launched virtual bartender trivia, which streams on Facebook Live every Monday night to benefit out-of-work industry members. Brands and distributors donated funds, providing each night's winner with funds for a free dinner.
Zahariadis started the trivia program in April. Over five weeks, the program raised $6,500, donated by individuals, suppliers and distributors. "I will continue to go live every Monday night until we are back to work," Zahariadis said. "Beauty of this is that no money in any way passes through my hands, I connect the trivia question winner with the donor and they arrange how to redeem their dinner. This way there are no discrepancies of any sort," he said.
A number of restaurants found ways to help furloughed and unemployed workers with food and other necessities. Viron Rondo Osteria offered its employees a $100 weekly stipend since the restaurant shut down its in-person dining in March. Still dozens of restaurants regularly provided hospitality workers with meals, including Millwright's Restaurant and Tavern in Simsbury, Flanders Fish Market in East Lyme, ROÌA Restaurant in New Haven, Harry's Bishops Corner in West Hartford, and Bricco Trattoria in West Hartford, often also sponsored by state wholesalers and liquor suppliers.
Numerous wholesalers across the state continued to support the community, from donations to the CT Hospitality Employee Relief Fund – which provides immediate emergency funds to hospitality workers – to supporting local charities and first responders.
Twenty-three Connecticut breweries who are part of the Connecticut Brewers Guild created Guild Pils, a limited-release collaboration beer whose portion of the proceeds will also be donated to the CT Hospitality Employee Relief Fund.
Dichello Distributors, Inc., took part in several charitable initiatives to assist the community during the coronavirus crisis. The company donated $5,000 to the Connecticut Food Bank and purchased $2,500 in gift cards from local restaurants through a partnership with Connoisseur Media's Cards for Caregivers program. The Stratford-based beer distributor also donated beverages to first responders in the area, including hospital and health care workers and firefighters at 28 fire stations. Dichello also donated Teavana Tea to be enjoyed by family members and patients at the Ronald McDonald House.
Wineries, breweries and distilleries adapt
The state-mandated closure of tasting rooms led some wineries and breweries in the state to begin offering pickup and delivery for customers even with state wholesaler distribution as tasting rooms remained closed. Black Hog Brewing is among many state breweries offering curbside pickup, where the team operates from its Oxford location, while providing delivery service in parts of New Haven, Litchfield and Fairfield counties. Stonington Vineyards created a consumer pipeline that enabled safe shopping. "We created an easier online order system for this purpose on our website and customers have been taking advantage of that more than ever," said Rachel Edwards, Interim Director of Operations.
"In addition, we've been hosting Facebook Live events and shifting some of the events we had to cancel, like our Paint and Sip events with another local business, to virtual events, which have been very well-received and sold out. These virtual experiences allow us to stay connected with our customers no matter where they are and to get through this time together. The amount of love our customers have shown us is extremely humbling."
Once the winery is allowed to open to the public again, Edwards mentioned the possibility of offering more seating outside, along with the adoption of strict sanitation measures to keep guests safe.
"We are focused on strategizing creative ways to handle our customers this season so we can still offer the in-person experiences everyone loves with a safe environment for all. We are still working out the scenarios and options, but the safety of our customers is always of the utmost importance, so we are going to be focused on how to best move forward over the next few weeks," she said.
Pomfret's Sharpe Hill Vineyard has opted not to do takeout while its tasting room and its restaurant, The Fireside Tavern, remain temporarily closed. "I don't think it pays for us," said Co-owner Steven Vollweiler. "Our wine is distributed pretty much in all of the liquor stores and package stores in the state, so anybody who wants to get our wine can get it. And wholesale sales are good."
Hotels and inns repurpose service
A number of well-known hotels, inns and banquet facilities have temporarily closed due to the pandemic. Those that remain open have stepped up their sanitation efforts and adjusted the scale of their operations to accommodate a lower number of guests. In most cases, available food and beverage operations are limited. Due to travel restrictions, only essential guests are permitted to stay at the state's lodging facilities at this time, including first responders, government workers, airline crews, medical staff, students or long-term guests who are living at the hotel. According to Ginny Kozlowski, Executive Director, Connecticut Lodging Association, some guests are COVID-19 patients, people in quarantine or homeless.
In lieu of offering room service, some hotels offered grab-and-go food and beverage items, including beer and wine. Hotel restaurants were also faced with the challenge of not being able to sell alcohol to go. Even though the sale of beer, wine and liquor in closed containers was approved by Gov. Ned Lamont's executive order in March, hotel restaurants were not included in the allowance, Kozlowski said.
According to Kozlowski, the Connecticut Lodging Association's lobbyist was working with the governor's office in Washington, D.C., to modify the executive order to allow hotel restaurants to do the same.
"We're trying to adapt to all of our guests and all of their needs, including their beverage needs," she said.
In New Haven, a number of well-known hotels including The Study at Yale, the Graduate and the Omni were all temporarily closed. The New Haven Hotel on George Street remained open, offering special rates to first responders.
"Our industry across the board has been pretty hard hit," said Mike Ferguson, General Manager, New Haven Hotel. "Most hotels across the board are down 80% to 90% occupancy and we're definitely in that category. A number of hotels have figured that it's less expensive just to close."
The hotel offers guests a "very limited" selection of food and beverages, including coffee and individually wrapped grab-and-go items. "The best way to get food and beverage at any hotel that is open right now is through Uber Eats," Ferguson said.
The Stamford Marriott offered guests a selection of sandwiches and salads for purchase, along with beverages including bottled beer and wine. "We don't have a takeout operation of any kind," said General Manager Joe Kelley. "It's just not feasible for us." With about 45 restaurants in Stamford offering carryout meals, "we're just not going to compete with freestanding restaurants to try to do takeout," he said.
Saybrook Point Resort & Marina in Old Saybrook has had moderate success with its takeout meals, especially those tailored toward holidays. According to General Manager John Lombardo, the resort's restaurant, Fresh Salt, sold 450 takeout meals on Easter. The following weekend, it sold 164 meals as part of its New England Lobster Bake. Lombardo said he also received a good response to Mother's Day takeout meals.
"It can't compare with what we normally do but it keeps the brand alive and it keeps people employed," said Lombardo. Customers can order menu items from the resort's website, with delivery options offered by delivery service Shoreline Menus. Marina guests started arriving on May 1, resulting in more room-service orders, which are allowed to include alcoholic beverages. Since leisure travel is still prohibited, guests staying at the resort who are not considered essential employees must stay for 30 days or more.
Looking ahead to the late spring and summer and the potential for some restrictions to be lifted on May 20, Lombardo said he's prepared for outdoor dining. "We're already licensed for liquor outdoors and we have a generous space," he said.
While everyone awaits new guidelines, Lombardo said he and his staff are prepared with the best practices for cleaning and sanitation and the potential other changes when dining resumes, which could be reservations only, no walk-ins, distancing of tables, and servers wearing face masks.
Lombardo applied for and received a Paycheck Preservation Period loan, allowing him to bring employees back for an eight-week period, including housekeeping, maintenance, banquet and service staff, along with administrative and sales and marketing employees.
Summer season setups
With a focus on service in an outdoor setting during the summer season, beachside venues in the area have started hiring staff and preparing for the summer season, though no one can predict how operations will run with new COVID-19 restrictions in place.
Madison Beach Club hasn't opened for its 2020 season yet, but plans to open on schedule for the third week of June.  "Being a beach club, we've got some real estate to work with," said General Manager Bill Carroll. "I do probably 90% of my dining al fresco [outside], right on the water. My plan moving forward, if we still have some restrictions, is to work within those guidelines, then just phase in an opening that has some restrictions with the social-distancing setups for both recreation and dining."
Drew McLachlan, General Manager, Kokomo's Restaurant & Beach Bar in Old Lyme, is preparing the beachside bar and restaurant for outdoor dining on May 20, spacing table seating on the venue's patio apart and moving other seating to specially spaced areas on the restaurant's private beach.
Right now, he said, guests can get their takeout and take it to be eaten off-premise on the public beach. Once outdoor dining is allowed, guests can reserve seats on Kokomo's private beach using the restaurant's OpenTable app.
"When we open back up, we expect that people will be able to get food from our to-go window and then they'll be able to rent chairs from us and go down to the beach," McLachlan said. "We're definitely well-situated because of our location to take advantage of the time of year and the ability to open because of the outdoor dining."
McLachlan said he was hoping the town will let the restaurant expand its liquor license, allowing the service of alcoholic beverages to guests on the beach, which guests could enjoy with takeout food. If it's approved, "the liquor service will be yet another attraction and another revenue stream for us out on the beach," he said.
Wholesalers work from home, suppliers step up
For wholesalers across the state, virtual meetings have become an everyday occurrence for brand launches and sales meetings.
The team at Angelini Wine, Ltd., has adapted to working from home by holding its usual twice-weekly staff meetings via Zoom.
"We've used this tech in the past to communicate with our international and national producers and with wine journalists, however this was new for our Connecticut-based team," said Julius Angelini, Owner. "It's now become a biweekly Zoom meeting that everyone looks forward to."
Merchandising new brands is another challenge in the time of COVID-19. "It is definitely more challenging now to introduce new brands. We want to leverage all of the online platforms available to get the word out on new items and plan to conduct Zoom tastings or happy hours featuring new products," he said.
While on-premise bottle sales have been slow due to on-site dining being halted, Angelini said, "We are starting to see some more action now. The Carpene Malvolti Prosecco and Brut Rose 187s are an easy takeout option and our Angelini Pinot Grigio has also been a hit."
Campari America has adapted to the changes brought on by social distancing by offering virtual bartender education seminars. "The bartending community is tight-knit and compassionate," said Gary Dritschler, CT State Manager.
"I feel what we've done early on is a way to keep connected and the morale up. It's an opportunity to educate and engage with people while at home. As our content continues to evolve, this will be a great forum to reach more people consistently and cost-effectively. While nothing replaces direct interaction in this community, our virtual activity has given us an opportunity to continue our interaction with the trade," he said.