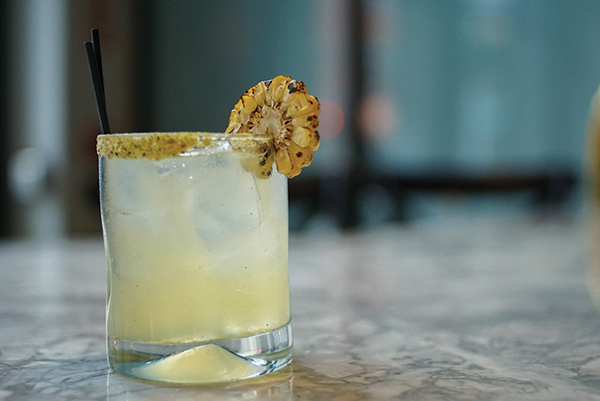 Garde, @ The Providence G
86 Dorrance Street
Providence, RI
With a seasonal menu of chiefly local and artisan fare, Garde's French-inspired menu is designed to encourage "gathering and revelry," as is their curated beer, cider and wine list and thoughtfully-crafted house cocktails.
Bartender: Amy Desmarais
Cocktail: Down on the CORNer
Recipe: Add to shaker:
2 oz. Don Julio Blanco Tequila infused with five-pepper blend and oven-roasted corn
1/2 oz. Licor 43
1/2 oz. Cointreau
1/2 oz. freshly squeezed lime juice
1/4 oz. simple syrup
Fill with ice, shake. Strain mixture into glass rimmed with dehydrated corn powder and peppercorn blend. Garnish with roasted corn slice.
"It's similar to a margarita [with] a sweetness from the oven-roasted corn and some heat from the five-pepper blend," said Director of Operations Jeffrey Mancinho. "It's very approachable, and pairs well with … our charcuterie."