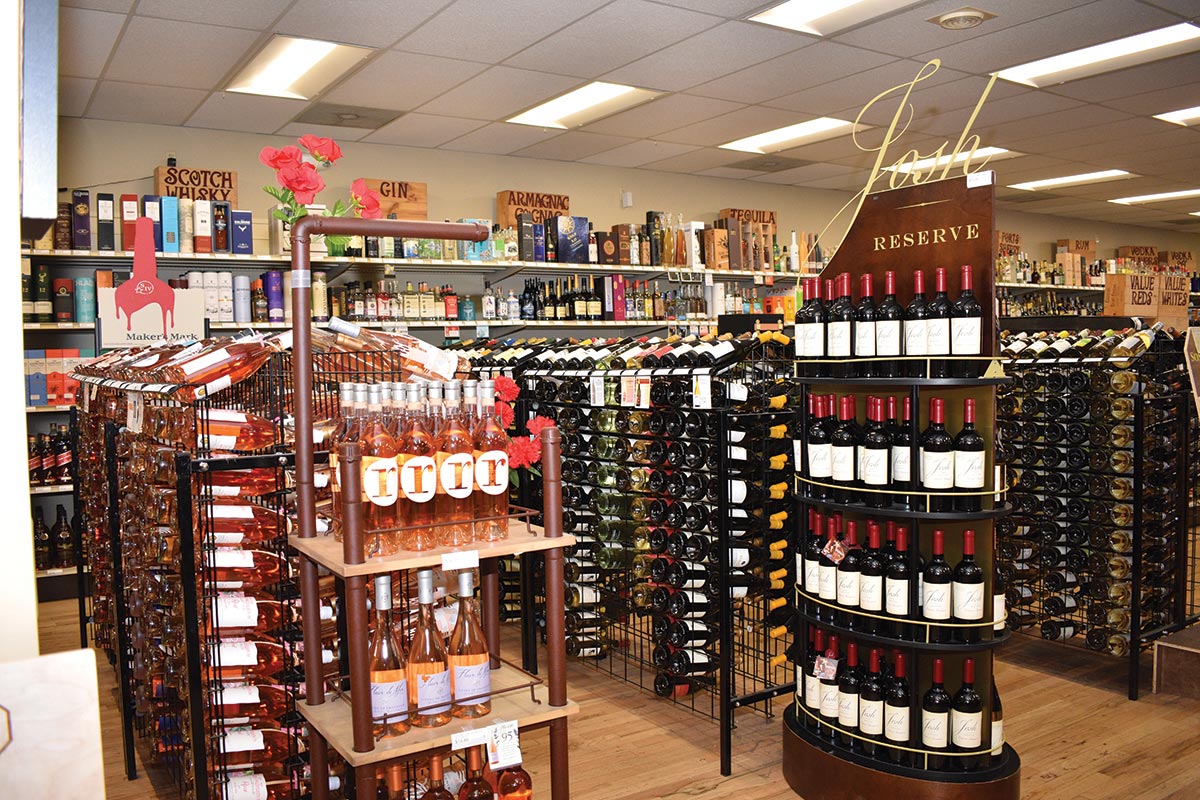 Georgetown Package Store
34 Main Street
West Redding, CT
Square footage: 3,400
Years in operation: 2 years under current management
By Sara Capozzi
Known as the oldest beer, wine and spirits shop in West Redding, Georgetown Package Store has been owned and passed down through several generations of family members. The latest team to run the shop, Kenny and Ravi Patel, is an uncle-and-nephew duo committed to carrying on where the last owners left off. "For us, it's a family business too," said Ravi Patel. "We have two liquor stores between me and my uncle and we just go about it [in the same way]."
The Patels have also owned Prospect-based 1st Class Wine & Spirits for three years. Both had backgrounds in retail, owning and managing a set of convenience stores in the New Haven area. Looking for a new business venture with better hours, the Patels decided to pursue liquor-store ownership.
The transition from one business sector to another was a bit of a learning curve, but they were already familiar with ordering beer from their convenience-store days. "We always had beer in our convenience store, so we were already familiar with that … so for me it was just the spirits and the wine side that was the new product," Patel said.
Upon purchasing the license to Georgetown in 2019, the Patels set about ramping up inventory. "The biggest thing that we did right after we took over is we brought more in all the categories across the board; we brought as much variety in as we could fit in our store and that helped us out a lot," Patel said.
"People love to see different varieties and that brought a lot of people in. Even now if you look at our page on Google, you'll notice our customers saying we have a great selection and that's what we kept on doing," he said.
The Patels run their stores with a straightforward philosophy on customer service. "I keep it very simple," Patel said. "I let all our employees know: Treat all our customers the way you'd want to be treated if you go to any other store." Georgetown staff will readily bring items out to customers' cars, especially their senior customers who live in the nearby Meadow Ridge senior housing complex. "It's a very small, family-oriented town and I'd rather act like a family than a corporation."
And family it is. Georgetown employs three full time and three part time staffers, including Ryan Goodridge and mother Sue Goodridge, who have worked at the store for years. The Patels opted to keep all of the store's previous staff when they took over, which helped with the transition also since customers, who hail mostly from West Redding or neighboring towns, appreciate seeing familiar faces. "We saw it as a family store, so when we took over, we saw all our employees kind of as a family of the store that ran it, so for us we didn't see any reason to change. If something is working, there's no point in changing it."
In the past several years of business, Patel said he has noticed some significant trends among customers, including shifts in buyer tastes and preferences. "People are moving on to a lot more healthier choices, even in beer," he said. "Seltzers have introduced the idea of drinking healthy … so we noticed a lot of our people moved on from regular beer into something lighter like seltzer. And even with the spirits, bourbon used to be the craze and now we're noticing tequila has been coming up."
Spirits make up between 20% to 25% of sales and customers tend to favor bourbon and vodka, with a recent surge in the popularity of tequila. In-demand wines include Josh Cellars Cabernet and Oyster Bay white wines. Patel said he's also noticed beer drinkers are favoring craft brands – especially IPAs, stouts and sours – over the traditional big sellers. "It's not that we're selling more beer, it's just that we're transitioning over to more craft, more local, the new stuff, especially the ready to drink [items]," he said.
To bring even more convenience and service to their clientele, the Patels are currently developing their own ordering and delivery app, with plans to release it in the winter of 2021.