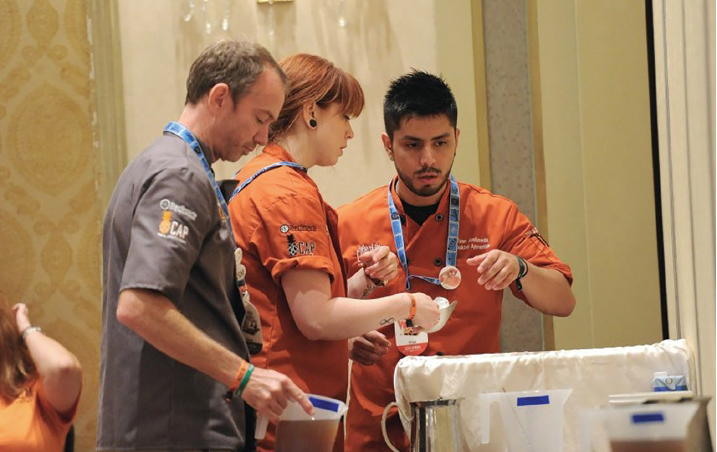 MY CAPS EXPERIENCE AT TALES OF THE COCKTAIL
By Gillian White
If someone had told me two years ago that I would be a part of one of the most prestigious programs in the cocktail world, I would have blatantly laughed in their face, and told them they were insane. I mean, me? The person who had just tried their first Old Fashioned merely months before? "Ludicrous!" But, let's just say things don't always go the way one predicts, which has been very reflective of my experience becoming a bartender.
Taking on the role of bar manager of Cook & Brown gave me the confidence to actually submit my application for the Cocktail Apprenticeship Program (CAP) for Tales of the Cocktail in New Orleans. After many hours of editing and revising my work, I finally mustered up the courage to submit my piece. And then I waited.
A few months later, I opened my email to learn that I would embark on what has become the most inspiring, educational, emotional, and totally badass experience I could ever imagine. I will try to paint a picture of the absolute whirlwind of what being a "Red Coat" for the biggest cocktail event in the country is like.
Putting it logistically, 50 bartenders were hand-selected to create 182,000 cocktails, pour over 16,000 spirits, and facilitate 90 seminars for leading industry professionals and 20,000 attendees. We picked 50 pounds of mint, cut 9,000 lemon twists, and batched 26,880 ounces of simple syrup. The numbers still shock me, and I am so unbelievably proud and honored to have been an integral part of the whole mix.
I arrived in New Orleans with Dimitrios Zahariadis, a fellow USBG member from CT who was also selected. We had had no idea what to expect, and more so what would be expected of us. We immediately dispersed to our "Platoons" to be introduced to those who would quickly become our peers, mentors, supporters, and best friends.
After suiting up into my "red coat," as worn by all CAPS, acquiring my badge, and the ever-notorious Sharpie, things took off full speed. My brain was spinning. My eyes fleeted over the view of New Orleans, then to the French Quarter, followed by the Hotel Monteleone and finally the Royal Sonesta Hotel. How was I ever going to remember all of this? Easy. You just do it.
"Do it" was one of the most prevalent thoughts for me that week. Do it fast, do it well, and do it proudly. We all assumed the job to work together, to communicate, to facilitate, and to demonstrate our skills and abilities as bartenders. Our group was strategically formed into our own "Army" of cocktail apprentices and was completely pushed to the limit.
Each morning we reported "for duty" at 7:00 a.m.—the un-godliest hour for bartenders to imagine being up and ready to bust their asses—especially when nights didn't end until 3:00 a.m. (if you were lucky). But what is an Apprentice to do when they suffer from immense FOMO (Fear of Missing Out)? It was easy. Do it.
You play as hard as you work; and what I witnessed and participated in that week was a next level demonstration of that phrase. By pushing the limit every day, our "group" then evolved into a family.
"Cuddle Puddles," laybacks, sharpie checks, swag, frozen Irish Coffee, parties, pineapple tattoos, batching, blue tape, sweat, tears, and "Making it Nice" were just some of the other pivotal components to the
As Don Lee (a "White Coat" and CAP manager) so accurately stated to all of us, it's hard to explain if you haven't done it. And it's hard to put into words when still actively trying to process the experience as a whole.
What I can say is that I am forever grateful for everything I gained that week. A little piece of every CAP has come back with me to Providence, in order to help continue the growth of our community. I'm a much better bartender and person for having been a part of it all. And I can only hope to return next year, maybe as a "Gray Coat," with even more to share.
Gillian White is currently the bar manager at Cook & Brown Public House in Providence as well as United States Bartenders Guild Rhode Island chapter member. White has a degree in business management from a Johnson & Wales University.