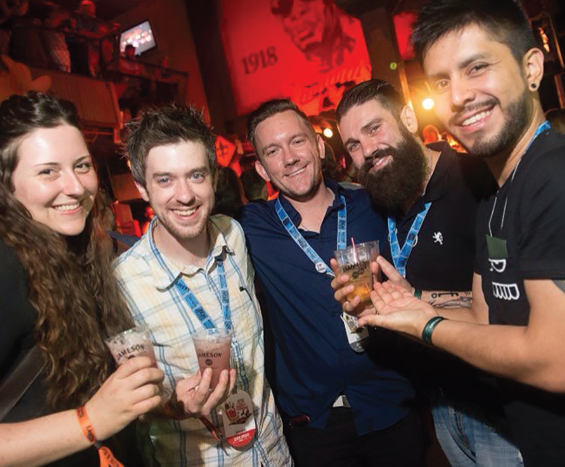 Connecticut's Zahariadis Works Hard in the Big Easy
By Lauren Daley
Dimitrios Zahariadis, vice president of the United States Bartenders Guild Connecticut chapter, was among the approximately 50 apprentices chosen from among thousands of applicants, to work the 12th Annual Tales of the Cocktail in New Orleans from July 16 to 20.
Billed as the "world's largest cocktail festival," Tales, as it is known for short, brings together industry professionals the world over for five days of "what's now, what's new and what's next" in bartending. The event offers a chance for industry professionals to mix and mingle with the brightest minds in mixology, pick up tips in educational seminars, chat over dinners, participate in fun competitions, and head to tasting rooms and new product launches.
The Apprentice Program was established in 2008. Apprentices are chosen from around the globe based on applications submitted via the Tales website. Applications are reviewed by the members of the CAP leadership team in two rounds. Approximately 50 apprentices are chosen annually, in order to build a well-rounded team that serves the over 20,000 yearly attendees.
You may know Zahariadis as one half of the "The Cocktail Chemists," along with Carl Summa. The duo appears monthly on NBC Connecticut's 11 a.m. news program to showcase seasonal cocktails made with local ingredients. Zahariadis is also the United States Bartenders Guild Connecticut chapter vice president.
BEVERAGE JOURNAL: How did you get selected for the apprentice program?
Zahariadis: This was actually my third year applying, so I guess third time's a charm. There was a long questionnaire and many essay questions to answer. There's a blind reading of the applications by the [Tales] managers followed by more screening until the final bartenders were chosen.
BVJ: What was it like?
Zahariadis: It was the most tiring, demanding, fast-paced work I've ever done, but in the best way possible. We were responsible for [making] every cocktail served in the over 90 seminars and tasting events, including 10,000 cocktails at the Spirited Awards — basically the Oscars of the restaurant and bar industry. I loved every second of it. We had to wake up at 6 a.m., had breakfast around 7:10 a.m., and by 7:20 a.m. we were working. We made thousands of cocktails for every seminar and tasting, working until 6 p.m. Then at 7 p.m., the apprentices went to our own seminar so we could learn something, too, because we weren't able to sit in on the seminars, obviously. Then it was time to party and head out to the French Quarter. I tried not to stay out too late — I tried to go to bed by 2 a.m. I'd end the night with a frozen Irish coffee from Erin Rose, [a bar] in the French Quarter. And if you were really a trooper, you'd go to Alibi after that. It never closes.
BVJ: Any new tips you picked up?
 Zahariadis: I didn't sit on the seminars — as an apprentice, I worked the events. We were basically broken into platoons…given a whole bunch of recipes, and then the drinks were sent to the seminar and tasting rooms. I did work one large seminar called "Which Rum and Why," that taught people how changing the rum base could change the entire drink. We made three different Mai Tais and two Negronis with five different rums to show how a cocktail can change. We had to make drinks for 200 people every 15 minutes; we made 1,000 in an hour.
BVJ: Did the apprentices get to sit down and learn anything for themselves?
Zahariadis: Yes, every night when seminars were done, we got showered, changed, and they brought leaders of our industry in to speak one-one-one to us behind closed doors. I can't say what they told us — there were no recording devices, no pictures allowed. I'm not even sure I can name the people that were there. But they were huge names, the biggest in our industry. We were allowed to ask them anything, and they talked to us like they were our friends.
BVJ: What was your favorite part of the event?
Zahariadis: The people for sure. I met really good friends that week that I know will be friends forever. I have so many more couches to crash on, all over the world. The last night, Pernod Ricard took all of us to the Jay-Z and Beyoncé concert at the Superdome. It was amazing. It was Sunday night, we were done with work. It was just everyone having a good time. It was emotional as well, because we met a lot of great people.
BVJ: Anything you'd like to add about Tales of the Cocktail for local readers to know? 
Zahariadis: If you get the chance to go next year, please do so. We would love to have more of our United States Bartender's Guild Connecticut members go to New Orleans and attend some seminars and check out the great parties that the liquor companies host.