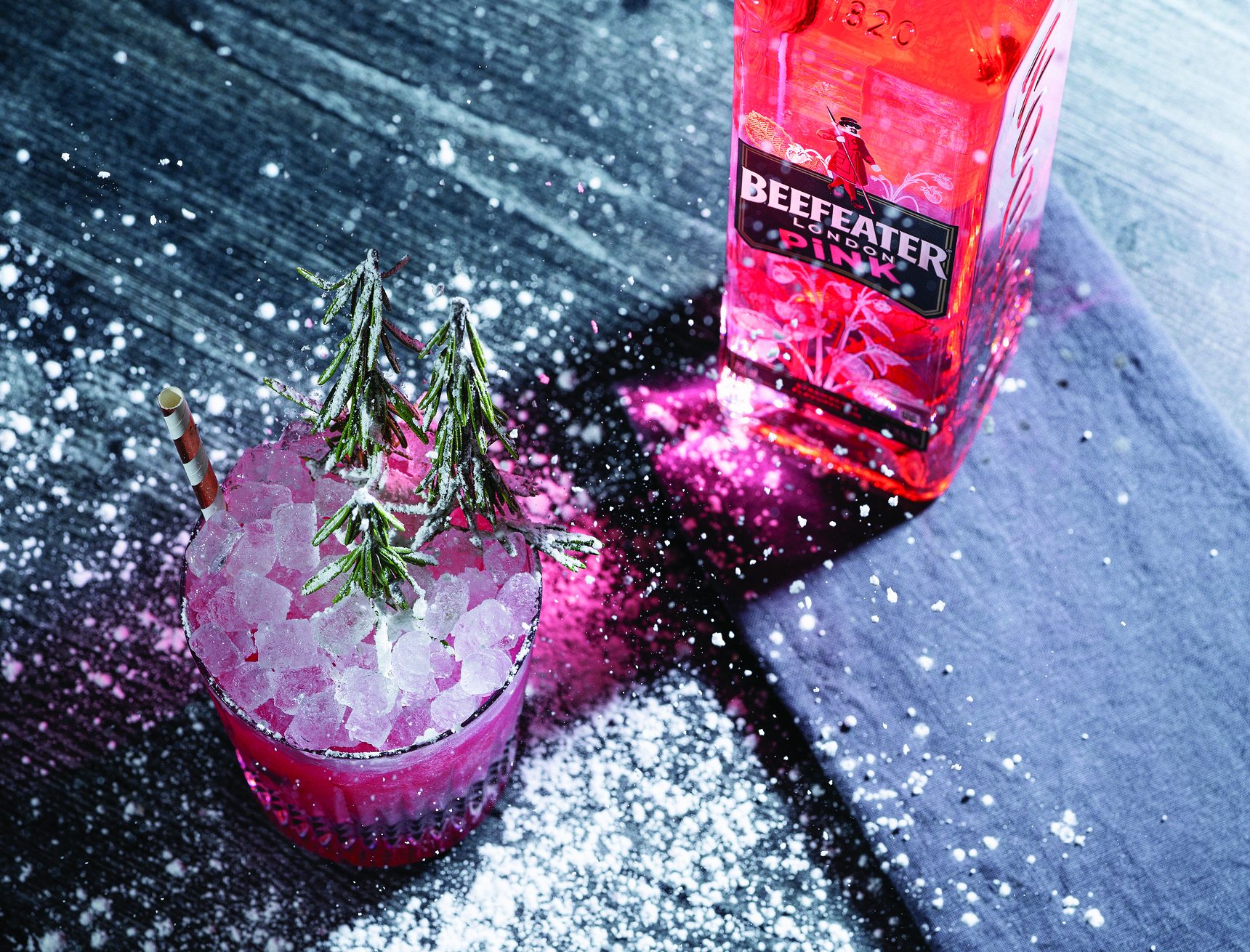 Gin's pink-tinged movement is not a simple case of rosé imitation
By Jack Robertiello
Even the booming cocktail renaissance couldn't bring back Pink Gin—until now, that is.
A 19th-century favorite of the British navy, the original Pink Gin cocktail offered stern stuff, the tangy botanical zip intensified with a generous dose of biting bitters. That was it—no sweetener, modifier or other barrier between the drinker and the potent concoction. It had plenty of fans in the golden era of cocktails in the 1920s, but proved a little too oomphy and too easy to make to suit modern mixologists.
Now more current-day gin makers have started to create pink gins, but theirs have unleashed a multi-headed beast. While some are 80+ proof gins made with bitters already included in homage to the original Pink Gin cocktail, others, equally rosy in hue, are  fruit-forward, even sweet, and owing as much to chi-chi rosé wine as to an ancient cocktail.
This dynamic sets the stage for philosophical friction among the pink products—and producers. "We live in a photogenic world where appearance has become the priority and taste and product quality is secondary," says Geoff Curley, founder and CEO of London-based Gin Lane 1751, which sits in the throwback camp. "We saw what happened with the millennial pink color in fashion and that has crossed over to other lifestyle sectors and consumer goods."
Another traditionalist, Stephan Berg, co-founder of Munich, Germany-based The Bitter Truth, likes to refer to the recent crop of pink gins as "just a traditional gin with a fake tan." His 40 percent ABV version is made with in-house bitters. "The majority of the newly introduced pink gins play with fruit flavor and lower ABV, trying to attract the younger crowd with a catchy color and sweetness," says Berg.
Gil Spaier, owner of All Points West Distillery in Newark, New Jersey, does not try to draw upon history, but he does draw the line at flavor. "I don't think berry-flavored gins are proper to the gin category at all," says Spaier. "When thinking of 'pink gins,' I always think of the Plymouth Gin and Angostura cocktail where spices are perfectly enhanced to the gin's botanicals not dulling." Nonetheless, he makes two gins, one getting both its hue and character from Brazilian pink pepper and hibiscus.

Under the Big Pink Tent
But so what if modern pink gins go out of the normal gin flavor bounds? People are not hesitating. On the contrary, flavored gin has already taken off internationally: according to IWSR Drinks Market Analysis in 2018 sales increased 78.3 percent globally with about a 20 percent market share in the UK. Pink spirits in the U.S. hit more than $20 million in retail sales in 2019, according to Nielsen.
Big producers Boodles and Beefeater offer varieties here, made with strawberry and rhubarb, and strawberry, respectively. "The U.S. is the biggest market in the world for flavored spirits and therefore, we see a huge opportunity for flavored gin to increase share," says Louise Ryan, Marketing Director of the Gin Hub at Pernod Ricard UK. Beefeater Pink, aimed at recruiting younger LDA gin drinkers, has already scored in California and Florida, accounting for 37 percent of volume nationwide. The company's Italian gin brand Malfy (with a Rosa expression made with pink grapefruit and rhubarb) is one of the fastest growing super-premium gin brands, she says.
Flavor and color are both key variables for the fast-rising, pink-hued Puerto de Indias Strawberry Gin. Jose Sedano, international development director for the brand, reports that the main reaction is surprise. "In the mind of the trade and consumer alike the flavor of gin is fairly well established," he says. "Most don't recognize it as gin but that's helping us to break into new ground."
Ireland's Glendalough, for its pink version, redistills its Wild Botanical Gin recipe with extra fruit, spices, and three varieties of fresh rose petals, rendering a naturally pink and quite floral gin.
In making a pink variation of Dorothy Parker Gin, Allen Katz, co-owner and distiller of New York Distilling Co. in Brooklyn, started by macerating rose petals in the gin, with elderberries (already part of the Parker botanical mix) added to fix the color. Stronger (88 proof) and unsweetened, unlike many of the new fangled pinks, Katz recommends his Dorothy Parker Rose Flavored Gin in G&Ts, Martinis, and other classic gin cocktails.
As for the old-timey Pink Gin cocktail, he'll be sticking to the recipe used for the last eight years at The Shanty, the bar adjoining the distillery—Dorothy Parker, Campari and Angostura bitters. Some things can't be tinkered with.