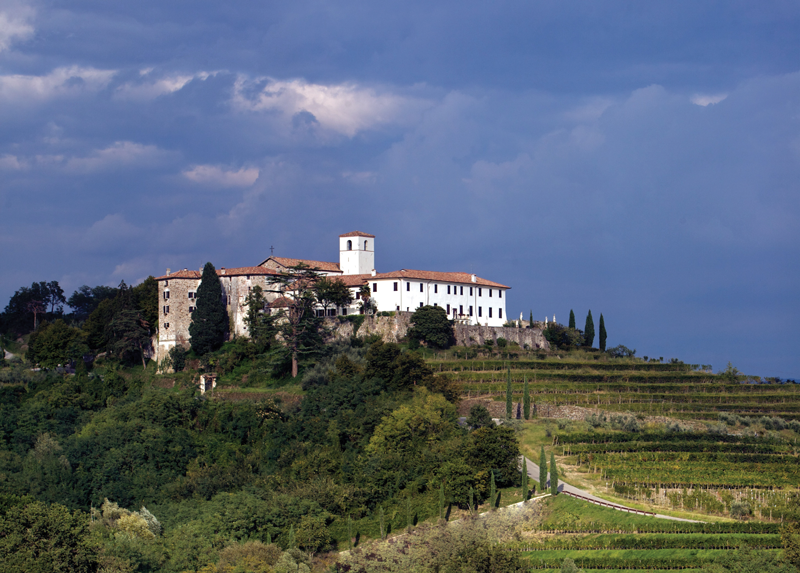 By Courtney Schiessl
---
There's a veritable wine-buying renaissance happening in the U.S. Though international grapes still dominate the shelves, interspersed are under-the-radar varieties and regions hailing from Croatia to Uruguay and everywhere in between. At the same time, consumers are becoming more adventurous with their wine drinking, looking to merchants for guidance in their thirst for discovery.
This plethora of well-made wine from unusual grape varieties and regions is particularly advantageous for small, independent retailers looking for ways to stand out from the average superstore. Creative selections give guests a reason to return. "We carry a lot of unusual grapes," says Jed Boyar, the buyer at Dandelion Wine Shop in Brooklyn, NY.
Not only can these wines draw in customers, but the more personal, hands-on sales approach—one that the big stores just can't offer—is the key to moving these unfamiliar items as well as developing a rapport with the customer. "The only way you can turn someone on to something new is to communicate with them," Boyar adds. "When you do help them discover a new region or a new grape, now you've really added to that relationship with that person." Because they lack the recognition of international varieties, these under-the-radar wines are typically less expensive as well, giving the consumer better value for their money.
While the allure of European wine often centers on imagery of vineyards and estates, such as seen here at Livio Felluga in Friuli-Venezia Giulia, the ascent of New World wines ushered in the Era of the Grape. In short, Americans (still) commonly think about wines by grape first. So when selling wines of unusual origin or pedigree, it makes sense to key on grapes first, then place, technique or special aspect.
While there are offbeat grapes and regions worth discovering across all wine styles, from friendly to funky, these six varieties from Europe are early standouts. Delicious and characterful, they showcase just how much value there is in stepping outside the box.

And from a merchant's standpoint, unusual grapes such as these can benefit from the same type of selling points that tend to be applied to more familiar wines:
Assyrtiko
Smoky and savory, Assyrtiko is certainly a distinctive variety. But the character of this Greek grape is as tied to the variety itself as it is to the place in which it is grown. Assyrtiko most famously sings in the windy, island vineyards of Santorini, where old vines, volcanic soil and sea mists add layers of texture and flavor to these lip-smacking white wines. The rising popularity of this grape has nudged more mainland Greek producers to plant Assyrtiko vines as well.
"The best Assyrtiko wines aren't cheap," Boyar says, "but they have a minerality and dexterity with certain foods that's really only matched by Chablis." Typically retailing for $20 to $30, Assyrtiko is often powerful, but high acidity and salty, citrus-driven flavors make it versatile and refreshing.
Friulano
If much of Italy is known for producing food-friendly reds, the northeastern region of Friuli-Venezia Giulia specializes in some of the country's best white wines. While Friuli's vineyards contain quite a few international varieties, it really shines with offbeat or local grapes, like its trademark Friulano.
Friulano tends to be round and mildly aromatic, with traces of almond, sea salt and stone fruit. Some choose to age Friulano in oak, thinking it adds depth and complexity, but others believe that practice overwhelms the grape's natural flavors. Most of these wines retail for $15 to $30.
Nerello Mascalese
Sicily is hot right now as U.S. wine lovers have noticed the renewed energy and quality of the island's wines. No area is more buzzed-about than the Etna DOC in eastern Sicily, where the vineyards on and around the live volcano Mount Etna produce wines with incredible finesse, nuance and depth.
Lively and well-structured, Nerello Mascalese is the signature red grape of this volcanic wine region, either bottled varietally or blended with its fleshier sibling, Nerello Cappuccio. Depending on the elevation at which it is grown, the wines can be robust and fruit-forward or delicate and layered, with distinct minerality. Retailing at $20 to $45 per bottle, with the finest options reaching $90, Nerello Mascalese isn't the most budget-friendly of these unusual grapes, but considering that it is often likened to the Nebbiolos of Piedmont and the Pinot Noirs of Burgundy, it still offers great value.
Mencía
In contrast to the full-bodied, often oaked red wines found in most of Spain, the northwestern corner of the country offers fresher, more Atlantic-influenced styles of wine. While most of these are white wines, Mencía has caught the attention of many U.S. wine professionals for its characterful reds.
Primarily found in the dramatic vineyards of Ribeira Sacra and Bierzo, the best Mencía wines are poised and energetic, with unexpected concentration. Averaging between $15 and $30 at retail, Mencía can range from approachable and fruit-forward, with mixed red and black fruit, to elegant, savory and long-lived. A good balance of structure and acidity, with spicy, herbal accents, is reminiscent of good Pinot Noir.
Touriga Nacional
Portugal has over 250 local grape varieties, but if there's only one to know, it's Touriga Nacional. This is the country's signature grape, producing deeply-colored, intense red wines. In fact, Touriga Nacional is the core variety used to make Port, but in recent years, it has garnered attention for its still wines as well.
"It is a grape that is grown all over Portugal," says Blanche Orbe, Managing Director for Wine in Motion USA, which has four varietal Touriga Nacionals in its portfolio. "It keeps the same name, but not the same profile. In the Dão, it is elegant; in the Douro, it is powerful." Typically full in body, Touriga Nacional often accents ripe black fruit notes with fresh herbs and violets, and sweet spice from oak aging is often present. At $15 to $25, it is a great alternative for Cabernet Sauvignon, Merlot or Malbec lovers.
Zweigelt
A crossing of St. Laurent and Blaufränkisch, Zweigelt is now the most widely planted grape in Austria. Most of these wines are light to medium-bodied and fresh, with tart raspberry and cherry flavors and a touch of spice.
Driven by snappy acidity, Zweigelt tends to be a thirst-quenching wine with more lift than the average red. It is excellent when chilled, and since it averages between $15 and $25, it is an excellent option for summer parties.