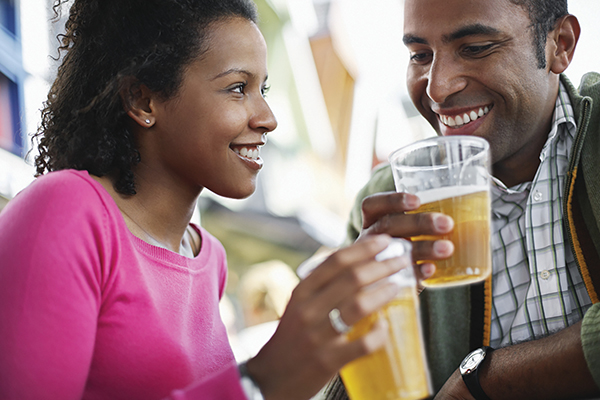 Find Love by Putting the "Ale" Back in "Valentine's Day"
By David E. Rudman
Ending up a shmuck on Valentine's Day is a time-honored tradition that millions of people around the world enjoy annually. But just in case you're ready to mix things up and find (or keep) love this year, one of the most important things you can do is be prepared with an appropriate arsenal of intoxicating beers, wines, and spirits. Because nothing says "you can do better than me" quite like a bottle of pinot grigio.
Let's start by putting the "Ale" back in "Valentine's Day" and take a look at some fine beer choices. Clean and crisp lagers and bright hoppy ales may be fashionable, but for a romantic, intimate winter's night, choosing a rich and decadent brew is imperative. Remember that there is a reason chocolates are a classic Valentine's gift. If it ain't broke, don't fix it: a 750 of a rich stout or porter with chocolate notes will delight your Valentine. If chocolate isn't your bag, it is tough to go wrong with kriek or framboise — beers brewed with cherries or raspberries, respectively. The colors match the holiday, and the sweetness will show your sentiment.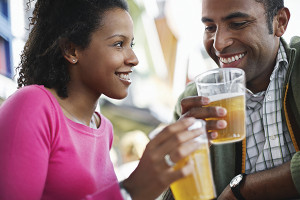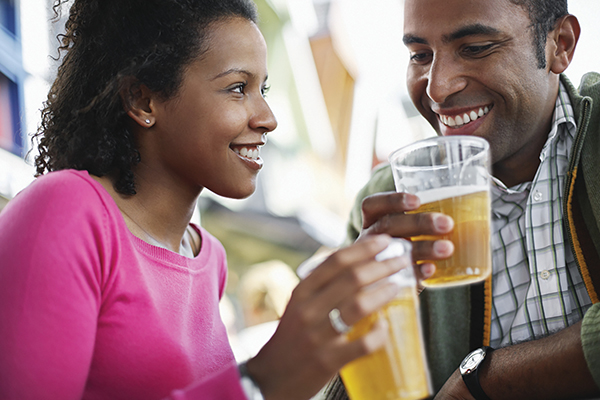 Of course, what could be more romantic than wine for Valentine's Day? Wine in general is another classic gift, but there are pitfalls to avoid. I recommend setting the mood for your night with a sparkling wine. However, the occasion calls for more than an everyday Prosecco. Thinking "pink" is advisable, and there are rosé Proseccos to be had that won't break the bank. Brachetto d'Acqui, a sweet sparkling red from Italy, is a romantic choice and the original wine of love (just ask Cleopatra).
Of course, the sky is the limit when it comes to splurging on the bubbly. You can step up your game with Cremant from France, Cava from Spain, Franciacorta from Italy, or a domestic sparkler in the Methode Traditionelle. All of these wines are made in the same rich, decadent style of more expensive Champagnes.
Which brings us to Champagne: the Mariano Rivera of Valentine's Day. Styles and price points abound, but consider the sweetness level of your wine. Brut is crisp and traditional but Valentine's Day might be the time to go with a demi-sec Champagne, which will be noticeably sweet.
Still wine can be an important part of your Valentine's Day plan, especially if you have dinner plans. Red is the color of love, but if your Valentine prefers white wine, you want to woo with a rich and full-bodied white. Chardonnay is always a safe bet, but you might impress more with a wine off the beaten path, such as the rich white blends of France's Rhone Valley (viognier in particular is a racy varietal), or similar wines from Australia or South Africa.
When it comes to red, nothing is more romantic than wine from the Old World.  Rich, spicy Spanish reds from Jumilla or Ribiera del Duero, delicate and beautiful pinot noirs from Burgundy, France, and Italian reds from sangiovese such as Chianti and Brunello will all seduce the palate of any Valentine. With any wine you serve, do your research and be able to tell a story about it. Wine and the stories it tells (and sometimes writes!) are sexy, so be sure to rise to the occasion.
Wine is fine, but of course liquor is quicker. But what is the true "spirit" of Valentine's Day? My advice is to steer clear… of clear spirits. Vodka is popular, but where is the romance? Love is rich and nuanced, and you need a spirit that fits the bill. The richness and heat of Bourbon whiskey will keep your Valentine warm all night and is preferable to lighter Scotch and Irish whiskeys. Or consider Cognac, the spirit of kings and queens, to show your Valentine how you feel about them.
For the deepest of loves, the deepest of spirits are aged rums. The big, sweet flavors will transport you to a warm island locale on this February night.  Any of these spirits can help you find love this year neat or in a cocktail.  For the connoisseur, a Manhattan with its sweet and spicy notes is the way to go and can be made with any brown spirit.
Everyone deserves to find love on Valentine's Day! The most important thing is to be yourself; but a close second is having the right stuff when it comes to your gifts. Bonne chance!
DRINKING THINGS is a "guide to the spirits of grains and fruits (and more), with a bit of the spirit of the author, just to make things interesting." Follow @drinkingthings on Twitter, and as "Drinking Things" on Facebook and www.drinkingthings.com. Rudman is also Director of Education and Account Development at Brescome Barton, Inc. and a Certified Sommelier.