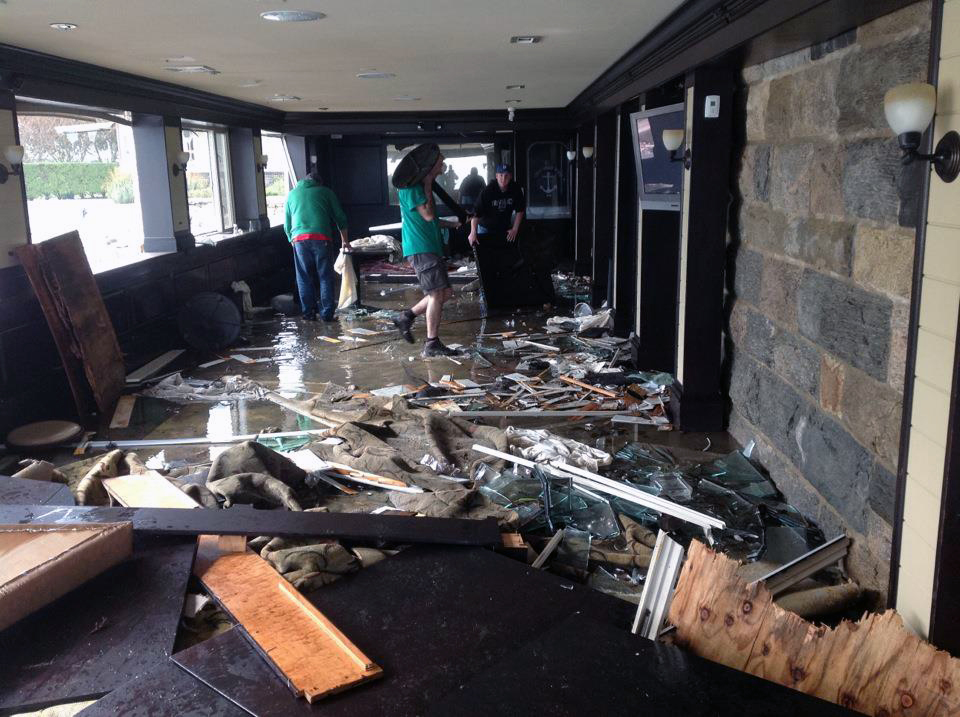 By Lauren Daley
Unemployed hospitality workers feel the brunt
Almost two months after Superstorm Sandy devastated much of the East Coast, many in the hospitality business are still struggling to recover—and many others in the industry are reaching out to help. In Connecticut, there were a total of 7,271 FEMA applications, including residential and business. In Rhode Island, businesses are only just starting to fill out FEMA applications, said Dale J. Venturini, president of Rhode Island Hospitality Association. Calculating exactly how Sandy has affected the hospitality industry, in terms of liquor loss and money, "is not something that's going to be settled in a few months—it will take at least a year" to figure out, Venturini said.
The affects may be long-reaching in other ways—for instance, in New Jersey, Hurricane Sandy caused a shortage of top-shelf liquors, including Cristal champagne and Grey Goose vodka, after storm surges flooded warehouses in Kearney, N.J. According to Bloomberg News, losses were estimated in the tens of millions. One thing that's for sure: People in the hospitality industry are taking care of their own.
"The volunteer effort has been unbelievable. Just amazing. I don't even know what words to use," Venturini said. "There are a lot of people still out of work; they'll at least be able to collect unemployment, but (unemployed hospitality workers) are things the mainstream media isn't talking about." In Rhode Island, "The Bartenders United Cocktails for a Cause" benefit raised more than $4,000 for unemployed hospitality employees and families in Rhode Island and New York City. The event, held at Vanity Restaurant and Lounge in Providence, R.I., on Nov. 12, saw 15 bartenders shaking and stirring for a cause. Not only were all the bartenders' tips donated, but event guests brought donations of batteries, blankets, canned food and Home Depot gift cards.
Frank Martucci, co-founder and president of The United States Bartenders' Guild Rhode Island Chapter, and National Vice President of the USBG, said USBGRI made two trips to New York City in November to "volunteer and support our hospitality peers. Our members went to a 20-story apartment complex and, with just a flashlight and a Russian translator, knocked on every door (to make) sure that each (tenant had) enough food, beverage, blankets, flashlights, and candles," Martucci said. "Everyone had a story and it was emotional and rewarding to all of us who went." The group went to Coney Island to hand out food and clothing to Sandy victims.
USBGRI members went back to New York City on Nov. 18, where they played a charity kickball game that brought in another $1,350 for Sandy hospitality victims. "We also toured the Lower East Side and, with the support of Bacardi, supported five bars just getting back on their feet," Martucci said, adding that the group is planning events to support Rhode Island hospitality victims.
Those in the Connecticut hospitality industry were among many to benefit from "The 12-12-12 Concert" for Hurricane Sandy victims. Eric Clapton, Coldplay, Bon Jovi, Bruce Springsteen & The E Street Band, Paul McCartney, Kanye West, Billy Joel, Alicia Keys, Roger Waters and more participated in the Madison Square Garden concert, broadcast to more than 1 billion people across six continents. Proceeds will go to the Robin Hood Relief Fund, which helps Sandy victims in Connecticut, New York and New Jersey.
As of press time, Nicole Griffin of the Connecticut Restaurant Association did not have exact numbers for how many restaurants lost power and how many were still without. She said previously that, "Restaurants, like many other businesses affected by this storm, are working through their insurance companies and trying to recover and reopen for business."
Federal assistance has been made available to Connecticut businesses through FEMA. Governor Dannel P. Malloy announced that those affected in Fairfield, New Haven, Middlesex and New London Counties must register with FEMA by phone or online to receive aid.
To register by phone, call 1-800-621-FEMA (3362). The TTY line for people with speech or hearing disabilities is 1-800-462-7585. The line is open from 7 a.m. to 10 p.m. every day. To register online, applications may be completed at www.disasterassistance.gov. For disaster assistance questions, call the FEMA helpline at 1-800-621-3362. State officials and FEMA are assessing damage in Litchfield, Hartford, Tolland and Windham counties to determine if they will be eligible for aid.
The Connecticut Small Business Administration will be offering loans to homeowners, businesses, and non-profit organizations. You can access SBA Disaster Assistance online at www.sba.gov/disaster or call the Buffalo call center at 800-659-2955. The SBA has streamlined its online process for applying for disaster loans in Connecticut. The new application will take less time to complete than the previous application.
R.I. Governor Lincoln Chafee announced Nov. 2 the establishment of an emergency loan fund in the amount of $1 million to assist Rhode Island businesses that have been affected by Hurricane Sandy. The loans are being made available through the Rhode Island Economic Development Corporation's (RIEDC) Small Business Loan Fund. To qualify, businesses must supply evidence of damage sustained from Hurricane Sandy or business interruption caused by the storm. Businesses must also show that they have adequate insurance to cover storm damage and meet other minimum lending requirements. Rhode Island businesses interested in more information about a storm assistance loan may contact the RIEDC's Finance Department at (401) 278-9100.