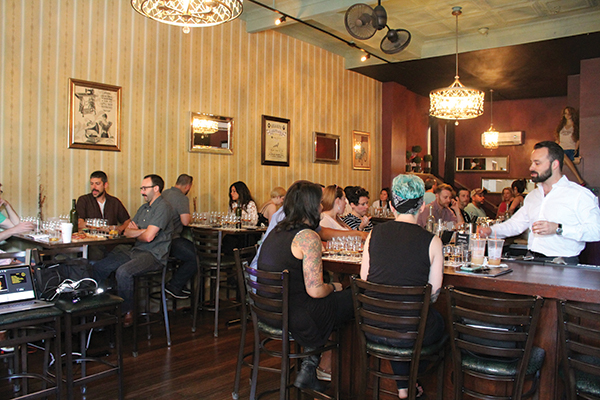 Jordan Bushell, the U.S. Brand Ambassador for Hennessy, presented "Hennessy Academy," an educational seminar for industry professionals at Little River Restoratives in downtown Hartford on June 28. The event was hosted by Connecticut Distributors, Inc. (CDI). Bushell discussed the history of Cognac and the appellation, the Hennessey brand and products, the region's terroir, environment and rules, as well as uses of the French brandy in contemporary cocktails. Hennessy is crafted under seventh-generation Master Blender Yann Fillioux. After the seminar, industry professionals were able to taste and compare different Hennessy products, as well as take part in a mixology workshop and learn the art of saber.
Sandra Terenzio, Portfolio Manager Moët Hennessy USA, Connecticut Distributors, Inc. (CDI) with Jordan Bushell, U.S. Brand Ambassador, Hennessy.
Table setting of Hennessy. The tasting consisted of Fin Bois No Oak; Fin Bois 2 Year New Oak; Fin Bois 2 Year Seasoned Oak; Fin Bois 10 Year Seasoned Oak; Hennessy V.S.; Hennessy Black; Hennessy V.S.O.P.; and Hennessy XO.