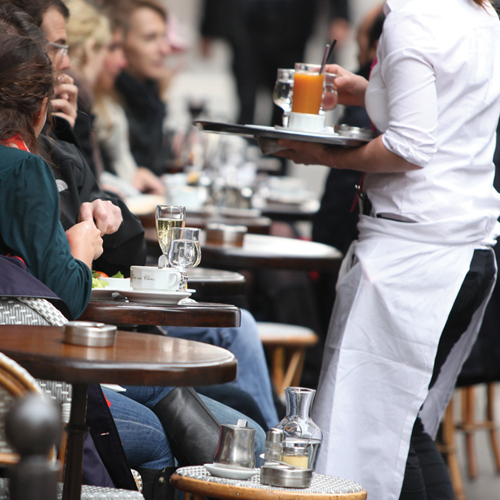 Patio, Permitting. Compliance in Outdoor Service
By Marilyn Lodato
Restaurants often attract customers with an outdoor dining option. If you currently do not have a patio permit, it's not too late to get in compliance. Just because you may have a liquor permit for your business does not mean you are allowed to serve on a patio, unless you have also obtained the required patio permit from Liquor Control.
Step 1: Complete the patio permit application form.
Liquor Control has a separate form for patio applications, which also requires signatures from the local zoning enforcement officer, the fire marshal and the health inspector.
Step 2: Get the appropriate signatures.
At Zoning, the zoning enforcement officer will determine whether the proposed area is properly zoned for patio use. The fire department will check to ensure that seating on the patio will not create overcrowding, i.e., allow sufficient space to exit in case of an emergency. The health department will check to see if your restaurant is up-to-date on health code issues. They will also determine whether umbrellas will be required for patio seating.
Step 3: Produce a detailed plan of your patio.
A detailed plan of the patio, showing the location of tables and the type of dividers surrounding the patio and area of egress, is required.
Some patios may be located on city property, which would require an additional application with the city, allowing use of city property for the patio. The city would require a copy of the seating plan and may request that it be prepared by a licensed surveyor.
Also required is a copy of your liability insurance naming the city as an additional insured. They may also require a copy of your lease, demonstrating your right to occupy the premises. Most cities approve outdoor dining from March through November.
What happens next?
Once the patio application is filed with Liquor Control, it will get assigned to an agent. The agent will need to make a field inspection prior to preparing a report for submission to the commission for approval. This process may take four to six weeks. No one wants to be surprised by a liquor control officer. An agent could quickly identify if a patio is not included in the permit from a routine inspection.
Following these steps will allow you to include outdoor dining confidently, knowing it is part of your permit. And if you have already begun experimenting with outdoor dining options, these steps will ensure you are in full compliance.
Marilyn Lodato is the owner of Connecticut Liquor Permit, a consultant and expeditor assisting clients in the application process for liquor and patio permits, with over 25 years' experience. She can be reached at marilyn@liquorpermit.com. This article is not intended to be legal advice.