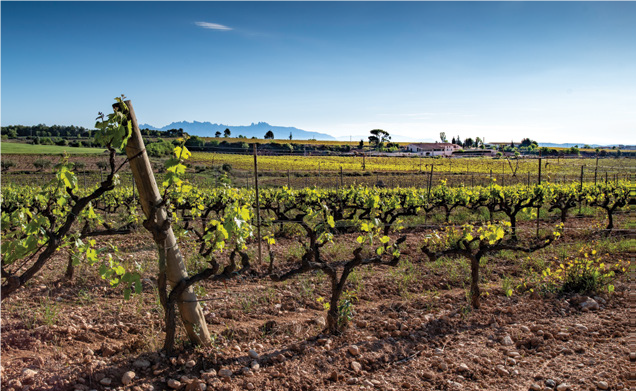 With updated regulations for DO Cava  and the vagaries of climate change, vintage is at the forefront
By Caitlyn A. Miler
Cava is undeniably unique in the world of sparkling wine, from its place of origin to the trio of indigenous grape varieties used in its production. Nevertheless, parallels are often drawn between Cava and other traditional method sparkling wines, such as Champagne. In light of recent changes to production regulations set out by DO Cava and the escalating impact of climate change, some of these parallels have become much more pronounced. Most notably, the growing influence of vintage.
Jose Maria Ferrer, the owner of Familia Ferrer, jokes, "We used to say that the difference between Champagne and Cava is that Champagne has a very exceptional vintage every 10 years, but with Cava, it's the other way around; we have a bad vintage every 10 years."
However, in recent years climate change has impacted nearly every wine region, including Spain, and producing consistent crops each year is no longer a guarantee. At the same time, new DO Cava rules could make it more challenging for producers to adapt during difficult weather events, amplifying vintage differences. Now, Ferrer suspects, "we're going to have more and more bad vintages. And we have to try to adapt to that."
In light of this confluence of events, vintage may soon become a driving factor in both the style and quality of Cava. As most buyers already do with Champagne, is it time to consider vintage when buying Cava?
THE NEW RULES FOR DO CAVA
As of January of this year, several new rules went into effect for DO Cava, which impacts everything from aging to farming practices. Cava is now divided into two categories: Cava de Guarda, the youngest bottlings that must be aged for a minimum of nine months; and Cava de Guarda Superior, which includes three quality tiers—reserva, gran reserva, and paraje calificado—that must comply with a suite of new quality-minded regulations, including that all wines be vintage dated and made from 100 percent organic grapes.
The vintage dating requirement is more of a formality, but it provides buyers with a clear understanding of what vintage a wine is made from. Currently, both Cava de Guarda and Cava de Guarda Superior are made from a single vintage; the use of reserve wine is almost nonexistent within the category. If reserve wine is used, it is usually to produce expedition liqueur. In the past, reserve wine simply wasn't necessary as there was little vintage variation. But as climate change progresses, this may not be the case in the future.
The new organic farming requirement, on the other hand, is one of the first of its kind. While many wine-region regulatory bodies oversee production rules, almost no regions stipulate how the grapes should be farmed. DO Cava now requires that all Cava de Guarda Superior be 100 percent organic by 2025. While this is widely considered a positive development, it's not without broader impacts to Cava production.
CONVERTING TO ORGANIC FARMING
While most of the new DO Cava rules only apply to Cava de Guara Superior, the regulations are reverberating across all Cava because most producers are choosing to convert all farming to organic for practical, environmental, and commercial reasons.
According to DO Cava, sales increased by 17.34 percent in 2021 and much of that growth was led by organic (65 percent) and long-aging (104.25 percent) categories. For Giró Ribot, a winery that started converting their vineyards to organic farming in 2017, it made sense to convert everything because they knew it was the right direction for the brand.
"We produce organic Cava de Guarda," explains winemaker Joan Rovira. "However, some of our clients do not want to pay the small price difference of organic Cava de Guarda, and therefore we are forced to buy nonorganic grapes to produce Cava for them. We believe this will soon be over [due to changing consumer demand] and all the Cavas we will commercialize will be organic certified." Mireia Pujol-Busquets Guillén, the second-generation owner of Alta Alella, a winery that has worked organically since its founding in 1991, agrees that all Cava production is moving closer towards becoming fully organic.
"Cava is going to be organic 100 percent in ten years," suspects Guillén. Codorníu has also made the choice to farm all of their vineyards organically. "All [Codorníu] Cavas will be organic by 2023 … as a commitment to the environment," says winemaker Bruno Colomer. For Ferrer, the logic is simple. "I think in the long term it will make sense to convert everything into organic because the price you are getting for your grapes is better, the consumer is demanding more and more of this type of product, and we want to be competitive."
THE EFFECTS OF CLIMATE CHANGE
Like nearly all winegrowing regions, Cava production areas are dealing with the effects of climate change—which can be more difficult to combat when farming organically.
"Traditionally, the harvests in the Cava region have been very regular," says Colomer. "Although, in recent years we have been facing frequent challenges: droughts, high temperatures, torrential rains, frost and hail at unusual times, and massive pest attacks." As Ferrer describes it, "The weather is crazy. It rains less, but when it rains, it rains badly. It rains a lot in a short period of time, it causes a lot of damage, which is not good for the harvest or the quality of the grapes."
As with many regions, increased heat during the growing season has also pushed harvests earlier in the year. "Over the last 20 years, the start date of the harvest session has been brought forward by approximately 20 days," explains Colomer. "the trend, and it is very likely to get earlier and earlier due to climate change." At Alta Alella, the experience has been similar, but Guillén elaborates, "In the last  few years, the difference is that everything is ready to harvest [at the same time]. The ripening is more concentrated. You have to work harder in five weeks. Before [the harvest lasted] two months."
For Meritxell Juvé, the CEO of Juvé & Camps and a fourth generation family member, working organically has become much more challenging in light of these climate-induced changes. "In some years, when we had a strong impact of mildew in the vineyard, working organically was a clear handicap. In fact, [we saw] a reduction of our yield by about 50 to 60 percent, while nonorganic producers had only a 25 to 30 percent reduction. It really makes it more difficult."
EMBRACING VINTAGE VARIATION
While the new DO Cava regulations may leave producers with fewer tools to combat challenges in the vineyard, the benefits of working organically—and embracing each vintage's unique crop of grapes—far outweigh the costs.
Despite the ups and downs of each vintage, Juvé stresses, "This doesn't mean that we are not speaking about excellent vintages, [it's just] much harder to work and to deal with." Colormer adds, "Production is higher or lower or starts earlier or later, but in terms of winemaking, the wines are still the same or even better."
While Ferrer believes that "most Cava producers are going to try to make reserve wines and to make blends to make a more uniform product," he, along with many other quality-minded Cava producers have chosen a different approach. "We are treating our Cava more like a wine than a Cava. We want to express the differences of every harvest." Familia Ferrer's Can Sala wines, for example, aim to highlight the climatic differences of each vintage.
At Alta Alella, vintage is also a core component of their winemaking philosophy. "For us, the most important thing is the vintage," says Guillén. "When you have been [making wine for] a long time, you have the same vineyard, you have the same soil, you have the same brand and the same kind of consumer, and you have the same team. The only thing that changes is the vintage. So I really want to let the vintage express [itself] every year."
The Alta Alella 10 Gran Reserva series is a prime example of the breadth of diversity of Cava vintages. Started in 2010, the series showcases Alta Alella's winemaking philosophy: each year's bottling is entirely consistent—100 percent Chardonnay, Brut Nature, no added sulfur dioxide—except for the vintage. The wines range from acidic and structured, as in the cool 2010 vintage, to ripe and concentrated, as found in the warmer, drier 2012 vintage.
Guillén sees vintage variation as more than just a variable in winemaking. "Wine makes you travel around the world," she explains. "Vintage makes you travel, but through the past and through the years, and I think this is quite interesting. That's why we don't add any expedition liqueur, we don't add any sugar, we don't want to make any vintages the same."
With the days of consistent vintages and predictable weather behind us, vintage variation will continue to be a growing factor in the production of all wine, including Cava. Combined with DO Cava's new organic farming and vintage dating requirements, the impact of vintage on both the style and quality of Cava will only increase. As a growing number of Cava producers embrace these variations and the challenges that come with it, Cava is gaining a whole new level of complexity— and buyers should pay attention.