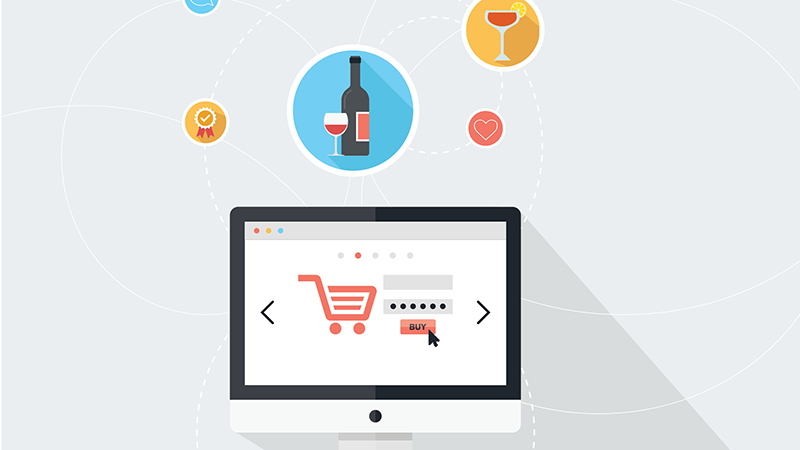 The HOW-TO Guide to Social Media for Wine + Spirits
What You Need to Know to Develop & Manage Your Business Communication Online
By Lana Bortolot
---
With three out of four businesses already on social media, optimizing Facebook, Instagram, Twitter and other platforms is feeling more and more like a necessity rather than an option.
"No matter what size you are, consumers nowadays judge you based on your digital footprint," says Lisa Mattson, Director of Marketing and Communications at Jordan Winery, recognized as a leader in social media in the wine sector. "They're making a conscious decision about whether or not they want to do business with you based on your online presence," she says.But how to use social media effectively remains elusive, especially for small business owners with even smaller resources and under pressure to look cool, authentic, upload video or grab onto the latest widget—and justify the time commitment and expenditure.
While the goals and audience of a winery may differ significantly from those of a wine retailer or restaurant, the platforms designed for social media are, if nothing else, completely flexible and customizable for other industry sectors.
Fortunately, for the do-it-yourselfer, an entire cottage industry of social media tools has developed, not to mention a growing force of dedicated social media consultants. And social media as an industry is already having to deal with endemic scourges such as phantom followers and over-hyped "influencers."The good news is that you can apply what you already know—just think of it as traditional business messaging in a new medium.
Another advantage: depending on your approach, it can be quite cost-efficient as SM platforms and tools don't require new hardware or inventory. A retailer who sends newsletters—email or snail mail—can re-channel monthly content online, spreading the messaging over the entire month—with more graphics, including animation, plus the added benefit of engendering customer engagement and tracking response.
In the end, every business's social media activity can and should be different. Below are some topics that business owners and managers should consider as they carve out their niche in the Digital Age of sharing, posting and communicating online.
KNOW YOUR AUDIENCE
Targeting the right people the right way
Consider your audience and your goals and match them to the appropriate platform. Do you want to generate sales/leads? Drive traffic to your web page? Create brand awareness? Educate consumers?
There's a site, platform or app for that. Your customers may like visuals on Instagram; Facebook, however, may be the best for promotions and events. Twitter might be the place to reach other industry watchers or conduct live chats.
Fortunately, third-party management tools (Tweetdeck, Hootsuite and Buffer are among the more established) can help you both manage posts and analyze feedback on multiple platforms.
THE PLAYERS
Get hip to who's hot

Following competitors, key influencers and brands clue you in to what topics and images resonate with people so you can dig into your own arsenal for content. "We definitely recommend monitoring your competitors, to see what they're doing and what's working for them," says Jenn Deering Davis, co-founder of Union Metrics, which provides social media analytics tools.
TOOLS: WORDS + VIDEOS
Curated content rules

Bill Gates's 20-year-old mantra, "Content is King," resonates more today than ever. But for businesses this can be tricky. "Realistically people don't fall all over themselves to follow businesses, so the content becomes more important," says Tom Geniesse, owner of retail shop Bottlerocket Wine & Spirit in NYC. Generally speaking, word counts are lower online and images more plentiful and more potent as attention spans shorten.
Rule of thumb: Establish a look that communicates your brand personality or company culture. Tell stories and entertain as well as promote. GIFs and Boomerang mini-videos are efficient ways to create interest without full-on video production. Facebook and Instagram's "story" features also offer customized creative twists to ho-hum posts. If you lack design skills, check out a free online template tool.
INFLUENCERS 
Caveat emptor… 

As covered extensively in Beverage Media's September 2018 cover story, Influencers—people with large social media audiences who are paid for their endorsements—have grown into big business.
Their services range from "liking" a brand to sponsoring a photo, tweet or video. But with the rise of zombie accounts, phantom followers and bots, due diligence is in order to help spot the fakes.
BUDGETS 
Put your money where your audience is

Across the board, experts say organic growth—acquired through strategic content, tagging influencers and advocates, use of hashtags, listening and manually interacting with fans—nets the most engaged and loyal audiences.
And, it's a huge time commitment. You can buy fans through a number services offering 100 followers for as little as $3 but chances are you'll gain phantoms, not people who will engage with your company.
Many companies end up with a mix of organic interactions and those garnered by boosting posts (for at little as $5) or buying ads on Facebook, Instagram and Twitter. The difference? A boost activates one post (image, video or text) and targets an audience demographic you set yourself in the platforms' tools. Ad buys are more involved, but can provide greater exposure with a variety of creative formats and more latitude for messaging.
RETURN ON INVESTMENT 
It's up for debate