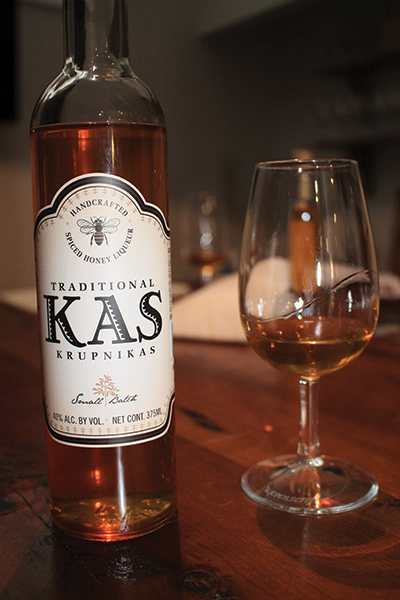 Highland Imports Highlights KAS Krupnikas
By Savannah Mul
Marushka Osman and her husband, Kas Katinas, are the spirit entrepreneurs behind KAS Krupnikas, a traditional Lithuanian spiced honey liqueur that launched in 2014 in their home state of New York. KAS Krupnikas is handcrafted at their Mahopac distillery, KAS Spirits, and boasts a recipe that includes 10 spices, creating a liqueur that offers warmth and complexity. Wine Enthusiast rated KAS Krupnikas 92 points and it earned a spot on the list's "Top 100 Spirits of 2015."
While they are able to self-distribute in New York, for their next market, Connecticut, KAS Spirits needed to go through a distributorship, following state regulations. Through mutual friends they were introduced to Walter Marcinowski and the staff at Highland Imports of Shelton early on, beginning their supplier and distributor relationship. A recent "ride along" with Osman and Jamie Clemente, sales manager at Highland Imports, gave insight into marketing the spirit with its current state launch.
Clemente hosted a day of on- and off-premise visits in Connecticut for Osman to introduce KAS Krupnikas to accounts. He said an important ingredient for launch success is to have face time with retailers and restauranteurs. On February 8, 2016, Osman and Clemente visited numerous locations in Fairfield County to start building awareness of KAS Spirits.
First stop, Castle Wine and Spirits and Ninety 9 Bottles in Westport, followed by Greenfield Liquor Shop and Moe's Wine and Spirits, both in Fairfield, and then Tarantino Restaurant and newly-opened Parker Mansion, both in Westport, among others.
Kathleen Smith, DWS and Wine Buyer at Castle Wine and Spirits, said the best way to market a new product to her customers is through in-store tastings, as they boost sales of the product. After Smith tried KAS Krupnikas, she arranged a future tasting with Clemente. Tastings enable what Clemente calls "liquor to lips," he said. "Once they [consumers] walk in the store, they'll try it and they'll buy it … [KAS Krupinikas] is delicious and it's priced right." Osman left shelf-talker cards with each of the off-premise locations.
On-premise locations followed. The first question Franco Trotta of Tarantino Restaurant asked after he tried the product was, "How can I sell this?" Osman then offered Trotta business cards with a cocktail photo on one side and its recipe on the other. She said this marketing tool has helped "introduce ideas" for accounts to see possibilities of the product in cocktails, and Trotta agreed.
KAS Krupnikas is featured in hot teas and cold cocktails using bourbon, whiskey and mezcal, along with a variety of other spirits, Osman said. "Every experience is a new experience so far," Osman said. "We're growing though; every month has been a growth."
At each stage, the supplier and distributor, as well as the on- and off-premise accounts, all work jointly to achieve successful sales in a new marketplace, to build product awareness and work to increase consumer demand. "We build relationships before business," Clemente said.