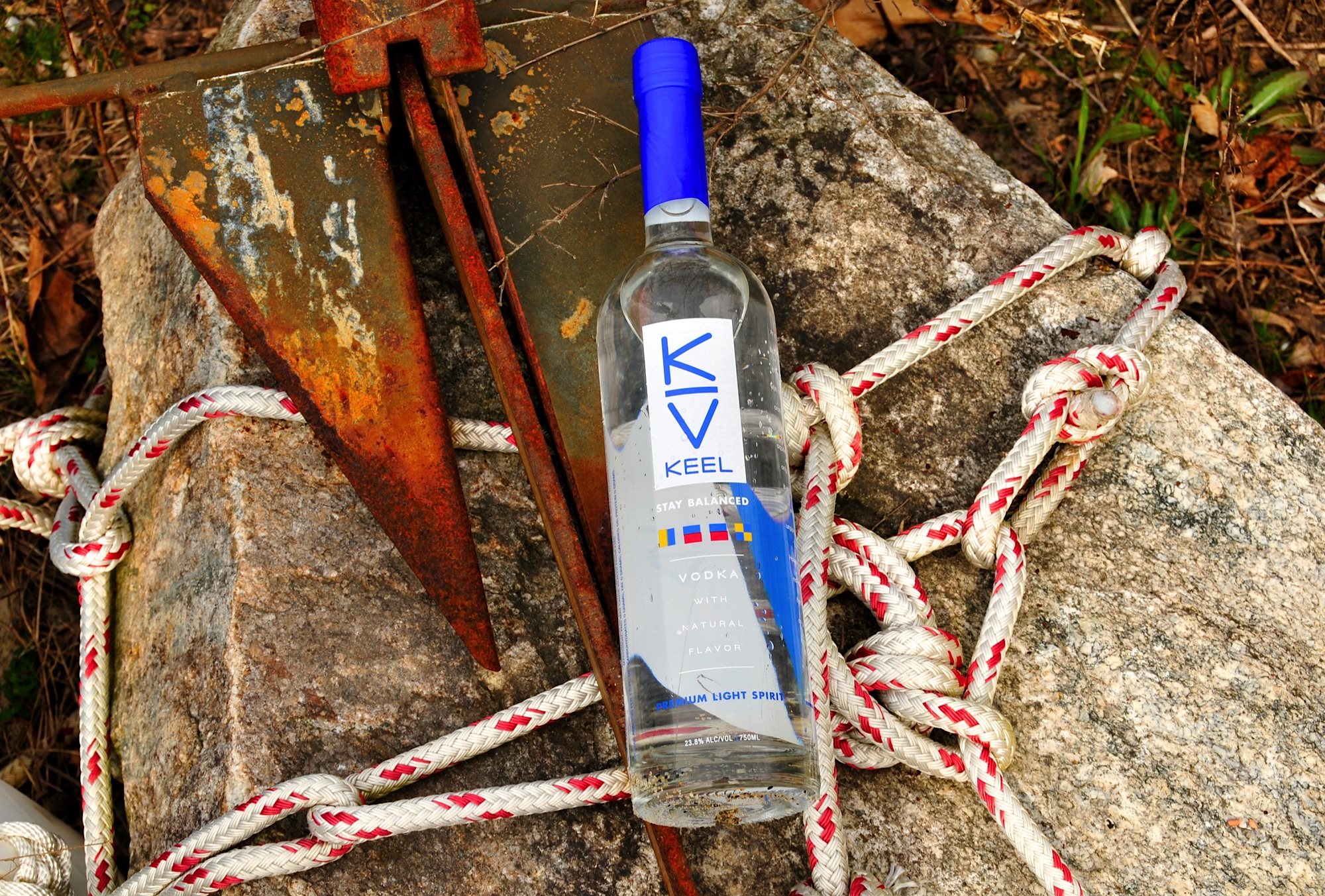 By Bob Sample
In their working lives, most folks opt for security and predictability. On weekends, most people opt for barbeques or beaches. But three local entrepreneurs Bill Dessel, Matt Light, and Tom McGowan, feel quite comfortable with the opposite, having embarked on their maiden voyage, the launch of Keel Vodka. All spring summer, the partners have crisscrossed the state giving Ocean Staters a taste of their new passion, Keel Vodka.
Keel debuted earlier this year as the industry's very first low-calorie, zero-carb vodka with appeal to both men and women. In the often gender-conscious marketing of spirits, Keel evokes the nautical environment of coastal New England, providing the first low-cal vodka that they hope male drinkers won't be shy about requesting.
"
Light beer is extremely popular among men and we wanted to apply the same concept to vodka," said McGowan. "Keel also contains a bit less alcohol than traditional vodka – which lets guys stay at the party a little while longer."
The vodka, with its zero carb, zero fat, 58 calories per 1.5-ounce pour, also has a reduced ABV of 23.8%. Keel is produced at an award-winning distillery in eastern Idaho, using Idaho winter wheat and corn. It is distilled with the rocky mountain snow-melt in a patented distillation process.
Keel's initial success has far outstripped initial expectations. Dessel points out that tiny Rhode Island has provided the perfect place for a product launch. "It has a widely varied demographic; Providence is extremely different from Newport, for example," said Dessel. "And, every part of the state is within an hour's drive of everywhere else. That makes getting around easy."
Caitlin Souza and Haley Keene also travel to restaurants, bars, and packaged stores far and wide offer Keel samples. Both are longtime employees of Dessel's popular Barrington restaurant, Billy's. This past summer, the Keel team began phase two and moved into Massachusetts. Light's involvement is a huge bonus among Bay Staters: he played for the New England Patriots from 2001 to 2011, his entire pro football career. He is an ESPN advisor as well.
"Logistically, Massachusetts is more difficult than Rhode Island, both because of its size and the number of large cities," noted Light. "But we've continued our grassroots approach – and we're working Massachusetts as hard as, if not harder than, we did in introducing Keel to Rhode Islanders."
To complement this and to reach more people, the team ultimately will utilize some more traditional marketing methods in Massachusetts, such as advertising. With the help of public-relations partner, Goodwin Associates, the team ran a recent drink-recipe contest, and Keel was a sponsor of the movie "2 Guns," with profits from the latter supporting actor Mark Wahlberg's youth foundation.
"The key difference between our product and larger brands is, we own this," said Light. "We're the ones behind Keel vodka every step of the way, every hour of the day. If something doesn't work… well, we'll just try something different." He says there is still very much to do, and nobody has reached the proverbial comfort zone. Nor will they anytime soon, but they love every minute of their work. "I feel we're where the inventors of Coca Cola were 100 years ago," said Dessel.
The three men plan to continue the expansion of the product throughout New England and the Northeast. They don't envision any westward moves soon, even though Light's home state is Ohio. They do occasionally think about expanding the product line.
\"We've just scratched the surface," said McGowan. "We could conceivably create Keel rum, Keel tequila, and so forth. But that's 'way into the future. Right now, they're busy telling everyone about the very best-tasting vodka around." Keel Vodka is available in Rhode Island via M.S. Walker.