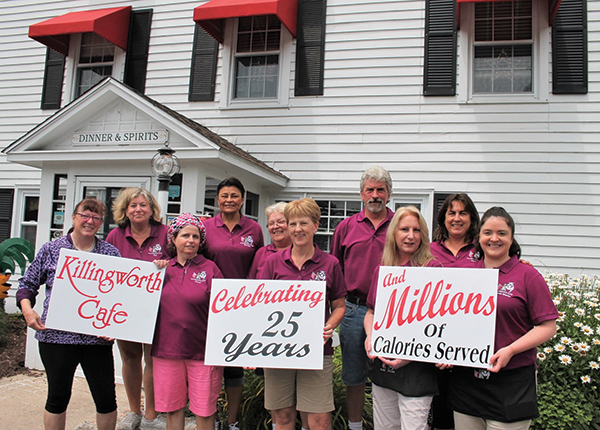 By Savannah Mul 
In late July, Owner Janet Violissi picked up the bucket of kazoos by the door and handed it to an employee, saying "Here, pass those around." Then, Violissi gathered the attention of patrons in the café and said, "Alright, let's show her how it's done…" In unison, everyone grabbed their kazoo and began playing a "Happy Birthday" melody. "People don't like singing happy birthday, but give them a kazoo …," Violissi said. The restaurant filled with laughter and smiles, the usual expression on the faces of diners and employees at the café.
Violissi runs the café with her sister, Carol, both of whom have transformed the space to reflect the community of Killingworth and building's historical place in the town. Built around 1860, Violissi found it served a variety of uses including a church parsonage, a general store, post office and paradoxically, a brothel, according to records at the town's Historical Society.
Far past the parsonage, "the building was known as the place where you could drink, then illegal 'top notch liquor' obtained from rum runners who plied the coast during Prohibition," Violissi said. After the repeal of Prohibition, it is "widely believed in town" that the then owner of the building, Fred Winkle, slept on the steps of the State Capitol to receive the first liquor permit to be issued in the state, Violissi continued.
The space has since become The Killingworth Café. "We are very community-minded and we're following the history of the building," said Violissi. "I love the interaction and I love the people," she said, looking out over to the crowd of diners. Killingworth is celebrating its 350th anniversary this year, hosting a town parade where among the floats and participants, The Killingworth Café will take its place too.
The Killingworth Café offers a full menu of family-style comfort foods ranging from BBQ baby back ribs, jumbo chicken wings, prime rib, kielbasa, an array of seafood and pasta options, gluten-free options, Pirate Burgers, which are grilled cheese sandwiches with a burger inside, and much more coupled with a decadent dessert menu. When it comes to putting together the menu, Violissi explained she wants to offer what she likes to cook and eat. As her motto for the café goes, "Where every day's a holiday and every meal's a feast."
Read September's featured "Serving Up" for a featured Killingworth Café recipe.