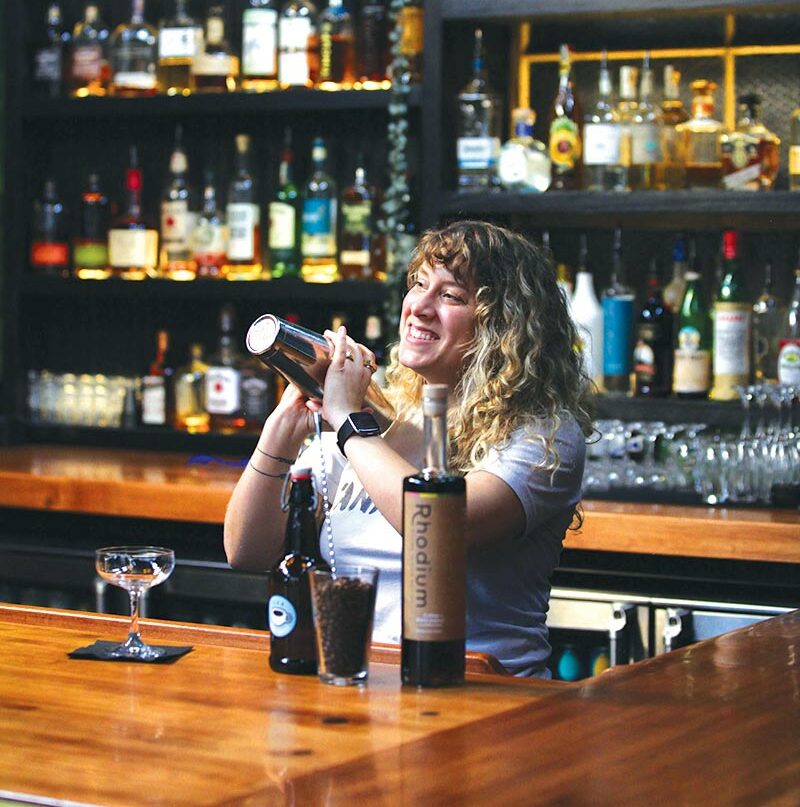 Kimi's Bar
373 Washington Street
Providence, RI
Located on Federal Hill in Providence, Kimi's Bar cultivates a curated craft cocktail experience. Longtime city resident and bar veteran Kimi Rich, who had formerly worked at notable area venues, began to outline her own bar-ownership dreams just before COVID-19 shut down the scene. Rich's goal was to create a welcoming space in an elevated neighborhood bar, she has said. With its buzzy vibe filled with personal, artistic touches—including repurposed lighting and pews, a bar from a former bowling alley and 1940s-era explosion-proof light fixtures from Czechoslovakia and Ukraine, among its handcrafted architectural accents—she, along with her husband, William Senecal, made it happen through teamwork and her vision behind it all. The space blends industrial and inviting elements with whimsy and artfulness. DJs, board game nights and a variety of pop-up and themed events add to the easy-to-enjoy atmosphere. The backlit bar with its handmade bright green tiles showcases the many handcrafted cocktail treats available through Rich's engineering.
Owner/Bartender: Kimi Rich
Cocktail: Brown Bird
Ingredients:
» 2 oz. Rhodium Coffee & Black Walnut Vodka
» 1 oz. Bolt Cold Brew
» 1 oz. brown sugar simple syrup
Method: Shake all ingredients vigorously with ice, then strain the mixture into a coupe glass.
Of the Brown Bird cocktail, Owner Kimi Rich said, "We absolutely love Rhodium spirits [by Pawtucket-based Rhode Island Spirits]; they use locally fresh farmed and foraged ingredients [and are] gluten-free, organic, kosher and LGBTQ-owned. The quality is just there 100%. Paired with local Bolt Cold Brew, it just can't go wrong. This started as a fall/winter cocktail and earned its right to be a permanent fixture on our menu."