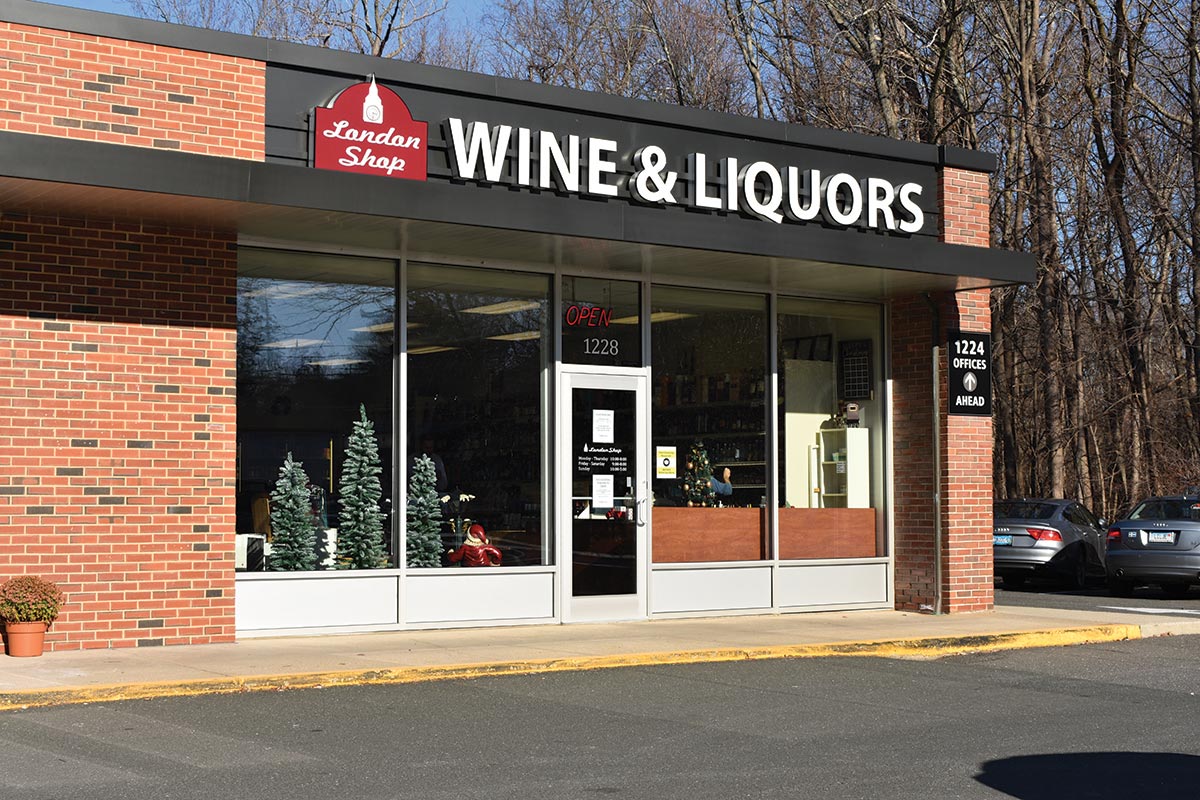 London Shop Wine & Liquors
1228 Farmington Avenue
West Hartford, CT
Square footage: 1,000
Years in operation: 2½ years under current ownership
By Sara Capozzi
London Shop Wine & Liquors was family-owned for years when it was sold to current owner Kevin Boncek. He bought the store in 2017 with a goal of carrying on the 30-year legacy of his predecessors, Ed and Haesook Connington.
Boncek started working at London Shop when he graduated high school and continued to work part time for the Conningtons while attending college at the University of Connecticut. When he went into financial services working at The Hartford after college, he remained part time at London Shop for another 10 years. Boncek's knowledge of and passion for wine grew during that time and he was able to learn more about store management.
When the opportunity to buy the store arose, he was ready. "It was a smooth transition," Boncek said, who credits his wife, Alicia, with helping him get to where he is today. "I left [The Hartford] when I had the opportunity to buy this place," Boncek said. "It was a long-term goal."
The shop's customers have come to expect the superior selection and attention to service, which Boncek prioritizes and is appreciative of as well. Looking around the sunlit store on a December morning, Boncek said, "A lot of what you see here is some of what's left over from the way they did business for years. A lot of our customers actually think that I'm their son."
Boncek's emphasis on customer service is apparent in how he runs the store. "I love being able to talk to people every day. That's fun, getting to interact and obviously just having a passion for wine, learning about wine and trying to help people find stuff that they like," he said. "It's easy for somebody to come into a store and look at what's being advertised in the newspaper, on TV, saying, 'I want a bottle of that' … they ask for a recommendation and the fun part is getting them interested in something that might be a little bit esoteric or a little outside of the wheelhouse from what they're used to, but still within that flavor profile and expand their horizons on wine. I like it when people try a bottle and they come back all excited and say, 'This is the best thing ever.'"
London Shop carries "the staples" of Chardonnay, Cabernet, Pinot Noir and Sauvignon Blanc, along with "off the beaten path" wines offering an emphasis on French, Spanish and Australian wineries. Ultimately, Boncek carries what is most in demand with customers. "The way I buy wine, it's got to meet the customers' expectations for flavor and taste and style and price," he said. He tastes all of the wines so that he can recommend them with confidence.
"It's a very localized business," Boncek said. "We have a lot of local customers, so over the years I've been able to tailor tastes to what I know my customer base enjoys. I don't carry a ton of sweet wine, for instance, [but] I have some. Some stores might sell a lot more moscatos. I sell a little bit of that kind of stuff, but most of my stuff is on the drier side. So, it's definitely tailored to what our customers are looking for."
In spirits, his customers tend to favor higher-end bourbons, Scotches and vodkas, along with higher-quality and natural mixers such as RIPE, Stirrings Cocktail Mixers and Fever Tree. Boncek enjoys supporting New England brands, including keeping Connecticut's Litchfield Distillery and Vermont's Barr Hill on the shelves. Local craft beer from brands such as Hog River, Back East and Black Hog are in the cooler on a rotation. "I'll get a case or two at a time … freshness is important to me on all that stuff. Every week, you might not find the same ones; there are certain staples that [customers] expect me to have. There's so much good craft beer that I just rotate it constantly, and it's fun because you can always find something new."