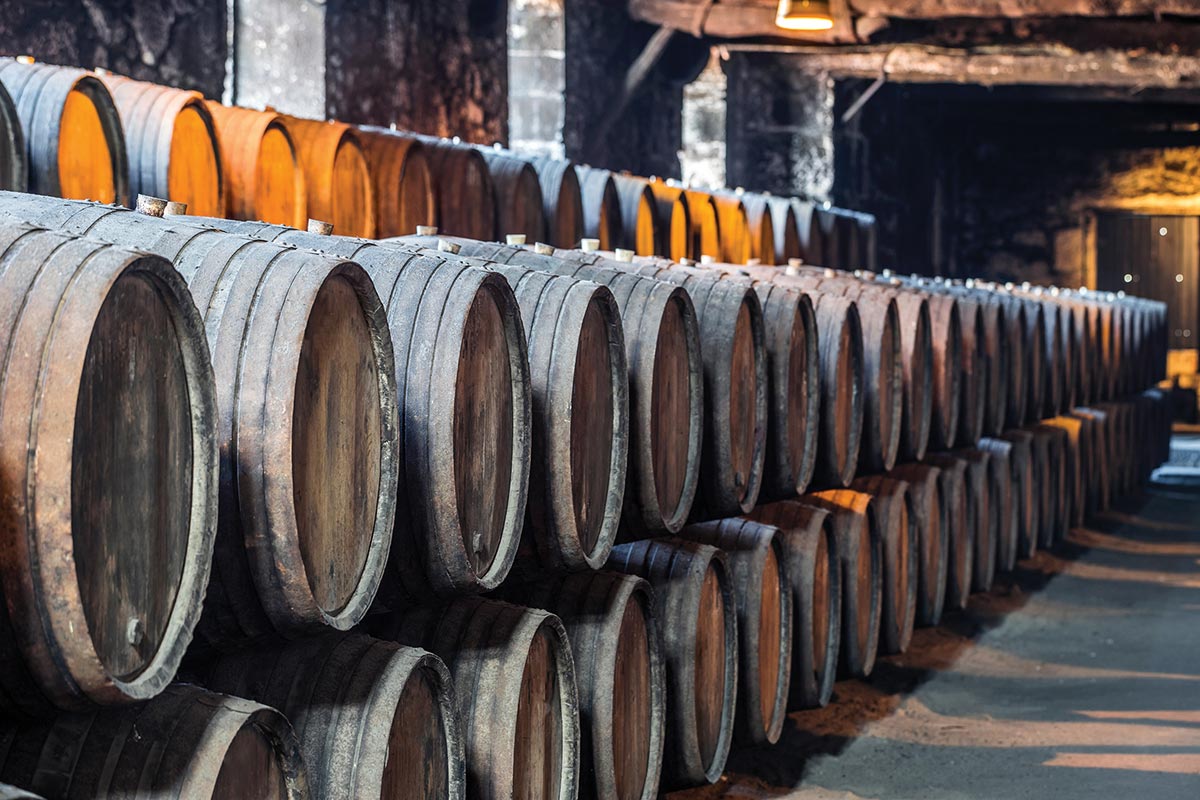 By Jonathan Feiler
Now that we have all taken it easy on the sugar, and maybe the alcohol, in January, it is time to keep some of that momentum going in February. There are a lot of low-alcohol beverages on the market, but the one that gets overlooked, or maybe not even known about, is the honorable Vin de Liqueur (VDL).
VDLs are fortified wine that the French call mistletoe, mistletoe or mistelle. They are stylistically different from Port, Sherry and Madeira in that the alcohol is added to lightly fermented white or red grape juice called "must," not fully fermented wine. This method creates a beverage that is high in residual sugar but relatively low in alcohol compared to distilled spirits and just as mixable—around 16% to 22% ABV.
There are many VDLs throughout France; pretty much every major growing region of the country makes their own unique variety. These "wines" can be enjoyed on their own or fortified into a cocktail or served with a sparkling wine. The production method and flavors of these VDLs vary depending on where they are from and what grapes they are made from. Here are some of the most well-known.
In Languedoc, the VDL is called Cartagène. As a rule, it consists of 80% grape must and 20% brandy. This drink gets its name from the idea of working the vines for the fourth time ("cartager") or, more likely, to the proportions that make it up (four parts must to one liquor). The juice must come from at least 50% Grenache Noir (Garnacha Tinta) or Grenache Blanc (Garnacha Blanca). The alcohol content is usually between 16% to 18% volume, the residual sugar content 150 grams per liter. With flavors of walnuts and sweet plums, Cartagène is served as an aperitif or a digestif for personal consumption.
In the Rhône Valley, they make a VDL called RinQuinQuin. The name means "invigorating drink" after an old French term. A white wine is prepared with dried peach tree leaves, up to seven white and yellow peach varieties, cane sugar and alcohol for four to five weeks. It has an alcohol content of about 15% and a typical taste of peaches and vanilla. It is imbibed naturally, chilled or possibly with ice; often with foie gras or as an aperitif.
In Champagne, they have Ratafia. The term "ratafia" dates back to the 16th century and is derived from the Latin "rata fiat convention" in the sense of a trade. After a satisfactory agreement among involved businessmen of the day, the business of this fortified wine was blessed or "ratified." First, mostly Chardonnay and Pinot Noir are raisined and only in the following spring are they then macerated with grape must, starting a relatively short fermentation, which is stopped early by the addition of brandy or Marc. The alcohol content is raised to 17% to 23%, then the wine is stored in stainless steel tanks or wooden barrels for at least one year. There are red, white and rosé varieties. Ratafia has flavors of honey, dried peaches and bitter almonds.
Armagnac calls their VDL Floc de Gascogne. This VDL has a lot of tradition and rules that go into its production. The must of the white variety is produced from Colombard, Gros Manseng and (together at least 70%, but no variety more than 50%) Ugni Blanc (Trebbiano Toscano), as well as Baroque, Folle Blanche, Petit Manseng, Mauzac Blanc, Sauvignon Blanc and Sémillon. The must of the rosé variety is obtained from Cabernet Franc, Cabernet Sauvignon, Merlot and a maximum of 50% Tannat. The grape juice must contain at least 170 grams of sugar per liter. Fermentation of the juice is stopped by adding Armagnac (at least 52% volume) and the final product has an alcohol content of 17% volume. It is aged at least nine months (not necessarily in cask) and may not be sold before Sept. 1 of the year following the harvest. This intense production method produces floral flavors, as its name means "Lou Floc" or a bouquet of flowers.
Macvin du Jura is the traditional VDL from Jura, located in Eastern France. The Macvin may be red, rosé or white. In the red and rosé versions, only the grape varieties Pinot Noir, Poulsard and Trousseau may be used. For the white versions, only Chardonnay and Sauvignon Blanc. The juice must have at least 153 grams of sugar per liter and has to be mixed in a ratio of 2:1 with eau-de-vie de marc originaire de Franche-Comté. The Marc must be produced in the same estate as the must, be matured for at least 14 months in oak barrels and have at least 52% ABV. This results in a Macvin with an ABV between 16% and 22%, which has to mature for at least 10 more months in the wooden barrels. The result is a Vin Doux Naturel that is rich and unctuous with a heavy amber color and aromas and flavors of orange zest, quince, prunes and other dried fruits.
Pineau des Charentes is a VDL from the Cognac region of France and is distilled from Ugni Blanc (Trebbiano Toscano), Colombard, Folle Blanche, Jurançon Blanc, Blanc Ramé (Meslier Saint-François), Merlot Blanc, Montils and Sémillon for the Blanc, and Cabernet Franc, Cabernet Sauvignon and Merlot for the Rosé are permitted. The grapes must have a potential alcohol content of at least 10% volume. Fermentation is stopped by adding Cognac (mutage). The resulting flavors are honey, vanilla, nuts, and dried peaches and apples.
I believe that by adding Vin de Liqueurs to your list of new items in your beverage program and home bars, you can add an extra layer of flavor and variety to your new year. Try replacing or adding a VDL for a spirit in your favorite cocktail; I enjoy adding a Pineau des Charentes to an Old Fashioned or a French 75! Vin de Liqueurs come in a wide array of flavors and price points that guarantee additional sales and pique interest in your dining room.
Jonathan Feiler is Group Director of Wine for Ocean House Management Collection, including the Forbes Five-Star Ocean House, the award-winning Weekapaug Inn, the Watch Hill Inn and the Inn at Hastings Park, where he oversees the wine and beverage program and practices a wine philosophy centered on versatility and approachability. He also is responsible for a full program of beverage education classes for individuals and groups.