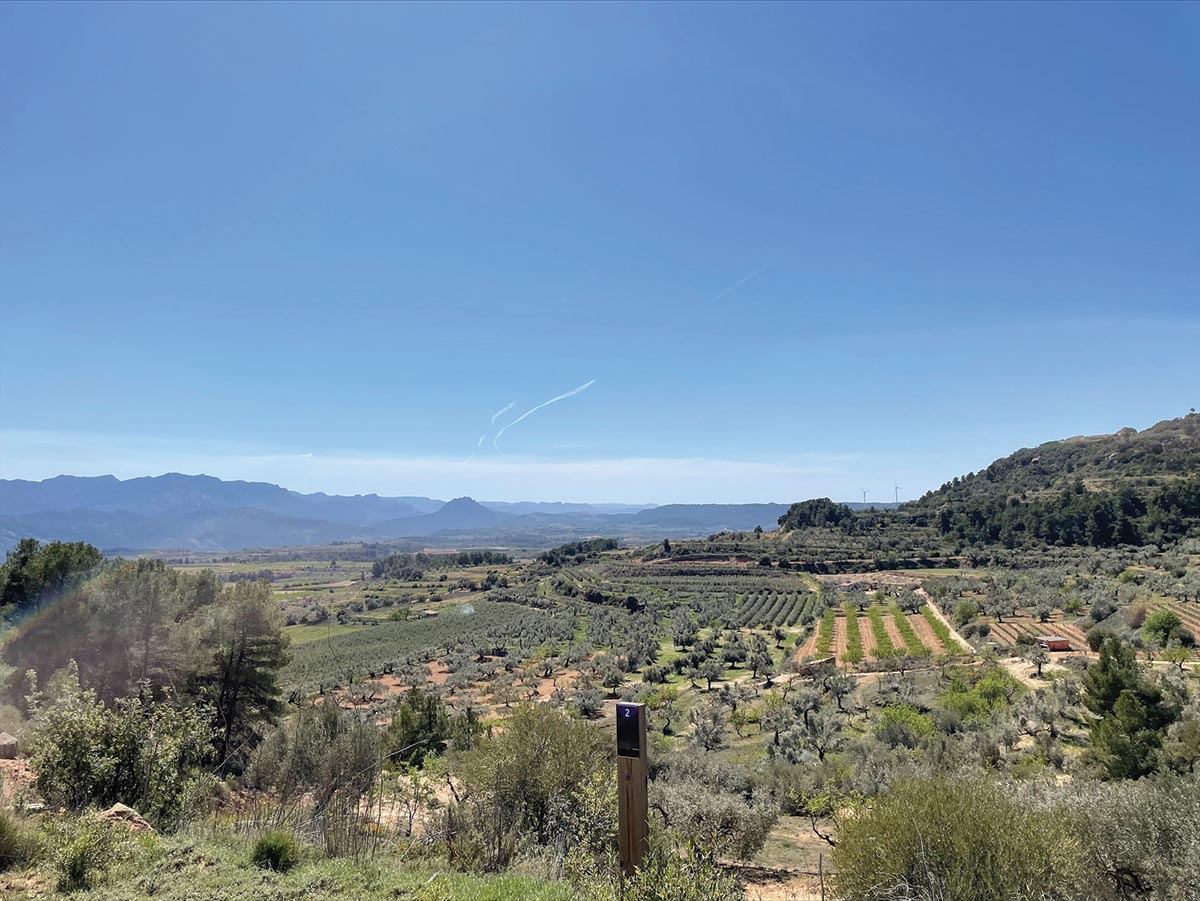 By Jonathan Feiler
Traveling to wine destinations is one of the great thrills and perks of being a sommelier and one of the reasons many of us get into the business in the first place. In April, I was selected to join a group of 20 wine professionals from different parts of the country and industry to go on a five-day whirlwind trip to Catalonia, Spain. Our fast-paced schedule allowed us to visit seven Denominaciónes de Origen (DO) and nine wineries. The opportunity to taste the wines in the vineyard and wineries with the owners and winemakers created a perfect sense of place and understanding of the wines.
Catalonia has 226 wineries and 104,849 acres of planted vineyards, comprised of the 10 wine Denominaciónes de Origen, or DOs, including Penedès (Cava), Priorat DOCa, Montsant, Tarragona, Terra Alta, Costers del Segre, Alella, Empord, Catalunya and Conca de Barberà. The climate is heavily influenced by the Mediterranean Sea, and the weather ranges from warm with small amounts of rainfall to more arid as you go farther inland and higher in elevation that can go up to 2,000 feet.
The terroir ranges from clay, limestone, alluvium and the famous Llicorella (quartz and slate). The main grape varieties of the region are Granacha Blanca, Malvasia, Macabeo, Parellada, Xarel-lo, Grenache, Carignan, Trepat, and the occasional Cabernet, Merlot, Chardonnay and Tempranillo. The white wines tend to be light and fresh, with floral, citrus and light apple flavors. The whites are generally low in alcohol and high in acidity. The reds are just the opposite; full-bodied, high in alcohol with rich minerality, deep red fruit and red flower flavor and aromas.
During the trip, we were able to experience a healthy slice of the region's diverse wineries. While there was not a bad wine to be had and each winery was unique, there were, of course, a few standouts.
Gratavinum was established in Priorat in 2003 by Joan and Josep Cusiné together with their wives MªElena Jiménez and Marta Casas respectively, who are the winemakers along with Jordi Fernandez. The name Gratavinum comes from the contraction of Gratallops (the name of the village where the winery is located) and Vinum, which means wine in Latin. The winery stood out for a few reasons: they cultivate their vines organically but follow the rules of biodynamics, their elevation and the terroir.
To properly explain biodynamics would take time, but in short, they do not use chemicals, they do not irrigate, and tend to the vines using the moon phases to determine the best time for planting, watering, harvesting, etc. The vineyards sit above 400 meters (1,300 feet) in elevation, making for stunning views, but more importantly, soft, well-balanced wines that could otherwise be very tannic and austere.
The soil is Llicorella, which sheers off every inch of the vineyard. This soil gives their wines a layered texture unlike I have had before. Their standout wine is 2πr (the length of the circumference) named so because the wine is described as being round … get it?! The wine is aged for almost two years in French and Hungarian oak barrels, and 10 months in clay amphoras. This long aging process produces a wine that has aromas of purple fruit and flowers with a hint of toast from the barrels, but a balanced, mineral-driven, food-friendly, long finish.
Celler de Capçanes in the southern part of Priorat was founded by a few local families in 1933. Currently, they have 80 families invested in the winery and they make over 40 wines including Cava, Kosher/Mevushal method, dessert wines and a very interesting lineup of Garnatxa from four different soil types. All four Garnatxa (Grenache) from 30 to 60-year-old vines, come from Montsant and are aged for four months in French Oak.
Tasting these wines that range from sand (180-200m high), clay (600m), limestone (200-400m slopes) and slate (200-250m), each had a unique personality. Tasting them side by side showcased how different the grape can express itself in different soil types from light and soft with bright fruit aromas in sand and limestone to deeper, darker fruit and rich dry tannins in clay and slate.
Traveling to Catalonia and experiencing firsthand the terroir, growing techniques, winemaking process and methodology of the business as a whole, gave me a renewed appreciation for the wines of Catalonia, Spain overall and the business of wine.
The region is dynamic and has many expressions of its native grape varieties. These wines are the definition of value; they punch way above their weight for the cost and the quality. The wines are also very versatile with food and can satisfy a variety of palates. I hope that you can find a wine or two from the area that you enjoy, too, and can travel to the region to see how amazing it is yourself.
Jonathan Feiler is Group Director of Wine for Ocean House Management Collection, including the Forbes Five-Star Ocean House, the award-winning Weekapaug Inn, the Watch Hill Inn and the Inn at Hastings Park, where he oversees the wine and beverage program and practices a wine philosophy centered on versatility and approachability. He also is responsible for a full program of beverage education classes for individuals and groups.