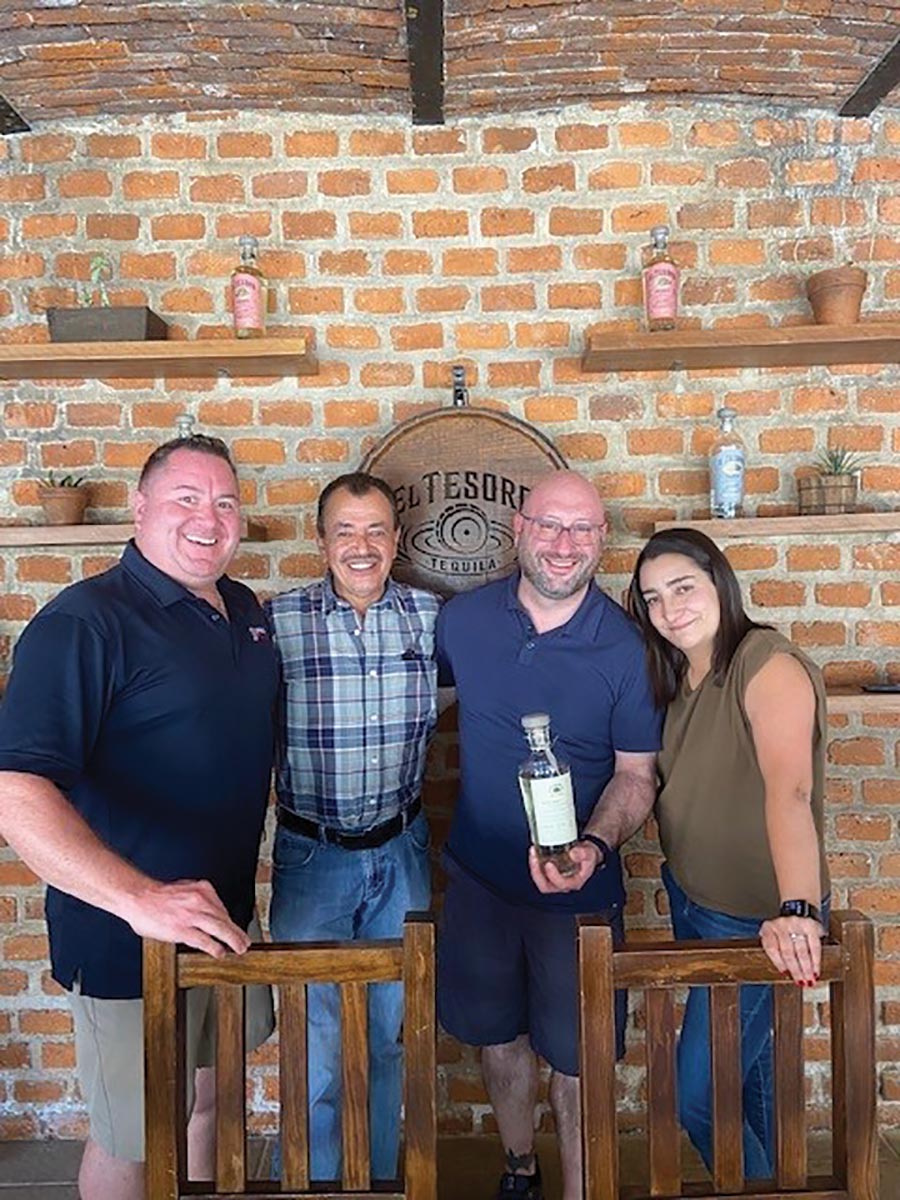 By Jonathan Feiler
"You have a tough job!" I hear this phrase sarcastically from everyone in my life more often than I care to admit. Most days I just nod my head and think to myself, "You have no idea what a day in my life is like." Most people would crumble and tap out before lunch service is even over. However, the past two weeks as I write this, I would begrudgingly agree with them. As I write this article, I am flying from Boston to Paris, then on to Barcelona for Barcelona Wine Week (that article will be next month).
Traveling to taste the wines, beers and spirits that we serve our guests are one of the great joys and perks of the job, and there is no better way to truly appreciate a particular region. With that said, I was fortunate to travel to Mexico to visit the Camarena family, makers of El Tesoro ("the treasure") Tequila. The trip was quick and had a defined purpose: I was there to choose a single barrel of El Tesoro's Reposado Tequila for my hotels.
When Beam Suntory's Chuck Mattera and I arrived at the La Alteña distillery, which is located in the highlands of Jalisco two hours outside of Guadalajara, we were warmly greeted with a bottle of El Tesoro Blanco Tequila by family members Gabby Camarena and Jenny Camarena, along with the distillery's head of international sales, Magally Franco, followed by Master Distiller/Owner Carlos Camarena.
With proper introductions made and tequila in hand, we headed out to see the agave. We learned the distillery's philosophy of farming, distilling and business practices; they are currently experimenting with 100% organic farming and have one field already dedicated to the practice. They choose the agave that is from six to eight years old, still traditionally harvested by hand, picking only the piña of the plant (which means "pineapple" because that is what they look like) that are between 23-28 brix.
We then moved out of the sun and 80-degree heat to the distillery, which was established in 1937 by Don Felipe Camarena. The piñas are split in half and the core (which imparts a bitter flavor in the tequila) is removed effortlessly by the jimadors (the farmers who harvests agave plants) with their traditional hachas (axes). Then, the piñas are placed in large ovens, called hornos, where they are steamed for 48 hours until they have "honey" seeping out and are a dark golden brown; they have a texture and taste of the most delicious caramelized sweet potato you've ever tasted.
The piñas are then cooled down for 24 hours and shredded down by a traditional two-ton Tahona stone. The juice created is mixed with water that comes from the distillery's own natural spring, fed by gravity to open-topped wood vats where fermentation happens. During the process, the shredded pieces of agave are painstakingly put into mesh bags and added to the wood tanks to steep and fortify the flavors of the soon-to-be tequila.
Once the natural alcoholic and malolactic fermentation is complete, the alcohol is around 5%. The liquid is then filtered and moved to two copper pot stills to begin the double-distillation process, where it is brought to proof then filtered.
Third-generation Distiller, Señor Coronado, masterfully tests and tastes the distillate until he is satisfied, to where he makes his cuts to the heads, hearts and tails, different parts of the liquid. The finished tequila comes out at 110 proof, then watered down to 80 proof. Let the record show the 110 proof, while it has a kick, is incredibly delicious. Time to let the tequila rest in one of their Jim Beam barrels. Reposado is aged for 9-11 months, the Añejo for 12-36 months, the extra Añejo for 48-60 months. The exclusive Paradiso is aged for 60 months in Cognac barrels. If it is Blanco, it gets bottled right away and sent to market.
We then sat for a blind barrel sampling of nine Reposado tequilas. I may or may not have had about three or four tequilas at this point: time to get my game face on! The conversation was fascinating. The family tasted tequila like I taste wine, and their descriptors were very in-depth; flavors of honey, lychee, strawberry, chocolate, cream, bell pepper, spices and spicy notes were all discussed.
The incredible amount of minerality and texture the tequilas had is something I never experienced before. This feature comes from the natural spring water and its high mineral count. After the tasting, it was time to make a decision; I knew which one I liked.
As we went around the table to discuss our favorite and why, it was discovered that five out of six of us all picked the same barrel. Not only is that an incredible chance, but it made me breathe a sigh of relief that I actually knew what I was doing and that I didn't lose all my taste to COVID. The winning barrel was from the medium-bodied family and, in fact, was the middle of the middle. This won because of its perfumed nose of lychee, white cherry, bell pepper, lime and floral features, along with its rich texture but balanced long finish. It will not only be perfect on its own, but will create complex, layered cocktails. I am beyond thrilled to have my guests enjoy this tequila at all of my properties.
We relaxed a bit and enjoyed the rest of the tequilas in our glasses; then it was time to leave this beautiful property with a ¾ full bottle of my chosen tequila, newfound friends and a memory to last a lifetime. At the end of the day, our business is built on relationships and stories. I hope everyone has a chance to visit a destination they are passionate about, too.
Jonathan Feiler is Group Director of Wine for Ocean House Management Collection, including the Forbes Five-Star Ocean House, the award-winning Weekapaug Inn, the Watch Hill Inn and the Inn at Hastings Park, where he oversees the wine and beverage program and practices a wine philosophy centered on versatility and approachability. He also is responsible for a full program of beverage education classes for individuals and groups.