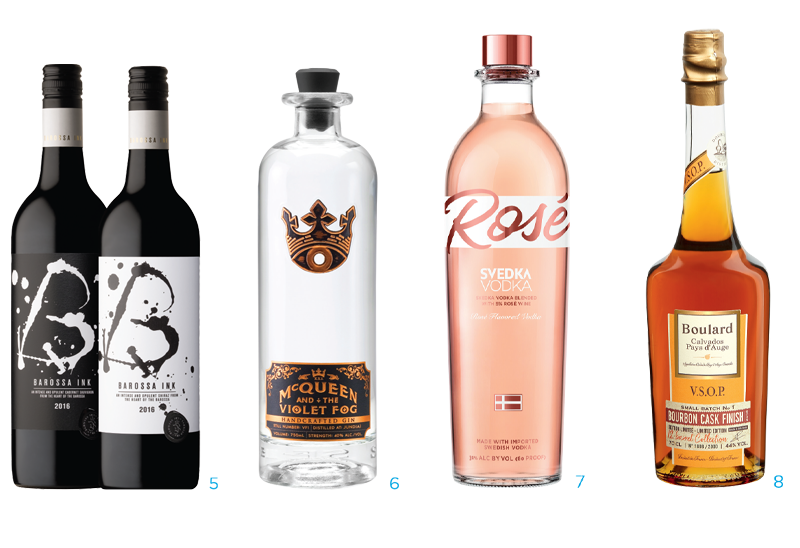 New Products: March 2019 Edition
1. Glenmorangie 'Allta'
Marking the 10th anniversary of their Private Edition series, Glenmorangie Allta is the first single malt whisky made using wild yeast growing on the distillery's own barley. Inspired by a story told by the late writer Michael Jackson, Glenmorangie's Dr. Bill Lumsden used samples of Cadboll barley grown near the Glenmorangie distillery to cultivate yeasts used in fermentation. Once distilled, the whisky rested in ex-bourbon barrels, mostly second-fill, to highlight the fruity character given by the yeast. 102.4 proof.
SRP: $99
2. Greenhook Ginsmiths Gin & Tonic Cans
Cans continue to crop up in different sectors. This RTD Gin & Tonic was inspired by a distiller's concern about the quality and consistency of mixed drinks. Their new canned G&T is made using proprietary tonic water (with real quinine), citrus flavors, cane sugar and their own Greenhook Ginsmiths Gin; blended in a ratio of 1 part gin to 2½ parts tonic, then carbonated. Best over ice with a lime wedge. 24 proof.
SRP: $21.99/four-pack of 200ml cans
greenhookgin.com / terlatowines.com
3. Risata Sparkling Rosé
With rosé continuing to stand strong as a category and bubbly gaining in popularity as well, Prestige Beverage Group is tapping both hot tickets with a new Risata Sparkling Rosé. Aromas of strawberry, raspberry and floral notes lead into a fruity palate of 11% ABV and persistent bubbles. The new bubbly joins Risata Moscato d'Asti, Prosecco, IL Rosso, Brachetto d'Acqui, Pink Moscato and Red Moscato.
SRP: $16.99
risatawines.com | prestigebevgroup.com
4. Zaya Gran Reserva Rum
Zaya Gran Reserva Rum of Trinidad and Tobago has a new package with a revised age statement. Now in a slimmer bottle, with a longer neck and a cork closure, Zaya Gran Reserva is a blend of rums aged up to 16 years. The palate offers notes of vanilla, caramel, cocoa and banana. Ideal for sipping or in tiki-style cocktails. The bottle also honors Trinidad and Tobago as the "Land of the Hummingbird" via a medallion imprinted in the glass. 80 proof.
SRP: $29.99
---
5. 'Barossa Ink' Shiraz & Cabernet Sauvignon
Accolade Wines North America is introducing Barossa Ink to the U.S. Produced by the team at Grant Burge in South Australia, the two Barossa Ink releases showcase the area's hallmark Shiraz and Cabernet Sauvignon grapes, with an added twist. During the final stages of winemaking, concentrated Petit Verdot is added, boosting the tannins, color and depth in the wines. Delivering on the name, the resulting Shiraz and Cabernet are rich, concentrated and dark.
SRP: $15.99
6. McQueen and The Violet Fog Gin
McQueen and the Violet Fog Gin arrives featuring an ambitious 21 different botanicals, and the claim that at least six are found in no other gin. Adding to its exotic ID: it is made in Brazil, using a sugarcane base and both maceration and vapor infusion. Its botanicals are global (basil from India, star anise from Vietnam, and more) and local (açai). And the name, inspired by a mysterious poem, is detailed on the back label. 80 proof.
SRP: $39.99
7. Svedka Rosé Vodka
Svedka Rosé is the vodka brand's answer to the popular wine trend, targeting rosé-all-day fans as well as adventurous vodka consumers. Made with 5% rosé wine, it features a fruity palate of strawberry and pineapple complemented by notes of hibiscus. Svedka Rosé rolled out in February, supported by marketing with cheeky taglines such as "Vodka with a Wine Fetish" and "Not Wine, Not Sorry." This is the first Svedka flavor introduced in clear glass, showcasing the popular pink hue. 60 proof; multiple sizes.
SRP: $12.99/750ml
8. Boulard VSOP Bourbon Cask Finish Calvados
Palm Bay International has added Calvados Boulard's VSOP Bourbon Cask Finish to their current Spirit France portfolio. A very limited release, the VSOP Bourbon Cask Finish is the first expression in Boulard's new 12 Barrel Collection, showcasing innovation in finishing the classic French apple brandy. After resting in bourbon casks, this Calvados has a buttery nose with nuances of smoke and crème brûlée; generous on the palate, with layers of honey, baked apple and maple.
SRP: $55
calvados-boulard.com | palmbay.com
---
9. Samuel Charles Wines
Bolstered by the success of their Samuel Charles North Coast Cabernet, Quintessential Wines is extending the brand with a single-vineyard Napa Valley Cabernet Sauvignon and a Sauvignon Blanc from California's High Valley appellation, both made by renowned Napa winemaker Robert Pepi. The 2017 Oak Knoll Cabernet is sourced from the Mayacamas benchlands. The 2018 Sauvignon Blanc was fermented in stainless steel with partial sur lies aging to add richness.
SRP: Cabernet $79.99 | Sauv Blanc $24.99
10. Gancia Sparkling Wines
Gancia Sparkling Wines, founded in 1850, has revamped their packaging and introduced a new marketing platform, "drink beauty," which aims to appeal to Millennial consumers. The new packaging strikes a balance of simplicity, color and elegance; and the new platform includes point-of-sale materials, the re-launch of the brand's social media channels, a fashion-themed event series and a trade print campaign. The Gancia sparkling line includes Prosecco, Rosé Brut, Asti, Moscato d'Asti and Moscato Rosé.
SRP: $12.99
11. 'Mille1' 2017 Garda Rosso Red Blend
Dalla Terra Winery Direct is introducing Mille1, a partnership between the Veronese Bertola family and Edoardo Freddi. The first wine from Mille1 is Garda Rosso, a lively red blend of Corvina, Rebo and Merlot, sourced from estate vineyards amid the hills around Lake Garda a near Verona. Mille1, which translates to 1,001, describes the length of Italy in miles from North to South and is depicted on the label with an image of a classic Italian red coupe.
SRP: $19.99
12. Strongbow 100-cal Slim Cans
Strongbow is dovetailing hard cider's increasing popularity with the age-old favorite pastime of calorie-watching. Strongbow Hard Cider 100-Cal Slim Can variety pack features three easy-drinking offerings with just 100 calories: brand new Dry Pear, a subtly-sweet pear-apple cider with a light, dry finish; Rosé Apple, a semi-dry apple-pear cider with a touch of red-flesh apple; and Original Dry, the recently relaunched fan favorite offering a refreshing dry finish.