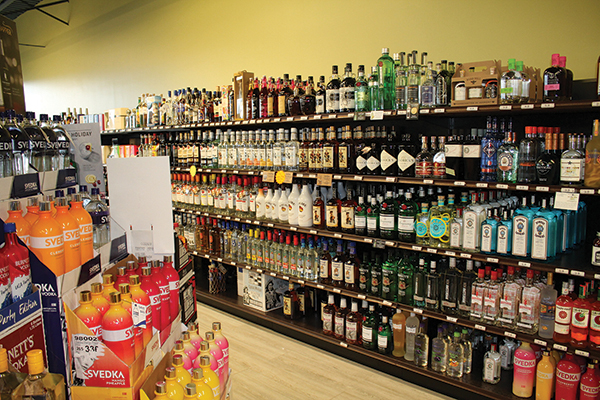 Market Beer Wine & Spirits
11 Commerce Way
Johnston, RI
Square footage: 6,000
Years in operation: 5
By Savannah Mul
Proprietor Norm Hale admits to an old tendency of buying and selling new businesses to "explore new industries." His wife, Elizabeth, wanted him to settle into a business to stay in and, most importantly, be happy in. About six years ago, he found that happiness in liquor retail.
New to the industry, Hale enrolled in courses at Johnson & Wales University to attain his WSET certification and began to build on his own knowledge base, and on the new venture's success. The store also completed a move from its original building in December 2015.
"We took almost a year looking for the right location," he said. Hale went from about a 4,000 square foot store to now 6,000 square feet, which he said allows him to be more competitive with surrounding "big box stores."
The new space presented the opportunity for Hale and his seven employees to design the store. Customers now shop from wide aisles accompanied by low shelving to allow for visibility to find products with ease. "I do try to give all my employees say in how the store is designed," he said.
Customers are greeted with "kindness and enthusiasm," Hale said. The store features what he calls "cozy areas" to attract customers to new or featured products. The multiple "cozy areas" showcase floor displays next to small shelving units, creating a stand-alone area for those wines, spirits or beers. He said the areas "help the customer explore new products and try something new … I like finding some small vineyard that may only make 300 cases of wine."
In-store tastings hosted by staff and area sales representatives also provide the opportunity for customers to explore those new tastes. He said the store's sales are spilt pretty evenly across beer, wine and spirits, but lately he's noticing an upsurge in hard liquors and wines.
"Everyone comes in the store for a reason," he explained. "Whether they are going to a party, a friend's house or to get wine for dinner, when they come into the store they should be excited about where they are and what they are going to do."
Hale loves the industry. "I enjoy it," he said. "I'm surprised at how many people you get to know and the relationships you build in the community." Hale said Market Beer Wine & Spirits supports local charitable organizations and views the store as "an old-fashioned business to help people and to be part of the community."