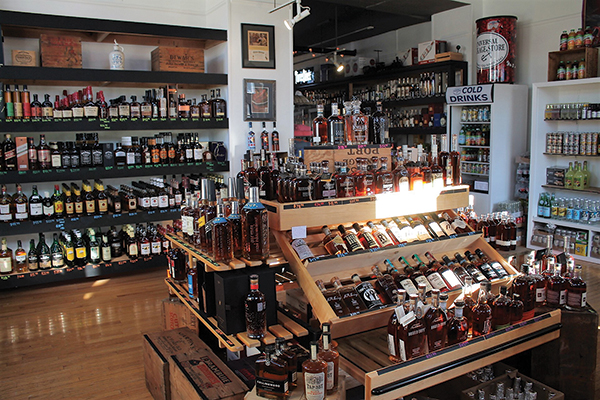 Universal Package Store
17 West Main Street
Mystic, CT
Square footage: 2,200
Years in operation: 4 months
By Savannah Mul
Among the vintage boutiques and ice cream parlors, past the historic drawbridge in Mystic, sits newly-opened Universal Package Store. The brand's history, however, dates back to 1943 with its first location in Noank, a village in Groton. The two stores are about three miles away from each other.
"We found a need for this here," said Owner CJ Bardy. "We were looking to continue our growth and this fit [it]." Bardy owns the stores with business partner Erik Schafer. General Manager Bob Neville helps run the stores. Bardy said they have plans to open Universal Package Store locations in Glastonbury and Storrs.
Bardy explained the Mystic location mirrors the Noank store in many ways, though most notably in its "vintage feeling." A custom six-door stainless steel walk-in cooler box was built for the location and above it hangs a retro Budweiser sign. Beer and alcohol advertisements from the '70s and '80s adorn the walls, adding to the atmosphere.
With their continued growth, the team applies the same business model to each location. High-touch customer service coupled with thematic selections of wines, fine liqueurs and craft beer, as well as national selections is their recipe for success.
"We staff appropriately and spend the time to talk about the wines. We try and make it as educational as possible for the consumer and allow them to try wines they never had before," Bardy said. In the Mystic location, they feature approximately 4,000 SKUs, all of which are selected based on staff interests, product tastings and customer recommendations.
"We like to show products they may have never seen before, like off–the–run wines and things of that nature," he said. Bardy said he sees trends in the "upswing in finer liqueurs" and consumers paying more attention to the individual stories behind each brand.
In-store tastings hosted by distributors help shine a light on products to introduce brands to the store, he said. "We're finding out what the locals want and the tourist foot traffic that comes through," Bardy said.
"Word is spreading about the type of business we run," Bardy said, "The buzz is resonating and we're happy."