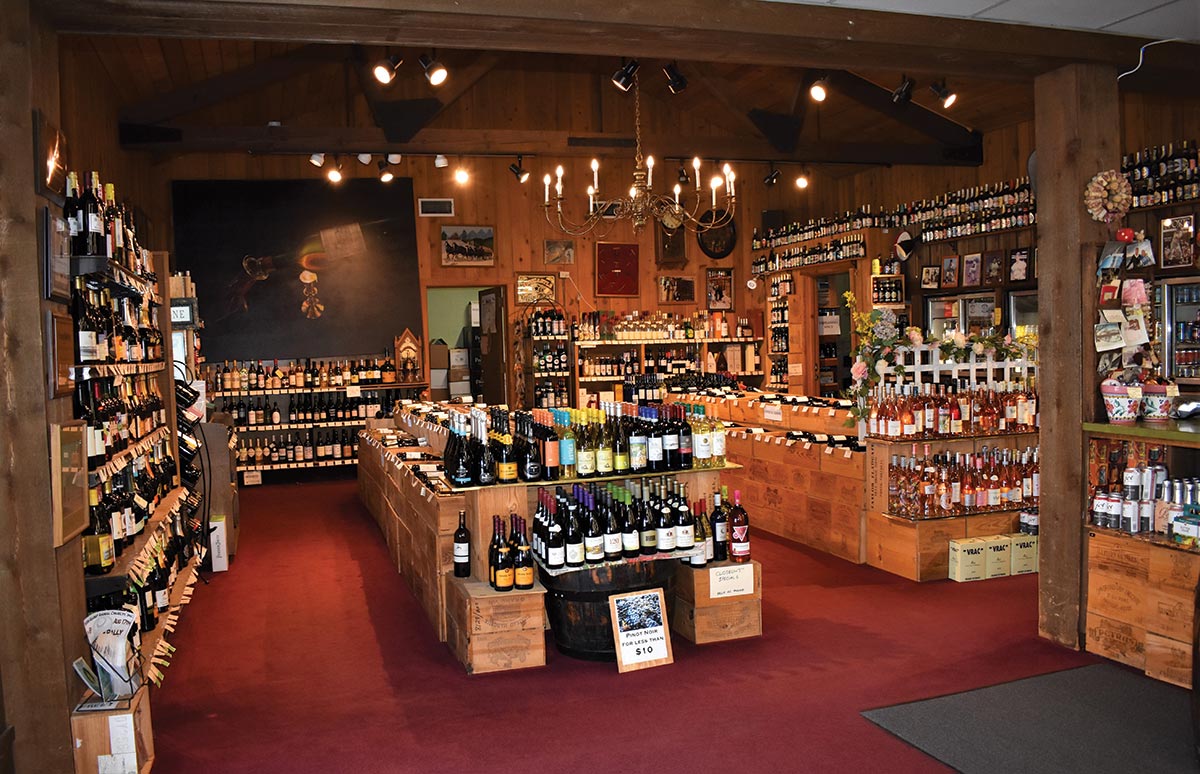 Mt. Carmel Wine & Spirits Co.
2977 Whitney Ave.
Hamden, CT
Square footage: 3,000
Years in operation: 85
By Sara Capozzi
Celebrating its 85th anniversary this year, Hamden family-run business Mt. Carmel Wine & Spirits Co. has become a destination store for its rare and unique wines as much as for its broader selection of fine spirits, liqueurs and beer.
Opened just after the end of Prohibition in January 1934, beverage offerings began as a small corner in the family's Whitney Avenue general store, owned by Sydney Levine. As the years went on, Sydney Levine was joined by his brother Phil Levine and brother-in-law George Feinn. Current owner Bob Feinn, son of George, started working at Mt. Carmel in 1963, taking over management with his brother the late Ben Feinn in 1971.
From that small corner evolved a full-fledged retail business, even necessitating an addition in 1973 to make it the 3,000 square feet that stands today. "We've gone from just a tiny little spot … then taking over what was the grocery store and adding on, so it's quite a bit larger. We've become much more wine-oriented." From his 50-year vantage point, Feinn has seen Mt. Carmel evolve from size to shoppers.
Awarded the Connecticut Magazine Best of Connecticut recognition for its wine selection for successive years, Mt. Carmel specializes in European wines, especially French and Italian.
Its rare wine department focuses on older, hard-to-find vintages from boutique and niche wineries, red and white Villages-level, Premier and Grand Cru Burgundies, Grand Cru Bordeaux, the Rhone and Port. Shoppers will also find gems from the Loire Valley, Alsace, Germany and America.
"We have the full gamut," said Feinn. "We're a destination for that type of [wine], but we try to have the best value wine possible in all categories." Feinn and his team also offer their recommendations and knowledge, helping to navigate options either familiar or new, as part of the visitor's experience.
While specialty wine is a primary customer draw, Mt. Carmel offers no shortage of spirits, curated by Feinn's nephew, Fred Feinn, which include a high-end array of single-malt Scotches, specialty bourbons, ryes and rums. Customers will also find a plentiful craft beer selection in the coolers.
Feinn said he has noticed the tastes of young wine drinkers are different from past generations. "People have always started off with sweeter wines," Feinn said. "It seems like the millennials are a little bit older and still looking for sweeter wines. If there's a trend now, it would be a lack of interest in fine wines [from the millennials], but more interest in artisan spirits, craft beer … though there's still a percentage that is interested in fine wine."
The thoughtful product selection is set amidst an ambience of accessible-yet-eclectic elegance and includes a hand-painted ceiling mural depicting the process of winemaking by New York artist Tony Falcone, as well as wine memorabilia, art and plenty of wood crates for displays. It's these unique touches, too, that draw shoppers to the one-of-a-kind Mt. Carmel Wine & Spirits Co.