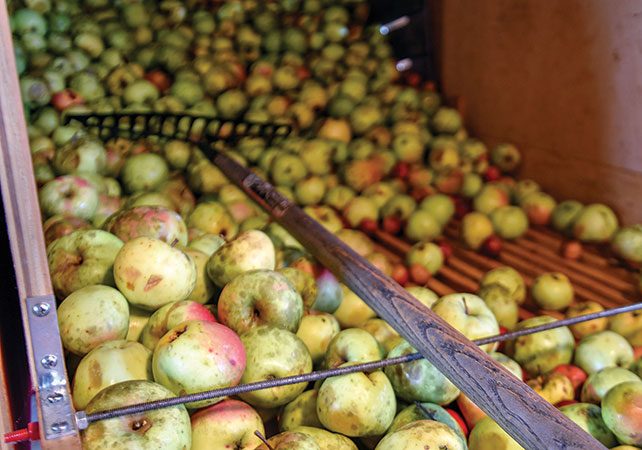 American Cider gains momentum in spots, not waves
By Amanda Schuster
---
Cider made from fermented apple and/or pear juice has been around in America since the earliest settlers planted orchards from seeds brought over from Europe. However, cider has been one of the slowest beverage categories in the U.S. to recover from Prohibition. And there are still factors in the marketplace that make selling cider a challenge. However, there are companies and enthusiasts looking to raise awareness of this complex and fraught category.
Cider is enigmatic from the get-go, made much like wine but resembling beer more closely in its alcohol level and carbonation. From a marketplace standpoint, cider can be broken down as follows:
Brands that operate effectively as part of the beer segment, made from sourced juice, aka "commodity cider;" think Strongbow, Angry Orchard, Austin Eastcider, Vermont Cider Co. (Woodchuck), Seattle Cidery, Bantam's and broad-market imports such as Magners or Bulmers.
Ciders that are more akin to natural wine—funky, often austere styles from farm-based or micro producers, sold in large format bottles and even presented as Champagne method sparklers; examples include Orchard Hill, Farnum Hill, Eve's Cidery, Eden.
An increasing number of smaller-scale ciders that straddle both worlds—think "craft" ciders, typically sold in 12oz bottles or even kegs (Virtue, Hazlitt, Shacksbury, True Believer, Vander Mill, Blake's, Graft, etc.).
Challenges of Scale, Season & Alcohol for 'craft' cider 

A balanced cider is created using a variety of apples to contribute different flavor characteristics—sour, sweet, bitter, astringent. Complex (some would say less approachable) ciders, made from the fruits of older orchards, is an increasingly popular style, often referred to as "heritage cider."
With what to call it up for debate, cider aficionados such as Jackson Cannon, a Boston area-based beverage director of the Hawthorne, Eastern Standard Kitchen & Drinks and Island Creek Oyster Bar, are particularly fond of this style since these ciders represent what can be attained after centuries of new world orchard cultivation: "There's this careful curation of what was created by planting those European seeds into this environment. That makes these the most interesting to me."
On top of craft cider's consumer-awareness issues, as a category it suffers from a fundamental distribution conundrum. Karl du Hoffman of Orchard Hill Cider Mill in upstate New York, explains, "When you ferment apples naturally, it's low alcohol—not as low as beer, not as high as wine," he explains. Cider can be stuck in the middle in places where wine and beer are sold separately (wine in liquor stores; beer in grocery), such as New York state. This presents a huge challenge to cider makers. "Orchard-based ciders with higher alcohol without dilution are sold with wine distribution. If the cider is diluted below 7% alcohol it can go into the beer distribution system, but then you are competing with commodity cider." But, he says, "You've also diluted the very thing that makes it stand out."
Another hurdle is label restrictions. Du Hoffman points out that at present, there are no official cider-growing regions as there are AVAs in wine. So Orchard Hill and other cideries in the Hudson Valley, for instance, can only say their cider comes from New York state on the label, not the specific orchard's region.
Yet another challenge is the seasonal association with ciders, since apples are considered autumnal fruits. However, rosé-style cider has joined the pink beverage wave with brands like Wölffer. Wine director Amy Racine at New York City's Times Square Edition Hotel serves it in the warmer months into fall. Other ciders can be as refreshing as a cold beer or sparkling wine, and an increasing number of bar operators such as Cannon serve them year-round in cocktails.
Sweet Spot – Or Not
But enough about cidermakers' challenges—what about cider drinkers? While category diversity has helped erase the misconception that all cider is sweet, proliferation of labels and types has made it harder than ever for consumers to know what they are dealing with.
Paige Fiori of Boutique Wines, Spirits and Cider in Fishkill, NY, keeps 13 taps of different styles of cider available for retail customers to taste. Her mission is to right the wrong that stems from customers forming a sweet cider aversion from a single experience, often with a commercial cider. "We curate the taps so that we have about one-third sweet, one-third mid-range, and one-third dry style, showcasing a wide range of tastes," says Fiori. "Once customers understand that concept, they are open to listening to more about cider. But that door needs to be kicked open first."
In-store displays can also help customers make cider choices based on sweetness. Schilling Ciderhouse in Portland, Oregon, the largest cider retailer in the country, organizes their offerings on a big board, broken down into four categories: sweet, semi sweet, semi dry, and dry. Jennie Schilling, Chief Curator, notes, "We want to make sure that customers understand that all of our ciders are craft ciders and will tend to skew drier than other mass-produced ciders, even the 'sweet' ciders we offer are fruit sweet not sugar sweet."
What if there are no taps to sample from or display charts to peruse when shopping for cider? Increasingly, suppliers are putting sweetness scales and other indicators ("dry," "bone dry," "unfiltered," etc.) on their packaging to help consumers choose. "Customers are getting more sophisticated and want to know what is in their products," says Fiori. "Transparency is always good in this business."

Keeping It in the Apple Family
Looking at the overall industry, cider is unique in that everyone—from cider purists through big corporate suppliers—needs a slice of the apple to survive together in its fragile ecosystem. "Today, the larger brands are contributing significant resources to support projects that benefit smaller orchard-based cideries more than their own," says Michelle McGrath, Education Director for the U.S. Association of Cider Makers. "They are doing this through education, by investing in programs like our Certified Cider Professional program, and through advocacy, by supporting USACM's efforts to change regulations that hinder the growth of smaller cideries."
McGrath goes on to say that larger brands and communal events like CiderCon (next one is late January, in Oakland, CA) help raise awareness of the category as a whole. Statistics show cider grew 10 times its size in a decade. Much of that boost in volume came via widely distributed brands like Strongbow and Angry Orchard. But with over 900 cideries in 49 states currently in the U.S. (according to the USACM), small, regional and farm producers now account for much of that overall figure, and cider's identity continues to trend craft-ward.
With such diversity within the category, Cannon and other ciderphiles will tell you, "If you haven't tasted ten ciders, or you've only had one, you're doing yourself a disservice by not exploring more."